Best Tamil Films On The OTT Platform: Dulquer Salman's Solo, Savitri's Mahaniti, Vijay's Mersal And More
If you're a fan of Tamil films, then here's a list of 5 of the most interesting content from the Tamil cinema, available on the OTT platform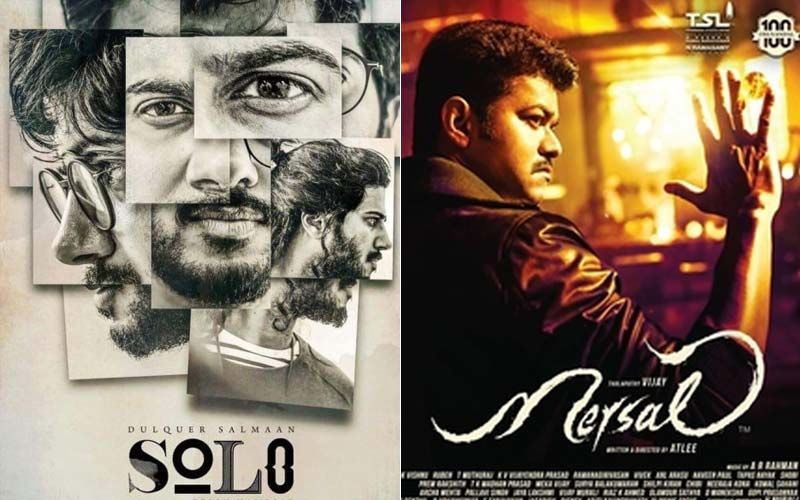 Tamil cinema has made huge headway since its days of MGR, Shivaji Ganesan and Rajinikanth's theatrics. A new crop of actors have brought in a wave of fresh vigour. Here are some of them.
1. Mahaniti (Amazon Prime): Tamil legend Savitri's saga is a familiar riches-to-rags one, here brought to life with a vividness and vivacity that never fights shy of extravagance. It's all here, packed together in a series of deftly-written anecdotal sequences which jump into one another in an uneasy and furtive embrace of fact and fiction. Though the film is almost three hours long, our interest-level never flags. How can it, when the subject is such a mercurial creature of caprice? Siddharth Sivaswamy's screenplay screams for attention in every frame. And yet there is nothing aggressively inflated about the narrative. The larger-than-life-ness of the plot has to do with the subject. Savitri, as played with endearing impunity by Keerthy Suresh, is a childlike creature of whimsy: demonstrative, emotional, mischievous, self-destructive, all heart and generous to a fault.
2. Solo(Netflix): Bejoy Nambiar's startling omnibus opens on a deceptively positive note as a college romance burgeons between a stammering student leader and a sexy blind dancer. The zest and grace with which Nambiar projects the growing love between two youngsters with a "manufacturing defect" each, lulls us into a false sense of well-being. No, forget it, all is not well with the universe. Each one of the four stories that form the essence of Nambiar's compelling treatise on life, love and related deceptions, secretes a dark despair-filled underbelly. Nambiar takes little time to get to the unlit core of the human heart. Like his characters, Nambiar too is at the risk of running out of time. In 2 ½ hours, he must unravel the mysteries of the human heart as they tie themselves in tangles of anguished imploring to anyone who would answer the call of the heart. Indeed, solo with its supremely impassioned plea to fob off isolation is a shout-out for comfort and warmth in a world gone completely cold. In the frigid frozen environment of isolated hearts and broken promises, a light is lit. Dulquer is brilliant as the protagonist in all 4 stories.
3. Rudhramadevi (Amazon): Can we please stop obsessing over Baahubali and move on? Right off, Rudhramadevi would be compared with Rajamouli's landmark achievement. Baahubali would never be made again. Thank God for that! Rudhramadevi is another creature altogether. Vast, panoramic, spectacular and deeply resonating with relevances that go way beyond the 13th century the film is a marvel of construction and execution. The plot is a spiraling architecture of infinite intrigue and initricacy weaving in its flamboyant fabric aeons of courtly intrigue.The narrative survives an onslaught of grotesque caricatures of evil entities from the royal durbar, all plotting and conspiring to bring down the 13th century warrior-queen from the Kakatia dynasty. Ms Shetty succeeds in instilling an infinite conviction as both the warrior and the female trapped within waiting to escape and run free as she discovers romantic love and sexual awakening in the motivating company of Rana Daggubatti.
4. Mersal (Netflix): There are three Vijays in his new film, all shaped contoured and moulded into red-hot come-see-about-me avatars. So, 3 stars for the eminently enjoyable new Vijay starrer, 1 each for the 3 roles that the superstar embraces like lovers who won't be parted till kingdom come. Or apocalypse dodged. Indeed Vijay's self-love is celebrated by the rest of the besotted smitten cast who in true Tamil-Telugu tradition of hero-worship keep anointing eulogizing, glorifying and iconizing the super-hero to a point where no criticism is permissible or even plausible. While the entire vast cast that includes three lovely leading ladies (all three so serene and surrounded in a haze of idolatry numbness), can't stop singing Vijay's praise, he himself seems to be a fan of the legendary M G Ramachandran. How do I know? He has MGR's pictures on the wall and he even visits a theatre showing an MGR film. In Mersal Vijay takes on healthcare with a blood-thirsty vengeance. There are aggressive contemptuous references to the Establishment's failure to provide medical facilities for the poor and needy.

5. Ayogya (Amazon Prime)
: For those who were wondering why a third version of the same rape-and-retribution story that was filmed earlier in Telugu as "Temper" and in Hindi as "Simmba", here's the answer." Ayogya" betters both by leaps and bounds. It is what remakes are meant to be. Strong, adventurous, assertive and muscular. As directed by first-timer Venkat Mohan (with, I suspect, major help from the film's leading man), the story of a seedy cop who turns a new leaf after a rape incident, is turned into a triumph of transformative cinema. What Vishal Krishna, in superb athletic form, does is to change the punctuation marks from the earlier films, play around with the dramatic episodes so that the film's take on the theme of finding one's conscience acquires an all-new life and vigour. See the film to know why Vishal is the new superstar of Tamil cinema.

Image Source: Studioflicks, wikipedia, youtube/entertainment/ selectpix/ gunaateamworks/ gvmediaworks/ lahirimusic/t-series