Broken But Beautiful 3 Actor Ehan Bhat: 'Most Of The Love That I Am Getting Is From Siddharth Shukla's Fans'-EXCLUSIVE VIDEO
Ehan Bhat, who made his film debut with 99 songs in April followed by his digital debut with Broken But Beautiful 3, talks about debuting in three avenues, his role in the show, his future projects and more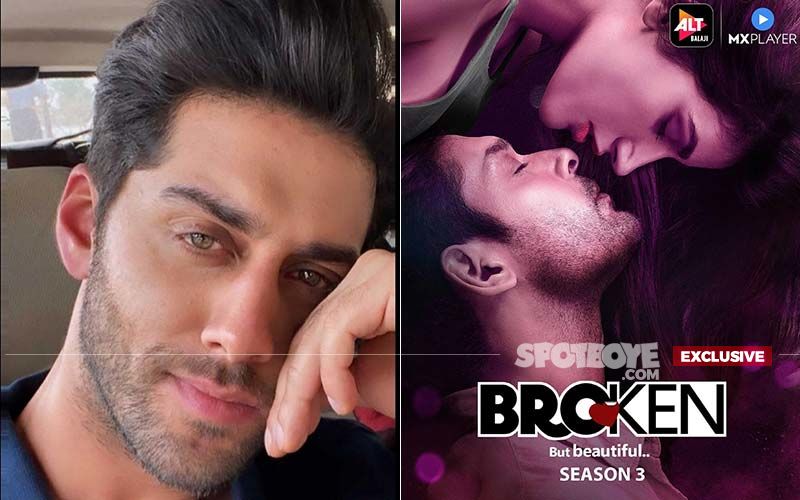 Three months ago, Ehan Bhat made his on-screen debut as a murderous ex-lover opposite Nora Fatehi in the music video, Chhor Denge. Then, a month later, he made his film debut as a budding musician on a journey in AR Rahman's dream project, 99 songs. More recently, he was seen as Ishaan, an egotistical man who wants anything that he can't seem to have in Alt Balaji's Broken But Beautiful 3, featuring Siddharth Shukla as Agastya and Sonia Rathee as Rumi in the lead. The past three months have been a fast-paced journey for Ehan and in an exclusive conversation with Spotboye.com, the actor gets candid about that and some more. Read excerpts from the interview:
A debut in three avenues in three months, you seem like on a professional roll. How has it been?
I feel like when I came to Mumbai, there was a lot on my plate. My dreams are sky high and these are just budding steps that I am taking to reach there. To be a part of such projects like my song, Chhor Denge, which has crossed over 300 million views on YouTube, followed by a debut with a film like 99 songs and with AR Rahman sir, which is a dream film debut, and then being featured in a series like Broken But Beautiful 3 that kind of represent Alt Balaji, I feel like I have done something great in my past life that I came across amazing projects like these. I am really excited and humbled by all the love that I have been receiving in the last three months. I have had almost 300+ fan pages on social media and that's just wow. I am just extremely grateful


Your character Ishaan in BBB3 is shown as an egotistical man who wants anything he can't have, and most people will consider it to be on the grey side…
I feel like a lot of people portrayed Ishaan wrong. He is wanted everywhere and thus he has options in his life. It might sound weird but he doesn't want anyone. He is the centre of attraction and everyone wants a piece of him. He is like water who goes with the flow. There is a time when he is wanted by Gul, then Maera and then Rumi, but one needs to understand that his main focus in life is not just to date girls.


He is a very secure and professional person who has dream and aspirations of making it big as a businessman. That's his main purpose in life and he feels for every character. There is so much chaos around him but Ishaan is always calm and profound. Even in the scene where Agastya comes to confess his love to Rumi, it's his home and he can have him thrown out, but he asks them to talk about it. He doesn't have hate for anyone. He doesn't want to snatch anyone and at the same time he is like a free bird.
How has the audience's response been to your portrayal?
I was road tripping the other day and had a lot of time to scroll through my phone and social media. It's incredible that most of the love I am getting is from Siddharth's fans. He has like hundreds of fan pages and they are appreciating my work, so it's great. The reason I took up this project is because it felt like Ishaan is the heart of the script. Even in the scenes that he isn't there, it's still all about Ishaan, Ishaan, Ishaan. At a certain point, even Agastya dresses up like Ishaan hoping that Rumi would develop a soft spot for him.


You seem to have developed a strong bond with good music, Chhor Denge was a music video, 99 songs was a musical and now BBB3 is known for its music…
You won't believe but the next script that I have in my email is also about music. Even I was asking myself the other day what is my connection with music that I am getting all offers for a musical. But as Rumi says in the show, what you seek is seeking you. So, all my life I was this guy who always had earphones on, from Walkman to cassettes and now streaming. Even after this interview, I will check out what's new in music. Maybe that's why what your mind is thinking, the universe brings back to you.
What do you think is the way ahead for Ishaan's story in the next season?
When we were shooting in the final days of the series, I was puzzled in my head, thinking what's next if there's a next season. Agastya left for his theatre and Rumi is questionable. You never know what she wants and whether she still wants the divorce since Agastya is also gone. Also, you don't know how big of an ego Ishaan has. Has he taken Rumi's decision to his ego or is he still calm and ready to welcome her? I think the writers will only be able to answer this question.

AR Rahman had called you 'the next superstar' in one of his interviews. With the way your career is going, do you feel it kind of heading in that direction?
I wish I was as optimistic because my thirst in never quenched. You can call me greedy or over passionate, and these are bad for me because being so passionate, I don't enjoy my present. But I am grateful and when people like my friends or family come to me asking why am I not happy, they don't know what I know. But at least their thinking comforts me. Maybe I am overthinking because the work is halted due to Covid, but I am happy that after the release of 99 songs, my dream directors called me. They then narrated their stories to me, so yes, maybe I am headed in that direction and I want that for myself.
99 Songs released in theatres at a time when it couldn't enjoy that run properly, but how has the response to it been since it released on digital?
Unfortunately, theatres in the North India were shut at most of the places, but we got an immense response from the overseas markets like USA and UAE, but of course Netflix added a lot to it. I did not want the film to get lost but when I got to know that we had a deal with Netflix, it was quite relieving. Every day I have tags on social media that people are watching and loving the film, so that's exciting.

In your future projects, you had mentioned one with Netflix that was to go on floors in June. IS it still on schedule?
I have no idea when they are going to start but I am training for it. I am an actor who reads the script over and over again because that's how it comes to me. Last I spoke with the makers there were some issues due to Covid, but I just hope they resolve soon.
What other future projects do you have in your line up?
Right now, I am in talks with some big production houses. I have one love story that I am really keen and interested on as I finished that script in one go when I read it. Then I also have an offer of a political thriller and the other day a director approached me for a narration of a mythological film.

You worked with stalwarts of their own fields like AR Rahman and Ekta Kapoor in your initial projects. How has that experience helped you?
It does help me in a lot of ways. They are icons for a reason. They have been in the industry for about 30 years and to have my initial projects go through icons like these is a big thing for me. It was a relief to know that I was cast out of 800 actors for 99 songs and then out of a lot of actors for Ishaan in Broken But Beautiful 3. You learn a lot from these people. They are really focussed and dream driven and that kind of gets embedded in you. When you work with them, you only know how to be a good human being, how to chase your dreams and you realise the importance of music, movies and art in your life.



Image Source: Instagram/ehanbhat/realsidharthshukla