Bulbbul And London Confidential: Two Pre-Covid OTT Films That You May Have Missed
Here's looking at two pre-Covid OTT films that you may have missed - Bulbbul and London Confidential.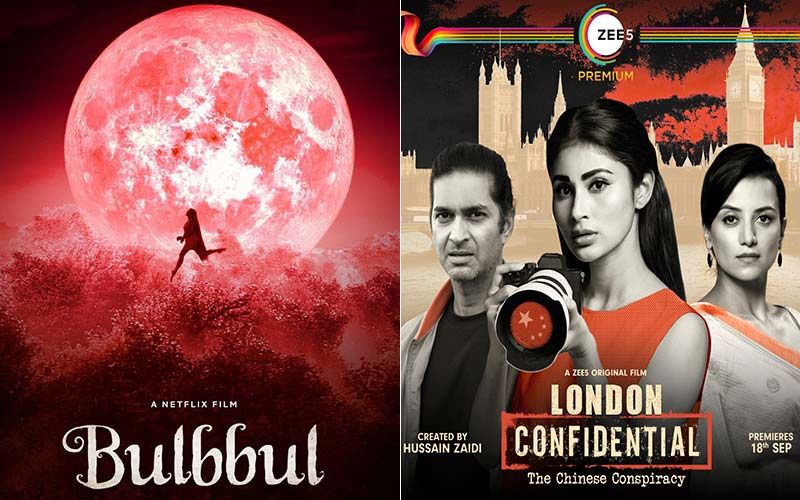 BULBBUL: Imagine Satyajit Ray drops in for tea with Sanjay Leela Bhansali when suddenly the Ramsay Brothers start hammering at the door. This is the feeling we get while watching Bulbbul, a bitter-sweaty, brackish brew of Tagorian family ties and Ramsay-esque horror(there is a chudail with her feet turned inwards). The 90-minute narrative is so hung over with references to Ray's Charulata and Bhansali's Devdas that the clock seemed to stand still as the doomed Bengali family in the 19th century playing its karma with a quivering intensity in a period drama that looks like a fable plucked out of its habitat and served undercooked and overspiced.
Bulbbul is like one of those Chanda Mama fables that we heard in our childhood dipped in the sauce of scandal and salaciousness meant to be served up piping hot. The narrative reads like a Cold Play ballad rendered frigid by a cover-version band that knows the words but has no access to the feelings. The plot tries to scare. And boy, two psychologically unhinged Rahul Boses are scary enough. Rahul playing brothers in a fetid fading feudal family is so ill-cast that he makes us laugh out loud when he is meant to be pure evil. Nothing, not even evil, is pure in this ode to ornate artifice.
The scenes where Bose straps down and tortures Bulbbul (Tripti Dimri) are easily identifiable for us. That's how we feel as the dysfunctional family in 19th century Bengal tries to gag and brutalise the Bahu of the family. I know I know. This is a feminist statement on what happens when you chain a free-spirited woman to the nearest bedpost and whip her to a bloody pulp.
If the above description scares the yell out of you, then you are welcome to this mash-up of horror and passion. Every technician and actor seems to have been given the same brief: behave like you are on the set of a Ray film being directed by Bhansali.The ripe-orange look of the night sequences echo the Devdas look from Bhansali's film. Tripti Dimri and Avinash Tiwary try to do a Soumitra Chatterjee and Madhabi Mukherjee from Ray's Charulata .
LONDON CONFIDENTIAL: I hadn't liked this one much on first viewing. But a second viewing made me smile at its campy homage to the thriller genre.The most honest line in this weird and intentionally hilariously London mock-tale comes from Mohan Kapur who barks on the internet, "This is a bloody unmitigated disaster."
It isn't that. It's quite funny if we don't take the goings-on seriously. Mouni Roy is a pregnant Indian intelligence officer investigating an imminent Chinese virus attack in London.No no not THAT virus, A new one, The Chinese are apparently harvesting a chain of viruses, one after another. And it is up to our "intelligence" officers (trapped in a tale, severely devoid of a shred of intelligence) Arjun (Purab Kohli) and Uma (Mouni Roy) to track down the culprits before it is too late.
There are Chinese characters roaming around London. I've no clue who's who... or Hu is Hui, as it happens to be.
The dialogues except, the great prophetic line by Mohan Kapur quoted earlier, all sound like they are saying something important about national security and how the Chinese need to be watched carefully.
"Maine Wong ko warn kiya ttha," is one of the gems. The Chinese cast looks uneasy, as though they took on the job to earn a few extra bucks.But the best performance comes from Purab Kohli's man bun. Kohli himself seems supremely disinterested in the goings-on,as though he gave up trying to make sense of the script. Mouni Roy looks like she never even tried.
There is an Indian commissioner (Kulraj Randhawa, the only member of the cast who actually looks involved) whose husband is cheating on her, a High Commission employee honeytrapped in a gay relationship, and yes, Mouni Roy's husband on video conference played by Sharad Kelkar, who keeps telling his wife to look after herself.
Image source: IMDb, Youtube/NetflixIndia/ZEE5