Chutzpah Actor Varun Sharma: 'The Show Will Show You Realities With Certain Relatabilities'-EXCLUSIVE
Varun Sharma, Manjot Singh and Elnaaz Norouzi from the team of Chutzpah, talk about the show, the relevance of the story in today's digitally dependent world and more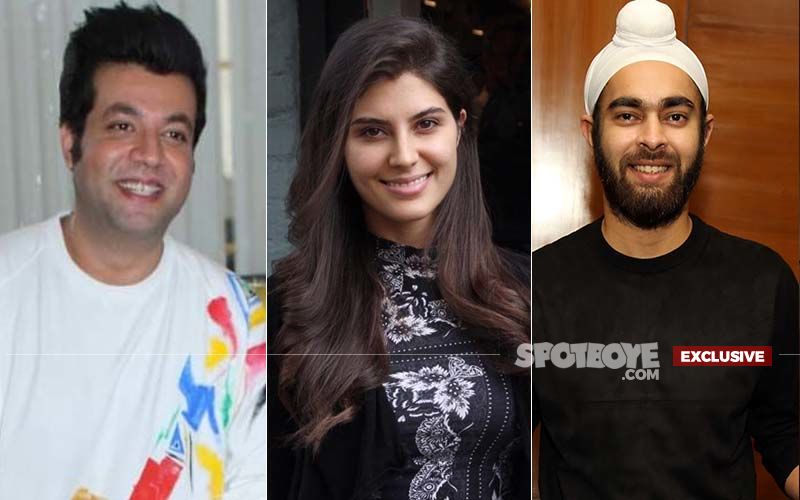 This Friday, its' like a mini Fukrey reunion as Varun Sharma, Manjot Singh and Mrighdeep Singh Lamba come together for Dinesh Vijan's new web show, Chutzpah. The show that depicts the power and influence of the Internet over today's youth also features Elnaaz Norouzi, Tanya Maniktala and Diksha Singh.
In an exclusive conversation with Spotboye.com, Varun, Manjot and Elnaaz get candid about the show and more. Read excerpts from the interview:
Varun and Manjot, from Fukrey to Chutzpah, how has the journey of collaboration been for you two?
Varun: It's been a phenomenal journey. Fukrey was Manjot's fourth film and mine first, so we almost started at the same time and made a bond for life. From Fukrey to Fukrey Returns and coming to Chutzpah, it has always been like homecoming. But we haven't shared screen in Chutzpah, and we only came together during promotions.
Manjot: However, it has a different excitement in itself to know that the people on the team are people you know already. It brings a new Chutzpah as you know everything will be on a good level.
Chutzpah is about the power of Internet and in today's world that is so digitally dependent, what do you think is the relevance of the show?
Varun: It is a story of five people with the backdrop of internet. It will show you certain realities with certain relatabilities. Internet is the hero of the series. My story is about this guy called Vikas who is in love with Tanya Maniktala's Shikha and their long-distance relationship and how they try to make up for that physical presence and intimacy through internet. The feeling of love and the communication is the same. It shows people in different perspectives, ideologies and the havoc it creates, internal and external. It is what the show, and especially my story, is about.
Manjot: My character's name is Rishi and as Varun said, it is a relatable show that shows how the internet is used and misused. Rishi is naïve, innocent and a gentleman, who believes in the good in others. Slowly he realises that his perception is wrong. He is trying to find love but can't confess since he doesn't have the Chutzpah. He then meets a cam girl online, named Wild Butterfly played by Elnaaz and how she changes his life and guides him to make his world beautiful is what my story is about.
Elnaaz: I am playing Sara who is a cam girl named Wild Butterfly in the online world. You will see her life as Sara as well that is completely different from the life she puts up in the online world. What I realised playing Wild Butterfly is how much more there is to every person. In Chutzpah, you will see that people can be completely different in real life than what they show in online world, and it might help in putting the judgement away that we have for some people.
Varun, in an earlier interview you had mentioned how you hope to finally get the girl in your next project. It seemed to have happen here.
Varun: Someone was just asking me what's different in Chutzpah, and I just said that in every film I am running behind girls and never had a girlfriend, but here I have one finally. But even here, there is some different problem. I feel like main bhaiyon ke saath hi khush hun. Ladki milna mushkil hai.
Elnaaz: Real life mein to aisa nahi hai, to fir theek hai (Laughs).
Elnaaz, playing such a bold character of a cam girl, did you explore something new about yourself?
Elnaaz: I don't think so because I think in fact you need to have all the things in you already if you want to go for a character like that. I obviously had to learn how to be a cam girl, but it all was already within.
Varun with Fukrey 3 shoot right around the corner, did Chutzpah feel like a warm up for that with a little part of the same team?
Varun: To be honest, yes because we were about to start with Fukrey 3 when the second wave hit and the situation got worse. But we are excited as a team to roll out with that when things are back to normal.
Any idea when will that happen?
Manjot: It depends on the third wave. If it doesn't come and things are sorted then very soon.
Varun: Everyone in the industry is quite uncertain at this point as everyone is waiting to see how things pan out. So, we are also waiting.
Since Chutzpah was like a mini reunion for you two and Mrighdeep, did you miss Pulkit Samrat, Richa Chadha and Ali Fazal, your rest of the Fukreys?
Together: One hundred percent.
Varun: We obviously missed them, so the other day we were chatting that the gang should get together and watch the show. But it will have to be an online thing only.
Manjot: Fukrey and Chutzpah team watching Chutzpah together.



Image source: SpotboyE archives Instagram/fukravarun/_iamelnaaz_