Feels Like Ishq Actor Rohit Saraf: 'A Lot Of People Call Me Netflix's Poster Boy'- EXCLUSIVE VIDEO
Rohit Saraf, who features in the today's Netlfix release, Feels Like Ishq, talks about about his newfound fandom, his ideology of love, how this character is different from Mismatched and more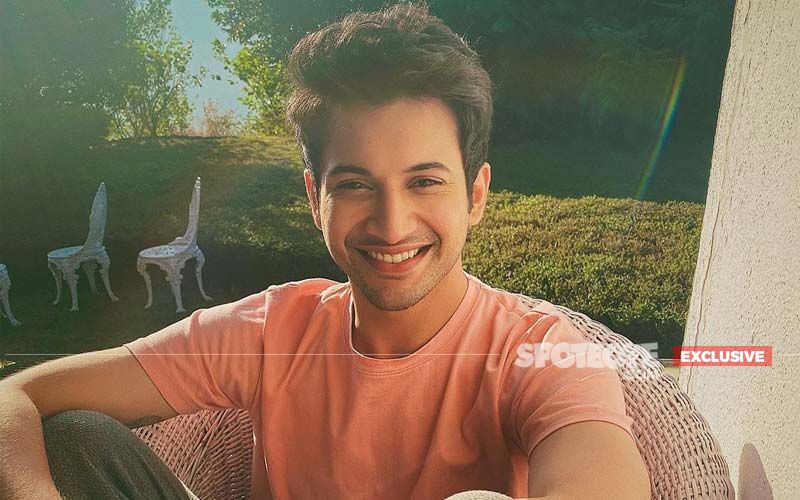 In the last eight months or so, Rohit Saraf has garnered a loyal and loving fan base for him with his two back-to-back successful Netflix projects, Anurag Basu's Ludo and the web show Mismatched opposite YouTuber Prajakta Koli. With the latter, he became the new heartthrob of the nation and today he comes back on Netflix with yet another romantic project, the love anthology Feels Like Ishq, where he is paired opposite Simran Jehani.
In an exclusive conversation with Spotboye.com, the actor gets candid about his newfound fandom, his ideology of love, how this character is different from Mismatched and more. Read excerpts from the interview:
Rohit, the last eight months have given you so much love and appreciation from the audience. How has it been receiving such praise?
It has been fantastic and nothing that I could say would do justice to the love I have received and how I feel every day. Just to wake up realising that there are thousands of people out there, who you probably have never met or spoken to, wishing well for you and are your supporters and pillars, is the most beautiful feeling in the world. Not just actors, but every human being wants to be loved and to be loved so deeply and widely, it just feels like a dream. I feel like I can conquer anything with the love I am getting.

This is your third Netflix original project. It seems to be your lucky charm. Will Feels Like Ishq be the hattrick?
Funnily enough, just a few days ago I realised that all my projects except one are on Netflix. A lot of people that I work with now call me Netflix's poster boy and that makes me so happy as who doesn't want to be. No matter how grateful I would be to Netflix, it won't be enough because they have made me who I am today. They are the reason why I have the love that I have.

How is Aditya from Feels Like Ishq different from Mismatched's Rishi in his ideologies about love?
Very different because Rishi is a guy who wears his heart on his sleeve, is a hopeless romantic and would go to any extent to find his love, as opposed to Aditya, who isn't a hopeless romantic. His idea of love is very different from Rishi because it's not so extreme. For Rishi, love is life, but for Aditya, love is a part of life.
You had an effortless chemistry with Pearle Maaney in Ludo and with Prajakta in Mismatched. How was it developing the chemistry with Simran this time around?
The chemistry and bond that I had with Pearle and Prajakta, that people have seen on screen, is also because of the amount of time we got with each other. With Prajakta, I lived practically with her for those 45 days of shoot and before that we had a couple of prep sessions. With Pearle, I knew her already and we also spent about a year-and-a-half working on the film together, so I built that relationship with them over time. With Simran, it was different.

With Prajakta and Pearle, we became friends first and then came the chemistry, with Simran it was the other way round. The chemistry had to come in first as we met professionally and the friendship came along the journey. I barely got eight days with Simran, as my beginning and end of journey for Feels Like Ishq spanned those eight days. It was pretty exciting. In Star Host, it's not the obvious, in your face kind of chemistry. Aditya and Tara don't know each other from before and it was happening in reality too.
How has your love life been going in real life and how has the idea of love evolved in your mind?
My love life is going great at the moment considering I don't have one. I am completely single. But my idea of love has changed about 10 folds in the last few years. As you grow up and meet and get involved with more people, you realise what you want and what you don't want. All these years, love has been about going that extra mile, even while you are hurting, just to keep the relationship afloat. You are trying to make things work even though you might not necessarily be too happy with it, just because the idea of love is about sacrifice and all. But I think now, it is more real. Earlier it was a dreamy, fantasy world that I was living in but now it is as real as it could get. It feels like it is the beginning of what it could be in the future.
You are on a new path of your career currently having graduated from a supporting actor to the leading man. During that journey, you worked with some big stars as well, like Rani Mukerji, Farhan Akhtar, Priyanka Chopra Jonas and Alia Bhatt. What did you learn from them that you now imbibe in your life and journey?
There are a couple of things—discipline, honesty and hard work—that I learnt from them all. These three qualities never go out of fashion and help you lead a successful and accomplished life. Every single person that I have met has had these three qualities that have helped them be where they are today. Most importantly, whoever I have worked with, has been extremely kind and kindness goes a long way. Every single day it's a conscious effort to remind myself never to get bored or tired of these things. It's a practise every day and I am very grateful that I could be a tiny part in their journey and their individual lives. Because I was exposed to all of that, all those experiences have added value to my life.

You recently made your fans curious by sharing a glimpse of Mismatched 2. What can you tell us about the second season and when it goes on floor? Also, what does your rest of the future lineup look like?
There is no way I can tell you anything. All I can say is that we have got the script and we will start shooting soon. It's exciting and there is a lot happening in Mismatched season 2 and there will be something for everyone there. If you want me to continue being Netflix's poster boy, don't ask me any such questions (Laughs). As for the rest of it, there is a lot of exciting and diverse work happening otherwise.
Image source: Instagram/rohitsaraf