Feels Like Ishq Actor Skand Thakur: 'I Am A Very Romantic Person In Real Life And I Like The Idea Of Love'-EXCLUSIVE
Newcomer Skand Thakur, who was recently seen with Tanya Maniktala in Feels Like Ishq, talks about love, finding relatability with his character, his wish list of actors and directors he wants to work with and more.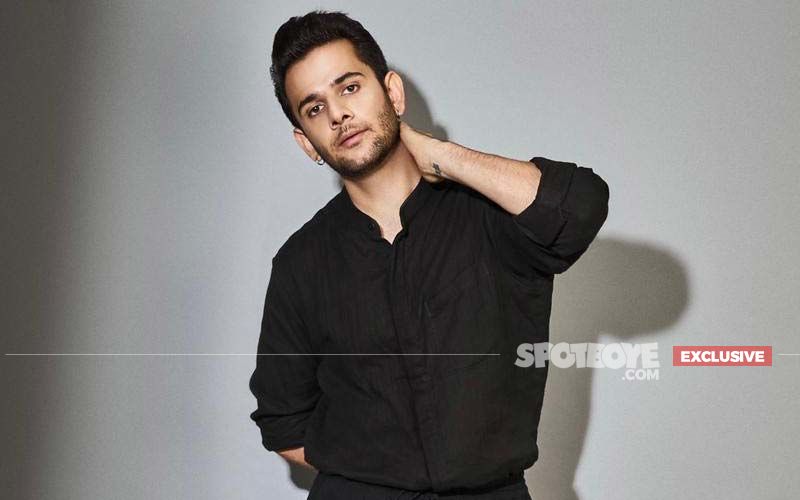 Netflix released an anthology of six stories about sweet and innocent love titled Feels Like Ishq, on July 23. The last episode of the anthology, titled Ishq Mastana, featured newcomer Skand Thakur and A Suitable Boy fame, Tanya Maniktala. Skand is overwhelmed with the response he has been receiving for it. "I have been getting a lot of love and appreciation and that too, from the right kind of people," he gushes.
It was Skand's first big project whereas his co-star Tanya had a little more experience than him. So, did he take any help from her? "I have been acting since before Tanya, but she helped me a lot during the post-show promotional interviews. She had been in that place before but I was really nervous, so she told me what to say and what not to say. While on set, she is so sincere and receptive in her work. We had to finish the film within four days, so we didn't have much time to bond. But we had a workshop prior to the shoot, and that's where we tuned with each other," he shares.
Before Feels Like Ishq, Skand had done a small romantic digital series. Ask him why he likes to be associated with love stories so much, and he replies, "I would do a love story at the drop of a hat as I like them so much. But lately, I have felt that we can do love stories better. It can be more than the mushy romance, but I love this genre as an actor and as an audience. So, whenever I get a chance in this genre, I give my best at each step in the process," he says.
So, any personal life motivation behind that? "I have been single for a long time but I am a very romantic person in real life and I like the idea of love," he responds, sharing the story of when he felt like ishq for the first time. "It was with my childhood crush in seventh grade. That was a very innocent love and I let it be like that," he reveals. Did he ever get the courage to tell her? "There's no point in speaking about that since she is married now."
Ask Skand how close he is to his character Kabir from Ishq Mastana, in real life and he gets excited. "When I got shortlisted for the role, I only had a slightest hint about the character, but when Joydeep sir told me about Kabir, it was magical to see how close he was to me in real life. Not superficially, but the Kabir you see in the second half of the show, that's who I am in real life. I was very surprised by the similarities as while Mehr believes in causes, Kabir is indifferent and is more focussed on the problems in his own life and both Tanya and I were really close to each of our characters respectively and that really helped us a lot. Like Kabir, I also stay in my own world, I overthink things and the way Kabir's friends force him to get out of the house, I have also been in that same situation. It was a very big coincidence and a magical moment between me, Tanya and Joydeep," he gushes.
In the episode, Skand's Kabir is also shown singing the poem Ishq Mastana. Ask him how it felt to see himself on screen with such an amazing voice behind it, he replies, "When we were shooting, I had no idea how it would look on screen as the song was finalised quite later. But when I first saw it, I laughed a bit because, even if just on screen, at least I got to see myself sing with a good voice as I am a very bad singer in real life."
Skand is new to the industry and he doesn't have any other projects finalised as of now, but he does have his wish list of directors and actors, who he wants to work with, ready. "Obviously, I'll go with Imtiaz Ali sir as he makes such amazing romantic films, and I would love to be directed by him. Also, I would like to work with Zoya Akhtar, Anurag Kashyap and Shoojit Sircar. Within the actors, I would like to work with someone from whom I can learn a lot like Vicky Kaushal, Ranveer Singh and Pratik Gandhi. I would love to spend some time with Pratik, and I would also like to work with Sanya Malhotra as I have a huge crush on her," he concludes.
Image source: Pearl Media Communications