Inside Edge 3 Twitter Review: Netizens Call The Latest Installment 'Mind Boggling Stuff', Say 'O Bhai Sahab'!
Netizens have been showering praises over the show for its impressive storyline and unexpected twists in the series.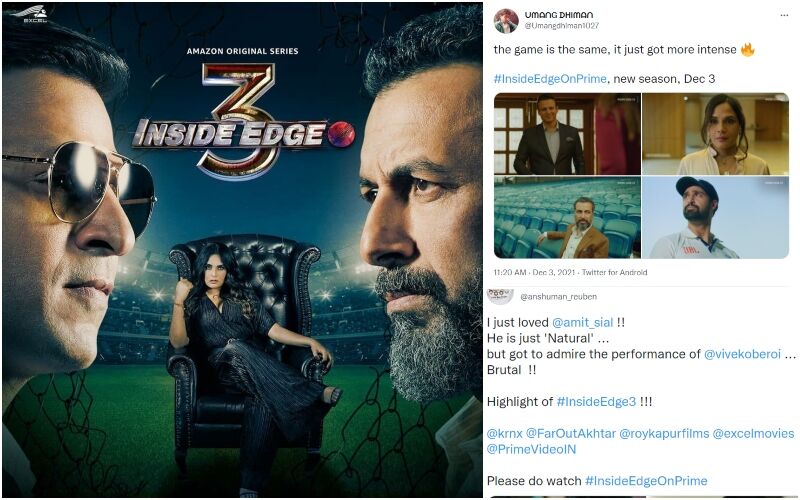 Amazon Prime Video Series Inside Edge is back with its third instalment of the show which stars Richa Chadha, Vivek Anand Oberoi and Angad Bedi.
Inside Edge made its debut in 2017 and went on to earn nominations in the International Emmys Award in Best Drama category, the first for India. The show revolves around Cricket and touches upon the power, corruption, scandals, and other elements that play important roles within the system.
Meanwhile, netizens have been showering praises over the show for its impressive storyline and unexpected twists in the series.
Several rendered their reviews on Twitter as one of them wrote, "Finally finished watching this 9 am of the morning time to take a bath and go to work. I ain't watching cricket or any sport. Dafuq did I just saw…mind boggling stuff."
Another wrote, "I just loved @amit_sial!! He is just 'Natural' … but got to admire the performance of @vivekoberoi … Brutal !! Highlight of #InsideEdge3 !!!"
Although, the show was also addressed with unfavourable reviews as one of them shared that it was unimpressive.
Inside edge kaisi hai
Mere ko to nahi achi lagi

— ☬ 𝘈𝘕𝘛𝘐𝘔 26𝘛𝘏 𝘕𝘖𝘝𝘌𝘔𝘉𝘌𝘙 ☬ (@crimemistergogo) December 3, 2021
ngl Inside Edge season 3 was a bit of a step down from previous seasons. Too much stuff in it. The twists were predictable asf. Still a good story tho and some of the performances were great, Vivek Oberoi and Tanuj Virwani especially. pic.twitter.com/tDFjhORCr2

— Advit (@advitreides) December 3, 2021
Many seemed to be disappointed after having more expectations from the latest season and that it was a 'step down' from the earlier instalments, also highlighting the 'predictable twists.' But some still acknowledged the 'good story' and the performances of Vivek Oberoi and Tanuj Virwani.
The series also stars Tanuj Virwani, Amit Sial, Akshay Oberoi, Sunny Hinduja, Sapna Pabbi, Sayani Gupta, Sidhanth, among others.
The season consists of 10 episodes in all. They have all been released simultaneously. The duration of the episodes range from 34 minutes to 59 minutes.
Image Source: Twitter/advitreides/Umangdhiman1027/anshuman_reuben