International Women's Day: Pushpavalli, Criminal Justice- Behind Closed Doors And More Web Content That Showcases Strong Women
As International Women's Day is around the corner, here's looking at web content that celebrates women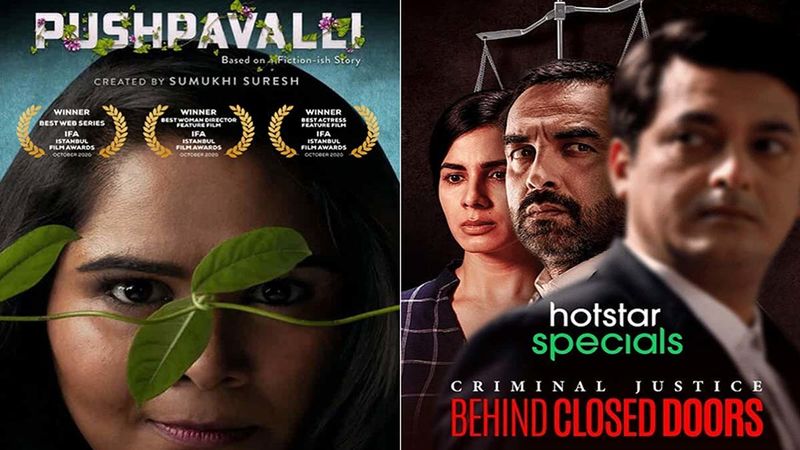 International Women's Day will be celebrated across the globe on March 8, and in today's day and time we have seen women inspiring us on every single day. From their hard work to achievements to determination to keep going, in 2020, we have come across web content that revolved around some strong women and those one as well which were creatively crafted roles played by certain actresses leaving us inspired. On that note here is a list of 7 web content that celebrates women in every single way.
To begin with Four More Shots Please! The series was a crazy friendship bond, shared by Siddhi, Umang, Damini and Anjana played by Manvi Gagroo, Bani J, Sayani Gupta and Kriti Kuhlhari respectively. Show was relatable to modern working women as it showcased their struggles and achievements in personal and professional life.
Next is Pushpavalli starring standup comedian Sumukhi Suresh, it shifted focus from men standup comedians, and entertained the audience too. Her acting chops and comic timing earned her praises. The series also had a second season in 2020 with Sumukhi taking home "Best Actress in a Comedy Series (Critics)" trophy at Flyx Filmfare OTT Awards 2020.
Women fighter pilots, a two part series, set a new benchmark with Avani Chaturvedi, Bhawana Kanth and Mohana Singh setting against all odds to become the first three female fighter pilots. This series was all about bravery, that deserves praise for sure.
Serena Williams in 'Being Serena' opened doors to what is her life outside a tennis court; the series saw how the ace tennis champion is in real life. It gave us a glimpse of marriage, motherhood, her pregnancy phase as well as entrepreneurial aspect.
Sony SAB show Kaatelal & Sons, defined how one should pursue dreams irrespective of their gender. The show was inspired from a real life story where two sisters go against the societal pressure to achieve their dreams. The show had the tagline, Sapno ka Koi Gender Nahi Hota.
Criminal Justice- Behind Closed Doors saw actress Kriti Kulhari just raising the performance bar higher. This movie was all about picking on those topics which are mostly considered taboo and to be discussed behind closed doors or forgotten. Kirti Kulhari was seen playing Anuradha Chandra who murders her husband and confesses of her crime as well.
Lastly on the list is Vadham
The film saw Shruthi Hariharan stepping into the role of female police inspector who along with an all women police station is assigned to solve a murder case of an influential political figure.
Image Source: Instagram/sumukhisuresh/1linemoviereview