Jassie Gill On Working With Surekha Sikri In Her Final Film Kya Meri Sonam Gupta Bewafa Hai?: 'Being With Her Felt Like I Was With My Own Dadi'-EXCLUSIVE
Jassie Gill opens up about getting to work with the thespian, the late Surekha Sikri in her final film appearance in Kya Meri Sonam Gupta Bewafa Hai?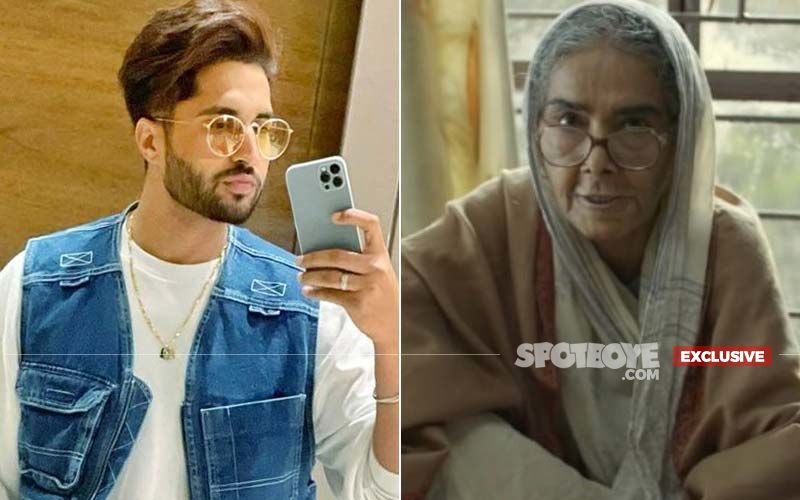 The Indian film industry suffered a huge loss this year as we lost the legendary actress Surekha Sikri on July 16. The thespian had been suffering from the complications of two previous brain strokes and finally succumbed to a cardiac arrest at the age of 76.
The actress had given some iconic performances in her career that spanned over four decades. Some of her notable performances included films like Tamas, Mammo, Sardari Begum, Zubeidaa, Mr and Mrs Iyer, Ghost Stories, Sheer Qorma and Badhaai Ho. The latter even brought her the third National Award in the Best Supporting Actress category. She was one of the few actors from the industry who enjoyed stardom not only on the big screen but on the small screen as well. Her stint as Bhabho in Saat Phere and as Dadi Sa in Balika Vadhu are two of the most iconic characters from Indian TV history.
Sikri did her final acting stint for the Zee 5 film Kya Meri Sonam Gupta Bewafa Hai? The comedy, featuring Jassie Gill and Surbhi Jyoti in the lead, features Sikri in the role of Jassie's dadi, and was released two days ago. Ask Jassie about his experience of working with the great actress, and he says, "Being with her felt like I was with my real dadi only. She looked and behaved the same as my dadi. The way grandmothers keep their grandkids around, the same way she used to keep us around."
Jassie insists that even though she spoke less, it was her eyes that did all the talking. "She used to speak really less on set but her eyes reflected the love and affection that she was showering on us. Her dedication towards her work was clear from the spark and smile she had in her eyes while working. She never complained about anything even though it was a six-hour journey on the road from Delhi to Badayun, where we shot. I used to spend eight-and-a-half hours traveling from Chandigarh to Badayun, whenever I had to leave for my shows in between and it used to take my whole day whenever I travelled. But she never complained about it," he shares.
The actor shares that even though Sikri was restricted to a wheelchair due to her character, she was still one of the most expressive persons on set. "Her shoot was majorly on a wheelchair but she was so expressive in her craft. I just feel blessed to have gotten to work with her in her last film and for the opportunity of getting to spend time with her. The hard work she used to put even at her age was so inspiring," he asserts.
Not only that, Jassie also got the privilege of getting Sikri to dance on his song before she bid adieu to the world. "One of my songs had just been released during the shoot of the film and I had left for a show post that. So, while I was away, she sent me a video of her dancing on my song and I even posted it on my Instagram. She was sitting on the wheelchair and dancing," he reminisces fondly.


Image Source: Instagram/jassie.gill/surekhasikri_