Kartik Aaryan, Suraj Sharma's Unacknowledged Triumph
Kartik Aaryan and Kaanchi and Suraj Sharma in The Illegal, two films that requires a re-watch for these two stars.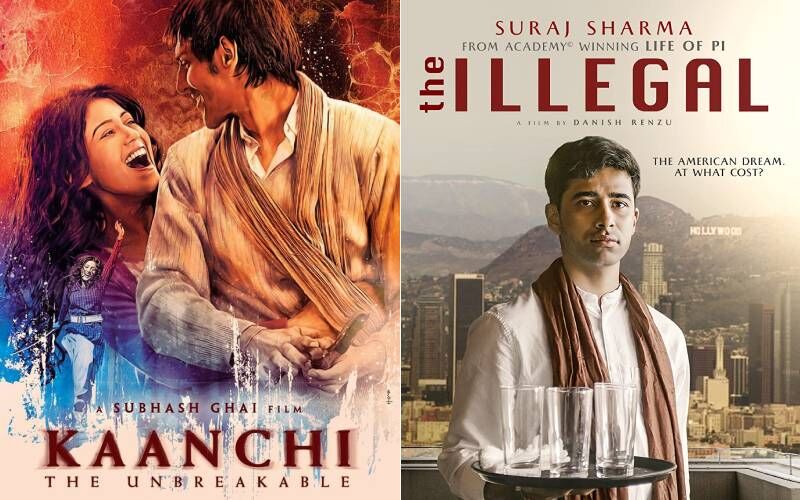 Kaanchi (Amazon Prime Video): Irony can go no further. Subhash Ghai made this misfire to launch his new female discovery. But Kartik Aaryan stole the show from Mishti in every frame. Subhash Ghai loves the mountains. In many of his films these are captured with the sobering imposingness of a climber gazing lovingly and reverently at the peaks he knows he must conquer. From the tale of a girl from the hills contesting the city marauders rights to usurp her of land and love, to a frenzied saga of revenge in the big bad city where the innocent girl assumes the role of a desi Lara Croft, Ghai tackles the craft and the emotions with a devilish deftness. Subhash Ghai threads together a jam-packed jigsaw. Something or other is always happening in some corner of the script. Kaanchi is a puzzle of a film. It bustles and brims over with reformatory ideas, anti-corruption zeal, and lunges for an overweeningly ambitious format of storytelling where Raj Kapoor's Ram Teri Ganga Maili meets Rakesyh Mehra's Rang De Basanti. Ghai employs every cliché in the book of formulistic storytelling. And you know what? He succeeds in telling a spectacular story filled with muted sound and flamboyant fury. Kaanchi is the story of a girl's journey from the innocent unspoilt mountains of Uttaranchal to the corrupt and corrupting sinful city of Mumbai.... The format is not new to Ghai's cinema. He tried it earlier in Taal. In Kaanchi the approach road from the back of beyond to the mainland mayhem is far more upfront and aggressive. The music, so essential to the impact of Ghai's cinema, here conveys the split personality of a society that is caught in a migratory transition. At times you feel the narrative should have been allowed to be more spontaneous. But then you realize this is not a film that tries to impress with subtlety. The charm of the protagonist Kaanchi's journey is not in its quotient of adventurousness but in delivering an exuberance of the expected.
And now the million-dollar question about Ghai's latest discovery. Does Mishti live up the high standards set by the filmmaker's earlier debutant/semi-debutant heroines? In spite of her inability to touch some of the peaks required in the dramatic scenes the girl with her very Bengali personality and a serene simplicity creates a very favourable impact. Bearing a faint resemblance to Mandakini in Ram Teri Ganga Maili Mishti breezes through most of the film with charm and confidence. Mishti is out staged by Kartik Aaryan. Kartik Aaryan's very athletic ramp-friendly personality is used to play off the heroine's rustic artlessness. It was clear that Kartik had a very bright future ahead. In the second-half the ever dependable Chandan Roy Sanyal takes over as the man in Kaanchi's life. Cast as a roguish cop whose morals are as questionable as the lyrics of the item song he dances to, Chandan plays a role similar to the one Parmabhrata Chatterjee played to Vidya Balan in Kahaani. Mithun Chakraborty and Rishi Kapoor as a pair of trouble-makers are deliberately lampoonish. Why is Mithun's mouth stuffed with marbles like Brando on a bad-teeth day? And why does Rishi dance to a song that does no justice to his Karz past? But then Ghai's villains have always been outrageously self-important. Newcomer Rishab Sinha as Mithun's son has a very important role which he squanders away in serious apathy and a ludicrous wig. In spite of its jagged edges and its tendency to take itself a tad too serious Kaanchi manages to simulate a supple empathy for it's disarmingly uni-dimensional characters. Sudhir Chowdhary's cinematography helps to fund Ghai's dream of a nation where one girl with the help of some rock-singing youngsters can free us of corruption. Kaanchi tells us there is no harm in dreaming. It marks the return of the Showman to form. This is a warm-hearted free-spirited ode to new-age womanhood. The female protagonist's dharm-yuddh with evil forces may lack in subtlety. But then the time to tackle terror with tact is over.It's time to take on corruption head-long. Kaanchi does just that. With feeling and drama.
The Illegal (Netflix): I believe Suraj Sharma was the first choice to play Hassan, the dreamer from Daryaganj who lands in Los Angeles, feet first, dreaming of learning filmmaking but instead ends up being a waiter in an Indian restaurant owned by a man Khan who is part saint, part sinner. Khan slave-drives the illegal brown boys who have nowhere to go. For Hassan he has a special name. Spielberg. We hear you. Suraj owns Hassan's part imbuing the character with vulnerability and strength, power and helplessness as he gets more and more sucked into a wage-earning mode. The Illegal is a much more sensitive and moving drama about cultural and emotional displacement than it seems. Outwardly, it appears to be one more migrant's tale. Aren't they all the same? It is this sameness that the narrative slips into to accentuate the tragedy of an individual losing his identity in a melee of vicious competitiveness. By the time Hassan becomes just a face in the crowd in opportunity-driven America we have seen his character go through a whole gamut of emotions from hope to despair, from dreamer to scrounger. The Illegal is a sharp never-shallow always-probing take on the migrant's disenchantment with a vividly sketched central character played with remarkable sang-froid by Suraj Sharma. Watch his rage explode in the sequence where he abuses his exploitative boss or when he breaks his camera. This is a performance that comes straight from the heart. Moving and yet controlled, the central performance defines the film's mood which is never over-done, never over-stated. Some of the supporting characters are hauntingly tangible. Babaji (Iqbal Theba), the kind patriarch who takes Hassan under his wings, feeds Hassan's hungry belly and his hungrier ambitions and controls his anger when it swells into over-tide. Back home in Daryaganj the very talented Adil Hussain, Neelima Azim and Shweta Tripathi have very little to do as Hassan's family except pray for his prosperity and wait for him to return. Neither happens. It is the nature of the beast. Once the American Dream swallows you it doesn't spit you back to where you came from. The Illegal is a timely tale well told. It is moving and rewarding, excruciatingly predictable and all the more appealing for it.