Money Heist, The Family Man 2, Masaba Masaba Season 2: Release Dates and Time of Upcoming Sequels Of Our Favorite Web Series In Line To Drive Away Our Lockdown Woes
The Family Man Season 2, Lupin Part 2, Broken But Beautiful Season 3, Delhi Crime Season 2, Kota Factory Season 2, and Mismatched Season 2 will be back on OTT Carnival on public demand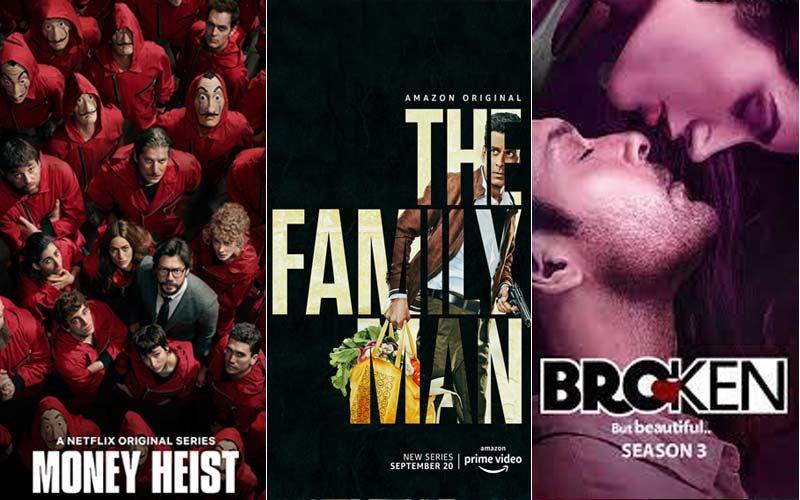 2020 was the season of web series, where one could experience some great content especially all over the OTT platforms. Due to the popularity of these shows among the audience, some makers announced sequels to their shows. Let us see some of the most awaited sequels of 2021.
1. The Family Man Season 2
This is one of the most awaited shows on Amazon Prime. The Family Man tells the story of a middle-class man juggling his family life and also serving as a spy. It's the journey of Srikant Tiwari trying to have a balance between his duty and passion. The audiences loved the show for its great storyline and gripping scenes and were eagerly awaiting the sequel to be released. The wait is finally over for The Family Man fans, as in less than two weeks, the second season of their favorite web series will start streaming. The show is slated to release on 4th June 2021 on Amazon Prime featuring Manoj Bajpayee, Priyamani, Samantha Akkineni, Sharib Hashmi, Darshan Kumar, Gul Panag, Sharad Kelkar, and Shreya Dhanwanthary.
2. Money Heist:
Money Heist (La casa de papel) is a Spanish heist crime drama television series created by Álex Pina. The series traces two long-prepared heists led by the Professor (Álvaro Morte), one on the Royal Mint of Spain, and one on the Bank of Spain. The series was dropped on Netflix back in 2017 and has become one of the most popular web series since. Well, now the makers have announced that season 5 of the series will be released in two parts- on 3rd September and on 3 December 2021. Isn't this news exciting?
3. Lucifer Season 5 Part 2
Lucifer has become one of Netflix's biggest original series. The series revolves around the story of Lucifer Morningstar (Tom Ellis), the Devil, who abandons Hell for Los Angeles where he runs his own nightclub named 'LUX' and becomes a consultant to the LAPD. Tom Ellis's performance as Lucifer is the most talked about. The season 5 part 2 is less than a week away with all episodes due out on May 28th.
4. Broken But Beautiful Season 3
The season 3 of the highly anticipated Broken but Beautiful series is all set to return on the OTT platform. The series is scheduled to release on 29th May 2021 on Alt Balaji and Mx Player. With Sameera and Veer's story ending with season two, the third season of this romantic drama will feature a new couple, Rumi (Sonia Rathee) and Agastya Sidharth Shukla.
5. Lupin Season 2
Lupin is the show that Money Heist fans have been waiting for since the season 4 finale. Luckily, the show's many fans won't have to wait long for the next season. The French thriller is soon to air on June 11 on Netflix. Season 2 tells the story of Assane's (Lupin) quest for revenge against Hubert Pellegrini who torn his family to pieces. With his back to the wall, he now has to think of a new plan, even if it means putting himself in danger.
Apart from these series, there are few other shows which have announced the sequel but haven't confirmed the release dates.
6. Mismatched Season 2
Hello Future Wife! This statement is sure to make your heart beat faster. Mismatched told the beautiful love story of Rishi Singh Shekhawat and Dimple Ahuja who fall in love after lots of fights. The end episode showed a huge fight between Rishi and Dimple and the couple's separation. Rohit Saraf fans are eagerly waiting for season 2 to get answers to their questions. We are expecting Rishi and Dimple to come back together and have a happily ever after. Mismatched starred Prajakta Koli, Rohit Saraf, Vihaan Samat, Rannvijay Singh, Muskkaan Jaferi, Vidya Malavade, Devyani Shorey, Taaruk Raina, Kritika Bharadwaj, Abhinav Sharma and Suhasini Mulay.
7. Delhi Crime Season 2

Delhi Crime was the winner of the International Emmy Awards and the first Indian series to receive the award for Outstanding Drama Series. It told the story of the 2012 Delhi Gang rape case and received a lot of accolades for the genius plot and acting performances of the whole cast. Season 2 will see Shefali Shah in the same avatar but trying to crack a new case. Delhi Crime starred Shefali Shah, Rasika Dugal, Adil Hussain, Yashaswini Dayama, and Jaya Bhattacharya.
8. Masaba Masaba Season 2

Masaba Masaba is a biopic based on 'House of Masaba' fashion designer icon Masaba Gupta. The series starred Masaba and Neena Gupta playing a mother-daughter duo. The fresh take of one's life story received a lot of appreciation from people and kept them hooked to her journey. We are waiting to see what next life story Masaba has to share as the shoot has already begun.
9. Kota Factory Season 2

Kota Factory season 1 became extensively popular among the audiences due to the real-life story portrayal of IIT students in Kota, Rajasthan. The series explored the day-to-day hardships of students and the constant chaos in the life of IIT aspirants. We are anxiously waiting to see the main lead's journey from a small coaching center to a brand new and upper-class coaching hub. Kota Factory starred Jitendra Kumar, Ahsaas Channa, Mayur More, Revathi Pillai, Ranjan Raj and Alam Khan.



Image source: IMDb