Nail Polish And Oru Pakka Kathai: Two Interesting Films On Zee5 You May Have Missed
Here's looking at two interesting films on Zee5 that you may have missed - Oru Pakka Kathai.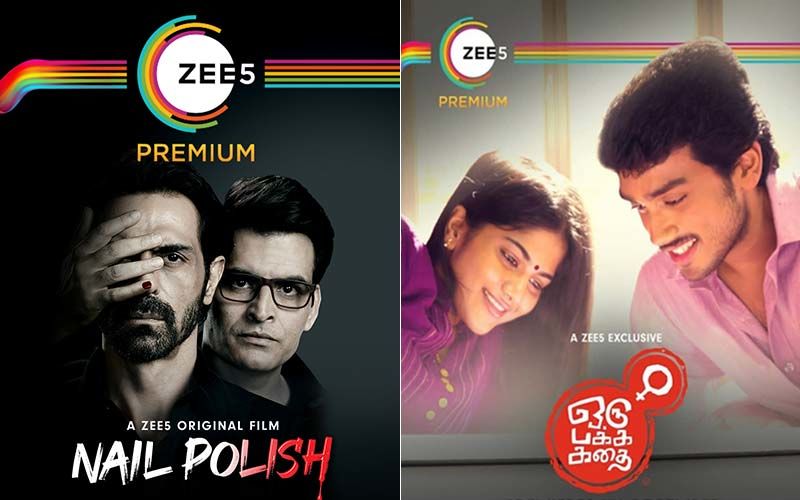 NAIL POLISH: In a sudden midpoint-swerve the intriguingly titled Nail Polish sees its antagonist Veer Singh behaving like a woman ."I want my nails polished," Veer, played by that actor par excellence Manav Kaul, coyly tells the stunned nurse.
And I thought, Yeh kahan 'lacquer' plot ko aa gaye?
Nail Polish is a very ambitious film. The writing is original,startling and sometimes disturbing in its graphic description of gruesome murderous moves and its depiction of a psychological state known as Dissociative Identity Disorder. To carry Veer Singh, and the complex plot that supports his character, to its dismaying deadend, is a task worthy of a seasoned director.
In spite of the often awkward direction, Nail Polish nails it. There are many unanswered questions at the end. But the polished spin that writer-director Bugs Bhargava Krishan brings to the courtroom drama is welcome and refreshing. The courtroom where Veer Singh, a decorated ex-soldier and now a sports coach, is tried for the sordid sexual assault and gruesome murder of little children, is very different from the courtrooms that we've grown used to watching in Hindi films.
Anand Singh as the asthmatic idealistic public prosecutor and Rajit Kapur as the judge make the legal wrangle look believable. But it is Arjun Rampal as the somewhat washed-out defence attorney who holds the key to making the court proceedings seem notches above the routine. Arjun rattles the courtroom rhetoric with just the right punctuation. His voice never rises to make its point. Here is a lawyer used to being heard, and winning. This is a fine actor at work.
The film however belongs to Manav Kaul who sinks his hungry teeth into a role that is as bizarre as it is challenging. For most of the film he has to convince us and the courtroom that his personality has been taken over by a woman whom he once dated. This sounds impossible on paper. Manav manges to make it believable.
ORU PAKKA KATHAI (Tamil): It isn't clear or even coherent how the film's young heroine Meera (Megha Akash) gets impregnated when she has never had sex with her boyfriend Sarvannan (Kalidas Jayaram). Who thinks up such stories at a time when reproduction and condoms are affable bedfellows.
"Have you been with another guy who took advantage of you?" the stern gynecologist asks Meera as she sobs quietly repeating that she is a virgin.
So how did this happen? It takes the director a good hour to solve the mystery of Meera's immaculate conception. And when it's sorted we are hardly relieved for the couple. They still have a long struggle ahead including a media brouhaha and a rude run-in with a religious sect who insist their daughter is 'God's child'.
All this seems more suited for a satirical treatment. But director Balaji Tharaneetharan goes for a crossbreed narrative which gambols between quirky and tragic, though I must admit I was never moved, only amused by the goings-on. The tone is deadpan. And that, I realized, is the only way to tell a tale as outlandish as this.
There is an early sequence where Meera's parents call Sarvannan home and proceed to stare him down contemptuously. Instead of telling them that their daughter and he are both virgins, the boy looks askance, as though he were trying to figure out the plot, 'virgin' on the ridiculous, as much as we are.
Still the film is not offensive. Rather it has its own artless charm, a distant innocence whereby melodrama is largely eschewed except when it erupts like a vicious virus at the end. The last half-hour where the baby girl is held captive in a temple is soundly anti-ritual. But the director wants to offend no one. Hence the anger at the child's trauma is guided not at religion and blind faith but the ignorance of the wider social structure where immaculate conception is more acceptable than pre-marital sex.
While the lead actors and their parents are just about adequate, it is the little boy who plays a self-designated 'God' in a parallel subplot who steals the show. His loopy grin and twinkling eyes suggest he gets the point.I am not too sure I got it.
Image source: IMDb, Youtube/ZEE5