National Award Winner Manoj Bajpayee On Silence… Can You Hear It, Working With Neena Gupta, Sakshi Tanwar In Dial 100 And Family Man 2- EXCLUSIVE
Here's what Manoj Bajpayee has to say on his next, Silence… Can You Hear It? with Prachi Desai and Arjun Mathur, working with Neena Gupta and Sakshi Tanwar in Dial 100, an update on the Family Man 2 and his upcoming lineup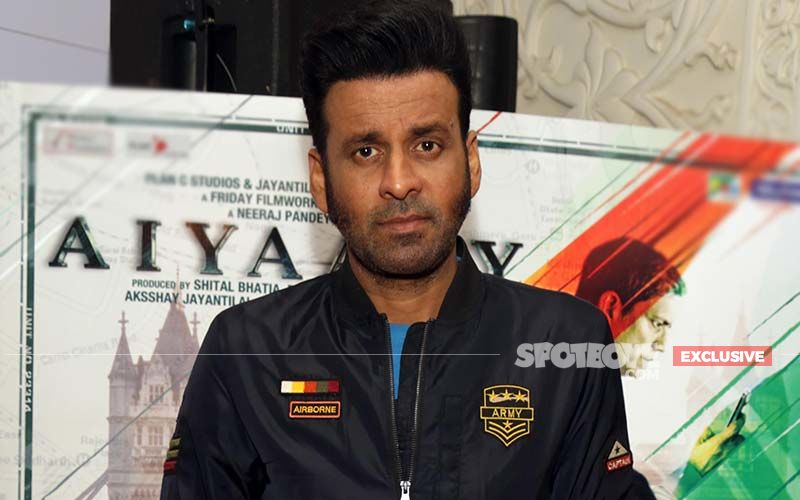 Two days ago, Manoj Bajpayee bagged his third National Award for his role in Bhonsle and now the actor is gearing up for his Zee 5 release, Silence… Can You Hear It?, with Prachi Desai and Arjun Mathur on March 26.
In a conversation with SpotboyE.com, the actor gets candid about the film, working with Prachi and Arjun, sharing screen with Neena Gupta and Sakshi Tanwar in Dial 100 and his upcoming lineup. Read excerpts from the interview:
Silence… Can You Hear It? is a story of 'whodunit'. Tell us what is the USP of the film that attracted you and will set the film apart?
It is a backstory of ACP Avinash Verma, the character that I am portraying, and that is what got me interested. The director, Aban Deohans is an old friend of mine. She has always been fascinated with murder mysteries and it reflects in the manner she has written this script. There were so many elements in there that fascinated me and were enough for me to say yes.
You have been a part of different types of film releases, be it theatrical, OTT or a hybrid release in the past few years itself. Has your experience differed in any way when you analyse the reception of the film and your character in each way?
I have done too many things. I have also done rap, Bhonsle and Mrs Serial Killer amongst other things. If I am convinced with it, I just go ahead and do it. Sometimes it works, sometimes it doesn't, that's part of the process. I never get indulged with achievements or failures. I just get up in the morning and start doing it all over again. That's the beauty of life. People who can survive this, can go for a long journey and have the ability to keep moving on irrespective of the result are the ones who thrive. It's all about staying on the journey and not stopping to celebrate success or be depressed about failure. Each and everything I do, I give my 200 per cent in it, but I never stop.
You are working with some great actors in Silence, like Prachi Desai, who makes her return to the screens after almost 5 years, and Arjun Mathur, who is coming back from an International Emmy nomination last year. How was your experience working with the two?
Prachi has been a television star and has also done commercial films. Even though she is coming back after a while, whenever I saw her work on any scene, she never made anyone feel that she's been such a big star. She always has a child-like joy, mingling with everyone on set and even though focusing on her character, never forgetting to have fun at the same time.
I am a big admirer of Arjun Mathur, he is an actor to look out for. He doesn't take even a moment for granted on set. Looking at his process from a distance, I admired him all the more for all the efforts he put in.
Do you think you get considerably more freedom on the web to explore different aspects of your craft?
I have been very lucky to get freedom from all my writers, producers and directors to explore my character in the way I like. They have always trusted me, be it in theatre, cinema or OTT. The web platform, by its nature, is very democratic and liberating, so you get to be a part of projects which are far more experimenting in their content. That gives me an extra incentive to work really hard on my characters that are always multi-dimensional. As for me, I have been working relentlessly and without compromise on every medium for a long time now.
You had quashed the rumours of your show The Family Man 2 getting cancelled, and had said it will return. Has there been any discussion on when will it be?
The Family Man 2 is not going anywhere, and as announced it will be coming back in Summer 2021. Let the peak of summer come and there will be good news coming from every corner. Amazon Prime is making all the marketing plans and it takes time. It will take another couple of months to take it to the audience.
You are working with two amazing actresses, Neena Gupta and Sakshi Tanwar, in your next film, Dial 100. What is that film about and how has your experience been shooting with those two?
Both Neena Gupta and Sakshi Tanwar are legendary talented actors. Neena ji has been doing extremely well with her choices since she made her come back (with Badhaai Ho). Her dedication on the set is quite amazing. I have known Sakshi Tanwar for a long time. When she was in her second year of college, I was conducting a workshop in her college and she was a part of it and ended up playing the lead in the play I did for her college. I have known her since then and have great admiration for her. It was great to associate and chat up with her about her journey and the craft.
As for the film, it is being directed by Rensil D'Silva and is a fantastic script that has shaped up so beautifully. It's currently under production and Sony Pictures and Siddharth P Malhotra haven't yet decided on whether to take it to theatres or OTT. I think all of us will first see the film, gauge the situation and then choose the path of journey for the film. But I am really excited to see the final print of the film.
What does your upcoming line-up look like?
For the next half year, I am completely booked and don't have a single free day, that is why I am not even reading any new scripts as it's futile. Even if I like it, I can't do it. Once I am done with my commitments, I will take a two-month break to figure out my plan of action going on further.




Image Source: Instagram/clapnumberhindi/bajpayee.manoj/familymanamazon/neena_gupta/sakshitanwar4