Pagglait To Raat Akeli Hai, These Films On Netflix Will Definitely Help You Get Away That Work Stress
If you're looking for something to watch this weekend, there are plenty of options. Keep scrolling to check out my list for you to watch from something you might have missed.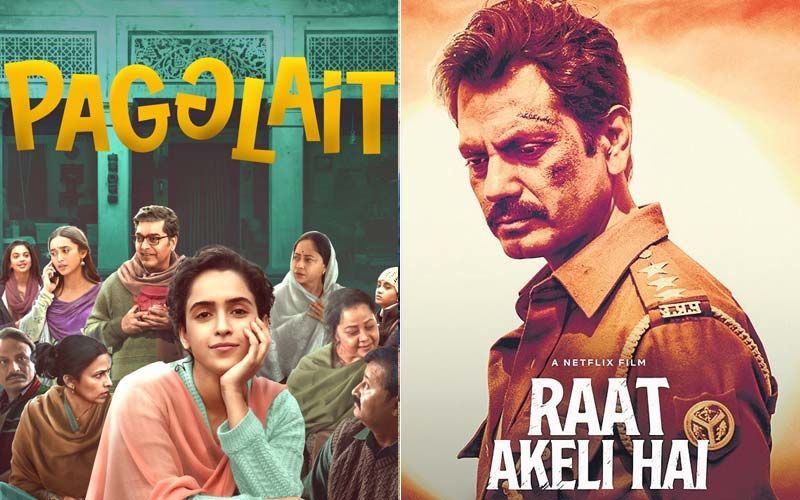 With fresh releases every few days, OTT platforms have proven to be a steady source of entertainment. Now that the chances of work from home might be coming to an end and life getting back to the old normal, we might not have enough time to finish those which we left earlier to watch later. So before we get busy with our life again, let's not miss these suggestions that I brought to you for this week.
Ludo:
Released on 12th November 2020, anthology black comedy crime film, Ludo was one of the best things I watched on OTT. Through overlapping lives, Ludo explores questions of virtue and evil, sin and goodness, heaven and hell, fate and retribution.

The film showcase four different stories which get related to one another in weird but funny ways. The most amazing thing about this film is how smoothly the characters of this film cross each other without any confusion. Written and directed by Anurag Basu, the film starred Abhishek Bachchan, Aditya Roy Kapur, Rajkummar Rao, Pankaj Tripathi, Fatima Sana Shaikh, Sanya Malhotra, Rohit Suresh Saraf and Pearle Maaney. Overall, Ludo comes with a lot of excitement and entertainment.
Pagglait:
Pagglait stars Sanya Malhotra as Sandhya in the lead role. Sandhya loses her husband just after 5 months of her marriage and then realizes that she lost her own identity while she was bound to a relationship she was never in. The film is written and directed by Umesh Bist who made sure to keep you hooked to the screen throughout the film. Everything in this film is in place, from background score to dialogues to the performances. Pagglait is a perfectly executed film that will leave you asking yourself what is the motive of your life!

The subtle direction is the most powerful thing that this film offers besides the establishment of every character that is related to Sandhya. Besides Sanya Malhotra, the film featured Sayani Gupta, Shrutii Sharma, Ashutosh Rana, Raghubir Yadav, Sheeba Chaddha, Meghna Malik, and Rajesh Tailang.
In one line, Pagglait is full of superlative performances with a well-scripted story.
Raat Akeli Hai:
Raat Akeli Hai is a crime thriller story set in UP. The film revolves around a case wherein a murder of a high-profile man takes place. The groom, who's in his 60s gets murdered on the night of his marriage. Then comes Jatil Yadav (Nawazuddin Siddiqui) as an inspector to solve the case. The major suspect of the story becomes the bride (Radhika Apte).

The twists and turns of the film are going to make you sit at the edge of your seat. The build-up of the story is just mind-blowing. The storyline is intriguing and the end (I'm trying to not give any spoilers) will blow up your mind. The writing of Raat Akeli Hai by Smita Singh will not bore you at any point whereas the direction by Honey Trehan is what exactly the script requires.
In a nutshell, the storyline, built up and performances are amazing of this low-key crime thriller.

Ramprasad Ki Tehrvi:
When Ram Prasad (Naseeruddin Shah) dies of cardiac arrest, his four sons, together with their spouses and children, travel to his ancestral home to console his wife (Supriya Pathak).

The funeral is held on the second day of death, as is customary in small-town Indian houses, but the prayer meetings are held over a 13-day period, which is a little too long for all of the family members who choose to live their own lives away from their parents in other cities.
This film comes with convincing performances by Naseeruddin Shah, Supriya Pathak, Vikrant Massey, Konkona Sen Sharma, Parambrata Chatterjee, Vinay Pathak, Manoj Pahwa, and Vineet Kumar. Seema Pahwa brings us the story with a unique concept which makes it a wonderful watch. The film is a little slow-paced but trust me on this, it is worth giving your time.
Out of all the suggestions I brought to you today, this one is my personal favorite. This simple yet impactful story will definitely touch your heart and soul.
Image source: instagram/IMDb