Paurashpur Actress Ashmita Bakshi On The Lovemaking Scene With Annu Kapoor: 'Actual Hot Molten Wax Was Put On My Back'- EXCLUSIVE
Paurashpur actress Ashmita Bakshi speaks to SpotboyE.com about her bold role in the series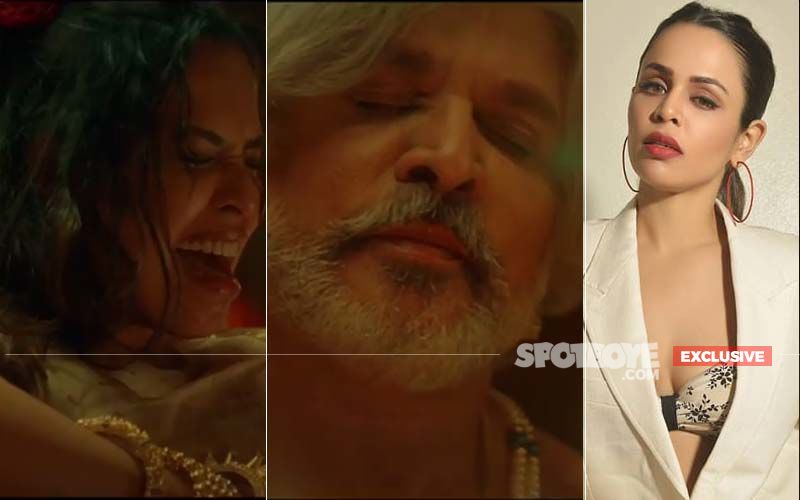 Actor Ashmita Bakshi, who has played some crucial characters in movies like Haseena Parkar, Fryday and Bhaiyyaji Superhit, is playing the role of Queen Umanglata in Ekta Kapoor's recently launched webseries Paurashpur.
Ashmita took everyone by a surprise with her lovemaking scene with veteran actor, Annu Kapoor in the very first episode. While the scene is highly being discussed among the viewers, the actress herself shared her view on the same in an exclusive interview with us.
As per Ashmita, more than bold, which her role is , her presence on-screen is very strong, is the feedback she has received. Read on the conversation below:
What sort of reactions are you receiving for the web series?
It's awesome- People from industry and outside, everyone is just loving the look, feel of the show. The costumes, the characters, the script, the dialogues, everything about the show is being appreciated so much.
What sort of feedback did you get for your character Queen Umanglata?
I would say the best till date. More than bold which my role is, my presence on screen is very strong- that's one of the best feedback I have received.
Were you conscious about shooting sex scenes with Annu Kapoor?
It was not much of a sex scene but a proper lovemaking scene with Annu ji. It was Raani Umanglata's first night with her husband and the King, Bhadra Pratap Singh. So, it had to be very sensual. I was conscious but Annu Ji made sure that I was comfortable while doing the scene. And I decided, if I had to do this, I better make sure it looks absolutely great.
What was the toughest part in that sequence?
The scene where hot melted wax is being put on my back. It was actually hot molten wax that's been put, not something artificial. I was completely bare back and was covered with a silicon sheet which made the impact lesser. It was a very tortorous scene but it was shot extremely well and it is being appreciated a lot.
How did your family react to the series?
The trailers went viral and my family saw them. They loved the look and the feel and were eagerly waiting to see the series. I was a little skeptical of my father's reaction but he told me that I was looking great in the trailers and he is waiting to see the series. He advised me to take up different roles and not be hesitant about it. I am glad with their reaction.
Do you want to do more of such kinds of roles?
Sure, I don't mind. I did this because the character made perfect sense. Each and every move, sentence, dialogue was justified. If the role is that clear, I would surely do it!
What's next in the bucket?
I have two more web series coming up that I have shot for after Paurashpur. One is with Mad films called Cheater directed by Sunil Manchanda. And the other one is Vikram Bhatt's directed, Dirty games.
How was it working with the ensembled cast?
It was great. As an actor you feel obliged when you have senior actors as your co-stars, and in Paurashpur, the concept and script was quite bold, so actors like Annuji, Shilpa were extremely cooperating and absolutely fun on the set, making it a family like environment. I loved working with them.



Image Source: Instagram/ashmitabakshiiam