Potluckk: Ira Dubey: 'I Wanted To Break The Stereotype That The Actresses Will Never Do A Mother's Role- EXCLUSIVE
Potluck is a family drama series starring Ira Dubey, Cyrus Sahukar, Harman Singha, Jatin Sial, Kitu Gidwani, Saloni Khanna, Siddhant Karnick, Shikha Talsania, Aarav Rana, Aarvi Rana, Aradhya Ajana. Ira in an exclusive interview talks about her show, co-stars, and much more.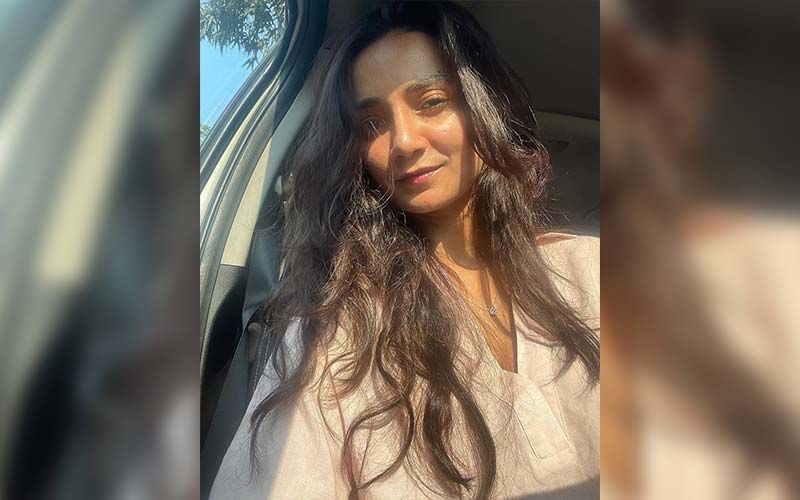 Potluck talks about family drama, how would you describe the show?
I loved the humor, I think that's very important in life and I love the fact that this is a show that's trying to look at a modern Indian family as it is. No matter how much you know we are in a very interesting time in history as a race I feel. We the Indians today are very exposed to the West. We have become very individualized, very westernized and independent-minded in many ways, and yet there is something which also always keeps us very rooted to Indian culture which is family. You meet people from different parts of the world you will realize that family is not as important as it is in India. I think that to me is a very interesting face it's not just about the family coming together. The everyday rants, craziness the messiness, complication, argument the love is very relatable. I think there is nothing like this right now a family dramedy which is a comedy plus a drama in this space. I feel it's very fresh that's what attracted me to it and the fact that it's looking at in a very unique situation. Also, my character is a working mother I think that is a very important message to send a woman today that you can have it all, you can do it always, it is not impossible. I have three children in the show, my husband is very funny and our relationship is full of comedy. We have a five-year-old child and then we have twins and they were unplanned and so what do you do suddenly you were sitting with three children's and you both want to work and you put one career on hold and you want to live and how you will balance it all. So that is also was interesting for me.
How much could you relate to your character Akansha?

In many ways, I could relate to her a lot. A woman who is trying to play her life on her terms, who aims to focus on her career. Of course, I am not married and I don't have children so that was a very interesting phase for me to get into the skin of the character. My sister has three-year-old twin girls so I used her and my scenes with the girls a lot as a reference point and tapped into my maternal instincts. It was a challenge but I enjoyed the challenge very much. In fact, I wanted to break the stereotype that the actresses will never do a mother's role. I believe today everything has changed and you can be a very successful, very balanced young hot mother and still have a career. So I want to break such a stereotype. Having said that for me it was a challenge and it was exciting, it was a real treat to work with the kids. Working with children is a different kind of magic. Of course, it's highly stressful because you have to be fully alert and you have to have a vast amount of patience.
Cyrus Sahukar plays your husband in Potluck, you have worked before him in Aisha, how was your experience with him this time around?
He is a nail on the head, I said it on record. Cyrus is one of the funniest man I've ever met in my life. And I'm very grateful and very lucky. We take each other's case all the time you know. I adore him and I am very fond of him. He is a wonderful actor and it was a treat to work with him again because there is never a dull moment with him. It's been 10 years since Aisha and has become a different person and all that but the essence of human beings doesn't change. It was a sheer delight, it was getting exhausting of course to keep up with his side, the level of energy, humor everything but I think we all were very very grateful. We were shooting 18 days non-stop it was a very intensive schedule to shot the entire season in 18 days, we were all in a bio bubble. We all were living, breathing, eating everything together. Both on and off camera and I think that is also a clever thing as a produces did because that kind of conversation that chemistry will reflect in the show so it was a deliberate choice I think on the part of the makers of the show and it sure hit the show that said I had four children's on the show. So it was a lot. (laughs)
This is an ensemble series with a stellar star cast what are the plus points of working with such a huge cast?
The ensemble takes a part of the norm. You look at the web series today, the kind of content is out there, the web has taken over so strongly that everybody can watch the concept on the phone and in every part of the world. I think that really contributes to what we got out there in terms of content is better. A lot of things have become an ensemble. So I think what happens with an ensemble is that the energy created between that particular group of actors is extremely important and luckily with Potluck the strength of the show is its casting, it is very well cast. I was lucky that I have worked with Cyrus before so there was a massive comfort level and trust level was already there and we remain friends ever since Aisha so I think that of course helped. But even with the other actors who all are very fine actors even though there was a generation gap but there was an idea of this family.
So Ira apart from Potluck what else can we see you in?
I have a couple of shows. I have a show called Baa Baa Black Sheep which is going to be on Amazon Prime Video directed by Raja Menon that would be outs end of the year. I also have a film on Netflix Abbas Mastan's film called Penthouse which is also coming by the end of the year. I am opening a new show that's my first love, I have always loved theatre. Theatres has taken a really big hit in the last year and a half and it is also very sad that all of us like Shikha (Talsania) we have done theatre and we really feel that we want to get back on the stage. I am opening a new play. It's based on Shobhaa Dey's book called lock Layzon. So that's with my mum that hopefully, that would be in Prithvi Theaters in Mumbai. I have also produced my first ever short film during the pandemic that I shot last year in December and I am acting it's father-daughter relationship. It's quite a powerful little film. At moment it's done with post-production I am sending it to festivals and by next year you should see it on a platform here.
Image source/IraDubeyInsta