Pratik Gandhi On Scam 1992 Success, Says, 'People Take Me More Seriously As An Actor Now, I've Been Offered A Lot Of Good Scripts For Films'- EXCLUSIVE WATCH VIDEO
Actor Pratik Gandhi has scammed our hearts with his brilliant performances in Hansal Mehta's Scam 1992, recent release Vitthal Teedi and with his cooking skills in Discovery +'s show Star Vs Food. In an exclusive interview with SpotboyE, the actor talks about all things food, his journey, and working with Taapsee Pannu.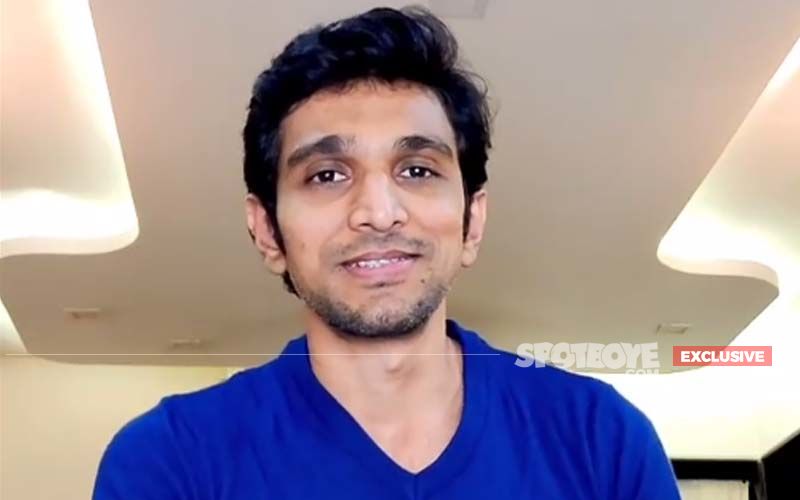 What was the reason behind doing the show Star VS Food on Discovery +?
I had never cooked anything in my life, my wife had always been complaining that you never cook anything for me ever. I was never very confident to go in the kitchen and do an experiment and do something. So I guess, the moment I was given this opportunity, I jumped on it. I said I just want to do it.
What was scarier, to face the camera or to be in the kitchen and cook something?
I guess to be in the kitchen yeah because the camera, stage, and all these things have become my second nature, I can do it any time but I have never explored this side, you know of cooking and experimenting with those flavors and I had never done that and also this time I did with strict guidance of the chef and he made it happen for me actually.
Did you practice at home before going on the show?
Oh Yes, I had practiced, my practice was like a helper practice. Before my mum would make me do it and now my wife does. Like I can do the hardcore work, apart from cooking because that's something I never get it. I have always been a sous chef.
But in the end, your wife is happy with the food that you made.
Yes, yes she is very happy, but now her expectations are very high. (Laughs)
So after the show, did you prepare anything for her?
Right now no, but yes she keeps telling me that please make something, so right now I am trying my hand with poha, I'll start with something easy.
What was been your favorite food?
My favorite food is anything homemade. I am a complete vegetarian so homemade vegetarian food; Gujarati food, roti -sabzi, if I get it, I can eat that my whole life.
You mentioned that you were living in the hostel; didn't you cook snacks for yourselves?
So we would get food in the mess and also hostel never allowed to cook because we were mechanical engineering students so any which ways notorious and they wanted to keep us away from all these machinery as far as possible. We were allowed to use machines only in the college nowhere else (Laughs).
Pratik from studying engineering to acting, when did the acting bug bite you?
Engineering was really late, I was always an actor, I started performing on stage when I was in the third standard since then I have always been performing either on a dance show or an elocution competition, fancy dress competition or plays or even you know singing competition everything, I always, wanted to be on stage to perform. I don't know or remember one particular incident when I decided to be an actor because that was second nature to me. After 12th I picked up engineering, I thought to be a mechanical engineer if not an actor. It was a long journey for me.
Scam 1992 has brought immense success and recognition to you, has anything changed post the success?
So as far as my personal approach towards life is concerned I have not changed. Like people around me have changed a lot. In fact, now the way people look at me has changed and in my professional world, the way people approach me has changed. They take me more seriously as an actor now. People are ready to do projects with me. I've been offered a lot of good scripts for films, for the mainstream Hindi film industry, and also OTT. As an actor, I guess it is a very very satisfying moment right now, where all these years whatever I had given, and had learned will be of use.
So one success does change an actor's life?
Yes absolutely one success is needed in every industry you are in, but for us in this particular industry, one major success means a lot because that opens up a lot of opportunities for you. Then again in each and every project, you have to keep proving yourself time and again because your're one successful work won't work for you your whole life, it can just give you five more opportunities.
Were you ever skeptical that you might get stereotyped because you've done Scam and then Vitthal Teedi which were almost on similar lines?
Yeah! I was always very conscious about it. I never wanted to put myself in one bracket, which is why I kept experimenting, be it on stage or in the regional cinema or anywhere. So no two characters have ever looked the same or at least I have tried that my characters should be absolutely different. Between 'Scam' and Vitthal, the characters are very different, yes there are some similarities as far as swag is concerned, styling, etc. but the characters' journey their emotional graph everything is different. So yeah I keep a very close check on myself to do that very consciously.
Pratik, what is the definition of stardom for you?
I guess stardom is where people want to write for you, when people think about you, in their project.I guess that's the best place for an actor to be in.
So you think after Scam you're close to stardom or it's still a long way?
Yeah, the definition that I told you, then yes I am there because there are a lot of people who have started writing for me, there are characters been written for me, I have been approached for good films, good projects. So looks like I am there.
So you have good projects coming up you have Tigmanshu Dhulia's Six Suspects and you have a film with Taapsee Pannu, can you please give some details on that?
Yeah, so Six Suspects we are still shooting. The major portion will be shot once the lockdown has been lifted. And of course the film with Taapsee Pannu with Roy Kapur, Roy Kapur film production will go on floors by the end of this year.
You always wanted to work with Taapsee Pannu…
Yes, she is one of the actresses I enjoyed watching. Her selection of projects is very interesting. I am very excited to work with her, I met her only once at award functions
So given a chance one Bollywood actor/ actress would you like to take out for dinner?
I'll take Jackie Shroff and I will cook full Gujarati Thali for him. He loves Gujarati food, I have had two projects with him; Ventilator and Athithi, he is a complete foodie, he loves Gujarati food and he is a Gujarati himself and he loves it. Actress… I haven't met anyone yet but I will take Konkona Sen Sharma and treat her with Gujarati food because she might have never had Gujarati thali and is one of my favorite actresses so yes through that I will also get to meet her once.



Image Source: Instagram/pratikgandhiofficial