Rashmi Rocket Trailer Launch: 'It's Just Validating My Efforts,' Says Taapsee Pannu On The Online Trolling She Is Facing For Her Physique In The Film-EXCLUSIVE
At the trailer launch of the sports drama, Rashmi Rocket, the film's team including, Taapsee Pannu, Priyanshu Painyuli, Abhishek Bannerjee, director Akarsh Khurana and producer Pranjal Khandhdiya, talk about the process of making the film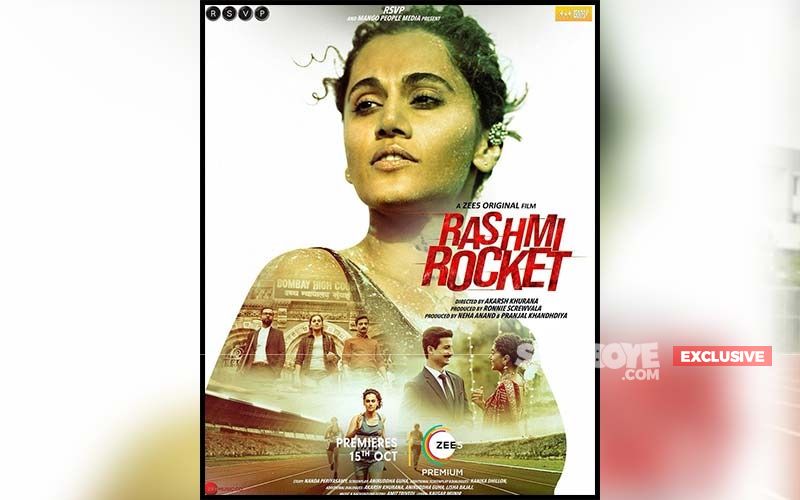 After treating the audience with the release date of her next, Rashmi Rocket, Taasee Pannu gathered with her team from the film—Producer Pranjal Khandhdiya, director Akarsh Khurana and co-stars Priyanshu Painyuli and Abhishek Bannerjee—to unveil the trailer of the film, that releases on October 15 on Zee 5.
The powerful trailer sees Taapsee play an athlete from Kutch whose is leading a successful athletic career until her life turns upside down due to a gender test. It sees Priyanshu play an army man who is Taapsee's partner and Abhishek as a lawyer who takes up the case of Taapsee's Rashmi to get her justice against the discriminations she undergoes.
Speaking about the film, Akarsh states that through Taapsee's character, they aim to show the challenges that a lot of female athletes face in not just our country but all over the world. On the topic of gender testing, the director says that in earlier times the test was used to genuinely take out impostors, the men who were pretending to be women in the sports field, but gradually the test became discriminatory. Resonating the feeling, Abhishek asserted that it is sad to see that only female athletes have to go through such humiliating process and not their male counterparts.
However, to take the aura on a lighter note, the actor joked that it felt good to have his first role where he was made to take bath and wash his face. When asked about what pulled him towards his character, Abhishek quipped, "His educational degree, jo mere paas nahi hai."
Priyanshu, who plays an army man in the film, shared that coming from an army family, he always wanted to do such a part and when he donned the uniform for the first time, he felt that he looked like his dad in the '70s, when he was in the army.
Star of the evening, Taapsee, seemed super excited to unveil the fruit of her hard work, which she admitted to be her "toughest role so far". The actress had to face trolling on social media for her physique that she built for the film, and when mentioned that a lot of female athletes with a muscular physique have to face that a lot of times, the actress said that she feels heart broken for them. She insists that some people actually have a hormonal imbalance that makes their body as such, and trolling them on that is unethical. "Are we asking them to change their genetics?" she questions, adding that we are nobody to question anyone on who they are and how they should be.
As for the trolling she faced, Taapsee insists that it's actually a compliment for her. "It's just validating my efforts that I put into my role as I don't get such a body naturally, I had to work twice as hard to achieve that. So, people might think they are trolling me, but after October 15 they will realise that it's indeed a compliment for me," she chuckles.
When asked how does it feel to be a face of the dreams and ambitions of a today's woman, Taapsee replied, "I knew that I am not the aspirational diva that we see in Bollywood, so very early on I realised that I had to represent today's women with dreams and ambitions and show how they are the heroes of their own lives."



Image source: Instagram/taapsee/priyanshupainyuli/nowitsabhi