Rubaru Roshni And Manjunath - Two Brave Real-life Films On OTT
Here are two real-life films on OTT that are must watch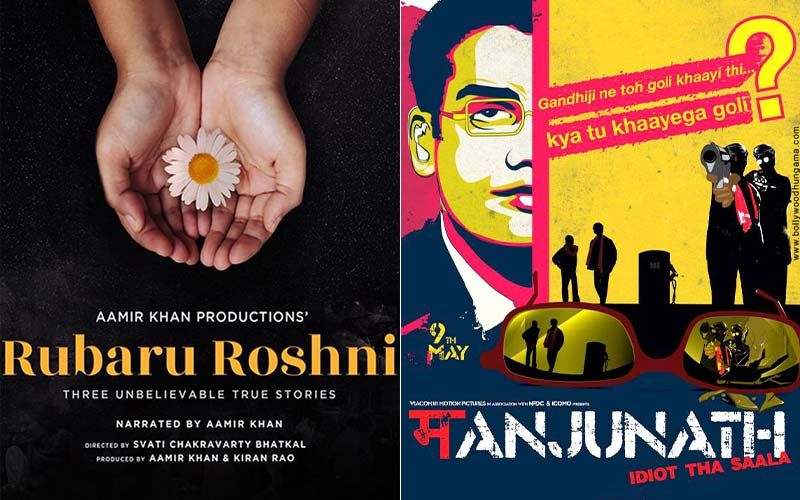 Rubaru Roshni (Netflix) is the most valuable lesson on human compassion and empathy that you are going to carry home from a movie but then again, this masterpiece on humanism comes directly to our homes. So we have the opportunity to carry the message of absolution in places that are not tangible.
Even if I had to trudge to the nearest movie theatre to see this, I'd only be thankful for the opportunity to witness a film that oozes so much passion, it was to me, a religious experience. Rubaru Roshni tells three harrowing and healing stories of loss and reconciliation all bound together by one thought: forgiveness. Avantika Maken's bitter rage and uncontrollable grief spill over on camera as she recounts that fateful day when as a little child she got to know her parents, politician Lalit Malken and his wife, were brutally killed by a Punjabi militant.
Every single detail of that blood-soaked morning comes spilling out in a stream of cataclysmic consciousness. And then there is the other side. The disturbingly soft-spoken Sikh assassin Kuki tells his story. He talks about what it is like to let rage take over your better judgement.
No, we are not confused. Only bewildered at the ironies that govern human life. That Avantika Maken opts to forgive her father's killer is just the twist in this tale of Kafkaesque conviction where the perpetrator and the victim coalesce into a frightening clasp of moral ambivalence.
As the compassionate nun Sister Rani Maria's assassin Samundar says in the second story, "She is large-hearted enough to forgive me. But it's impossible for me to forgive myself as long as I live."
This saga of a brutal murder and the murdered woman's sister's reconciliation with the murderer, replete with a Raksha Bandhan scene, plays out like a hammy third-rate melodrama. Except that it's just the opposite. Very often the drama of doom plays out at a pitch where everything begins to seem unreal, somewhat shrill and hysterical.
What does it take to let go of hatred, to tell the man who shattered and wounded your life permanently, those three most difficult words in the English language, 'I forgive you'?
Very often as I watched Rubaru Roshni I broke down as I saw lives that were shattered, ruptured and permanently wounded mending themselves, because otherwise there is only hatred. And a blur of grief and anger. The third story of an American woman Kia Scherr travelling to Mumbai, the city where her husband and daughter lost their lives in the 9/11 terror attack, is the only story here where culpability is not pinned down to a name and a face. It's like watching a woman grieving for a loss that no one is accountable for. She can't 'forgive' because there is no one to accept her forgiveness.
Profoundly moving Rubaru Roshni must be seen by the largest audience possible. In a world largely infested by hatred and misogyny, here is a film that tells us of a way out of the gauntlet of malevolence and vendetta that we have built on our planet. Try compassion. It is highly therapeutic. There is really no excuse to miss this.
Manjunath (Zee5): True Story Of A Braveheart Who Said ' I Won't'
The bereavement of parents has been done to death in our cinema. And I do see a cruel pun in that. From Om Puri and Revathi mourning so gracefully for their martyred son in Dhoop to Farouque Sheikh and Sarika grieving far more openly in Club 60, the stretch of sorrow for the era of lost parenting has been long and productive. In Manjunath which is the story of the honest-to-goodness Indian Oil executive Manjunath Shanmugam who was murdered for questioning the oil mafia in Uttar Pradesh, director Sandeep Varma has opted for a dry-eyed, docu-drama freewheeling style of narrative. We see the protagonist, played by newcomer Sasho Satish Saarthy, talk directly into the camera and to the man who murders him. His angst and his battle with corruption are often voiced in the Indie-rock sounds of the band Parikrama.
These distancing devices in the narrative deliver dryness to the tone of the storytelling and the texture of the characters. The murder of Manjunath is a national tragedy of epic proportions. This is not an epic film. It tells Manjunath's story in a direct, documentary dry-eyed style which goes well with the sardonic resignation and the prevalent cynicism with which we look at the death of innocence and idealism in modern times.
The film takes a minute interest in the incidents and characters from Manjunath's life. This results in a kind of over-elaborate case study where the characters appear more interesting for what they represent than what they are actually seen doing on screen. The film's restricted budget is also evident in the film's overall look. These considerations make little difference to the film's larger picture. The disturbing message of the film, that being honest is a threat not only to the world at large but also to the individual who suffers this malady, runs through the narrative. Seen in the context of a stubborn idealist battling corruption Manjunath makes you forget the lack of moistness in the narrative.
There really is no room for tears in a world where corruption is a way of life. Manjunath's straightforward allegiance to the truth is a direct descendant of Dharmendra's character in Hrishikesh Mukherjee's Satyakam. Not much has changed since that film showed how much one has to suffer for one's idealism. In Satyakam, Satyaprakash was killed by cancer. In Manjunath it is the cancer of corruption that kills our hero.
Prudently the film casts an absolute newcomer Sasho Satish Saarthy in the title role. What we see on screen is Manjunath and not an actor playing the part. Wisely the film selects a strong supporting cast. Seema Biswas as Manjunath's mother is as usual, outstanding. Ditto Divya Dutta and Yashpal Sharma. Do these actors ever deliver sub-standard performances?
Once a while there comes along a man who genuinely wants to change the world we live in. Manjunath is the hard-hitting conscientious story of one braveheart who tried to make a difference. And paid with his life. Manjunath's valorous story had to be told. The director pieces together Manjunath's story like Orson Welles' Citizen Kane. As every piece of the jigsaw falls into place you want to salute the unsung hero.
Idiot, saala, mar gaya ....Thank God for Manjunath who is not a man but a metaphor for that rapidly evaporating cult of idealism that we thought died with Hrishikesh Mukherjee.
Image Source: Netflix, ZEE5