Sacred Games Countdown Begins: Can Sartaj Singh Save His Beloved Mumbai City From Gaitonde? Check Out Some Crazy Fan Theories
Can Saif Ali Khan solve Nawazuddin Siddiqui's masterplan? Will Gaitonde succeed in his plan? Well, before we find the answers to these burning questions, check out these fan theories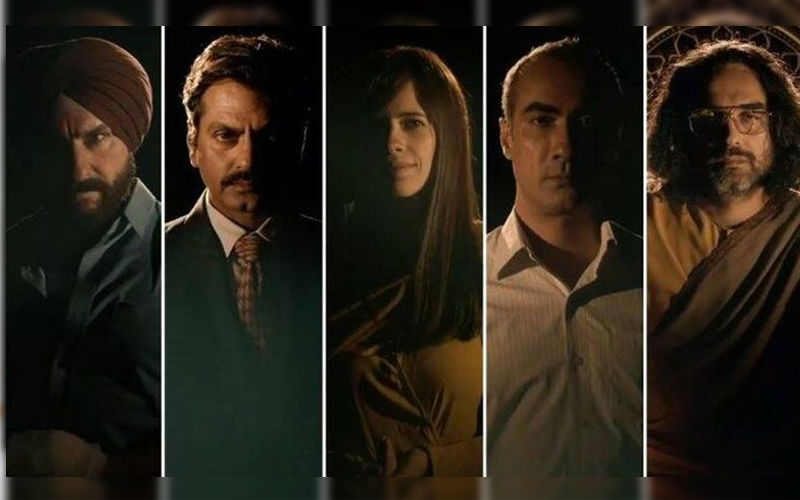 A theory from Reddit:
1. We will see Gaitonde's missing years and his fury for sure. Sartaj has seen Gaitonde in 2nd episode I guess when he was just a kid. His father Dilbagh Singh is not shown there although he is standing with him. Gaitonde seems to be in some kind of celebration. I am assuming its post his win in elections. It may be a spoiler for next season but I believe Its Gaitonde who becomes political face before Bhosle.
2. We will see the connection of Gaitonde, Guruji, Malcolm, Zoya, Bhosle, Trivedi and Parulkar.
3. Another possible gem coming out of Anurag's work could possibly be Bunty. He has already done a brilliant job though. He may be operating for Gaitonde in India while he gets out of the jail from India and moves to Malaysia once Bhosle proceeds him with the setup of betrayal Gaitonde is talking about. Where Gaitonde gets Zoya's surgery done and launches her in Bollywood. Gaitonde could act as a counterpart sort of working with Trivedi's help from Malaysia against ISA who is in Dubai. Remember Sartaj finds a Malaysian passport from Gaitonde's pocket when he dies. And Zoya also has an Indonesian passport that was made in no time by Tridevi. So Bunty will have a huge role in the play. And Gaitonde has already mentioned Bunty being the person who introduced Hindu Muslim war in this world. So far Bunty is nowhere shown to be such a character. But quite possible in the next season. Just like in GOW Nawaz does not play any role in the first part but has the most powerful role in the entire GOW saga. Here it might be Bunty who plays an important role in season 2. As seen in current timeline Bunty seems to be well off sort of guy.
4. Quite possibly Dilbagh Singh will be in an unprecedentedly important role. I think Dilbagh Singh was collateral damage before Dilbaugh ruins the entire show of Guruji. Therefore he disappears. And this may be the reason Gaitonde wants to pay debts of Dilbagh Singh by contacting Sartaj. Sartaj's mother says to him when he inquires about his father. **Mamuli nai si tere papa ji.. (your father was not a normal guy)
5. Zoya playing a bigger role and her connection with Guruji. I believe Zoya is a trans-gender as well. Sartaj talks about the operation when he meets Zoya after blackmailing her with the passport snap he finds at Jojo's home in the file including fake cash stash. And she lies to Sartaj that it was done by the fee from the movie produced by Gaitonde to ensure Sartaj does not pick up her connection with Gaitonde from the very past when she was Jamila. It was a good gesture of Gaitonde for her services during his 2 months stay in Jail. Gaitonde was tricked by two people in Jail on Guruji's instructions, Zoya and Dilaugh Singh. When she (Jamila from Afghanistan) was sent by Guruji while Gaitonde was being moulded on Guruji's instructions in the jail by the trio of Parulkar, Trivedi and Bhosle. As soon as Gaitonde says yes he will live Guruji instructs Trivedi to prepare him and gets him out of Jail with the help of men in black. The same people have seen with Bhosle all the time.
6. Gaitonde, before committing suicide and killing Jojo and Trivedi, is at a Safe House and I think its not his Safe House, its Trivedi's. We will see a few more characters being developed to support season 1. Like Guru Ji, Dilbagh Singh, Zoya, Trivedi, Parulkar, Malcolm, Sartaj's Mother, JoJo, Bunty.
Sacred Games has been amongst one of the most spoken and watched shows of Netflix. The show's plot revolves around a cop named Sartaj Singh and a gangster named Ganesh Gaitonde and the city of Mumbai. The Sacred Games Season 2 will arrive on August 15, 2019.
Image source: entnetwork