Selection Day, The Crown Season 3 And Barot House: Three OTT Gems You May Have Missed
Here's looking at three OTT gems you may have missed - Selection Day, The Crown Season 3 and Barot House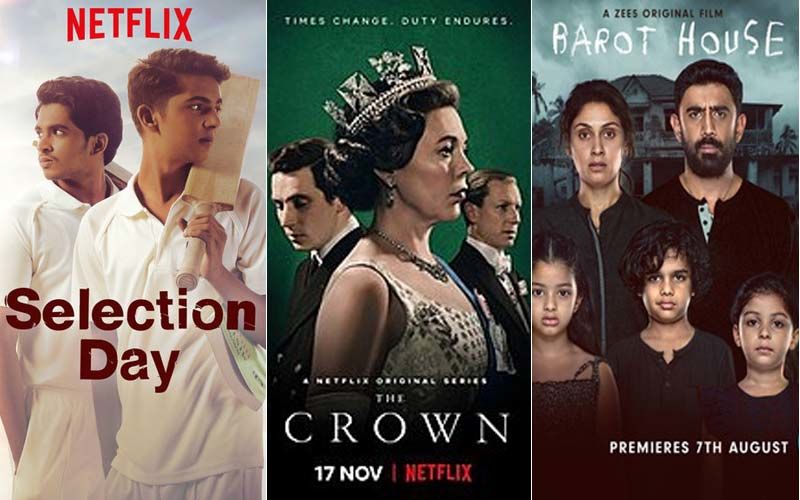 SELECTION DAY (Netflix): The actual sacred game in India is cricket. To generate a drama of disenchantment in the cricketing field is relatively easy. What director Udayan Prasad (best remembered for the Om Puri helmed feature film My Son The Fanatic) has done is to make the cricket ground a place for meditation on socio-cultural displacement. Much of the series' meat and juice come from its source material, the novel by Aravind Adiga. This is the epic story of the migratory translocation of two young boys Radha (Yash Dholye) and Manju (Mohammad Samad) aged 15 and 16 from rural Maharashtra whose tyrannical trashy father drags them to Mumbai for a life of cricket. Udayan Prasad and his writers (Marston Bloom, Karan Aggarwal, Sumit Arora) have dug deep into the class differences at the turf level.
There is a remarkably subtle homo-erotic attraction that grows between Manju and an upper class Muslim boy Javed (Karanvir Malhotra). That young Samad happens to be an actor of phenomenal sensitivity helps give the content a quicksilver immediacy and warmth. Converging gently on Samad, the series becomes the saga of Manju's journey from patriarchal tyranny to sexual and spiritual freedom. The series is bankably buoyant and breezy without trivializing the issues that concern the theme, such as a young mind's right to follow its own dream. There is a subplot about an over-ambitious realtor (Akshay Oberoi) trying to get a wily wizened but impish real-estate owner (Ratna Pathak Shah) to part with her property. Oberoi and Shah play against each other with a flirtatious malevolence bringing to the table the mood of tragic travesty that has overtaken the metropolitan psyche.
Ratna Pathak Shah, Mahesh Manjrekar (as an aging cricket coach who rediscovers his mojo), Rajesh Telang are brilliantly in form. Akshay Oberoi brings a subtle sliminess to his suave wheelerdealer's role. Here is an actor who deserves to be on top of the game.Sacred or otherwise. And I was delighted to see the accomplished Geetanjali Kulkarni (last seen as a prosecutor cutting vegetables on the train back home from court for the family dinner in the Marathi film Court) playing Mahesh Manjrekar's ailing but smiling wife.
But it is Mohammad Samad whose performance anchors the series. He plays the reluctant cricketer with just the right amount of angst and assuredness. My favourite sequence in the series is the one where the principal of the school Ratna Pathak Shah punishes Samad by banning him from playing cricket for a week. "But that's not a punishment," smiles Samad with such understated relevance, it shows we are looking at an actor with a very bright future. Ditto the series. Brimming with an all-knowing wisdom that never grows cocky, Selection Day had me hooked.
THE CROWN SEASON 3 (Netflix): This is the actual game of thrones. The Crown, now in its third magnificent season, tells us how infuriatingly tragic and absurd the life of the royalty, the British royalty if you must know, seems when seen through the eyes of a non-judgmental camera. Here is a televised drama that fights shy of over-dramatisation. Each episode creates a self-contained universe manoeuvred by emotions that seem to mock at our incessant curiosity about how royalty lives. The tone of narration is as dry as the Queen's letter of condolence to the morning Irish town of Aberfan in one of the episodes.
As played by Olivia Colman, Queen Elizabeth 2 is a woman in a supreme position of power who cannot demonstrate her emotions unless on-demand. Forever threatened by the sheer bohemianism of her sister Margaret (who is the Asha Bhosle to the Queen's Lata Mangeshkar) the Queen is more a nagging enigma than a startling revelation. This could have something to do with Ms Colman's innate personality. I've always found her conveying an intellectual anxiety, a kind of constant bewildered self-questioning - that is not quite what the Queen is meant to convey.
I though Helena Bonham Carter's Margaret to be a much more curvy character and accomplished performance, although much of her notorious hedonism seem like gestures of defiance against a destiny that placed her at No 2 in British royalty (like Asha Bhosle's writhing scandalous cabaret songs). Bonham-Carter nails the character.
But the real revelation of Season 3 is Josh O'Connor. As the slouching, anguished, overshadowed heir-apparent Josh confirms he is the finest young British actor we have today. He brings to his royal role a sense of looming tragedy underscored by a strong sense of self preservation.
The performances are all so staggeringly hued, it's hard to not feel for all of them.The narrative gives each of the occupants at Buckingham Palace a chance to emerge from the edifying shadows where history has placed them. I especially liked Jason Watkins' Harold Wilson. Watkins imbues the British prime minister with a sense of earthy warmth to counter the excess of royal stiff-upper-lip service that he must negotiate every time he visits the Queen.
I came away with my favourite moments in Season 3. The one that stands out is on Winston Churchill's death bed where the Queen breaks protocol and gently plants a kiss on the dying statesman's forehead. There is really nothing one can fault in the near-portrait of the British royalty, except perhaps the coarse caricatural characterization of the American president Lyndon B Johnson. If this isn't British aristocratic snobbery, then what is? Is the royal family really the way it is shown in this series? If not, then they ought to be.Can't wait for Season 4.
BAROT HOUSE (Zee5): As a parable on violence and crime, Barot House seems too unambitious to be markedly effective. But there is a certain amount of shock value in the plot, as one of its central characters is a juvenile psychopathic serial killer. Writer Sanjeev K Jha who wrote Jabariya Jodi which opened to mixed responses last week, makes use of the horror-supernatural genre to bring into focus an undeveloped theme. That of severe juvenile delinquency.
What does a young father of four kids do when he suddenly discovers that his only 9-year son Malhar has been bumping off his little sisters one after another? Should Amit (Sadh) call the cops to take away their only remaining progeny? Or should he make the sinister boy understand that head-hunting is not for kids, so why don't you go out and play with kids?
In Barot House, the stakes are never low. For a good part of this bad-karma plot the camera wobbles and shakes its way through a series of half-baked episodes rounding up the suspects with a twist in the second-half that I am afraid I saw coming.The suspects I might add, are hardly guilt-driven. One of them is a neighbour with no seeming grudge except a dog that died mysteriously.There is a tantalising tendency to suck us into the world of this doomed family where the scion is a serial assassin.
Amit Sadh, one of our most underutilised actors, pulls out all stops to play a man who rapidly loses hope of a normal family wife. He portrays a confused man toppling over the brink with frightening clarity. Manjari Fadnis has some meaty scenes where she has to depict the bereaved mother's grief. She does it well. But like most of the other emotions in the film, her grief remains disconnected from the grisly goings-on in her own house.
I am afraid - very afraid - that the child actor Aaryan Mengji who plays the cold-blooded serial killer, is the scene stealer. Aaryan with his curly hair and fanatical beats on the Tabla(which earn him the nickname 'Zakir' from the other characters) and his sly diabolic evil smirk, is chilling to the bones. He could be the devil's avatar. Mercifully the plot avoids the supernatural angle. Its biggest draw is its ability to seek the scary in a normal household.
Aaryan's performance helps fill up the black spaces in the screenplay. The Barot family's predicament never attains the immediacy and urgency it should have, The very thought of three daughters being bumped off by their own brother is nerve wracking. And yet I never felt the chilling vibes I should have.
Image source: IMDb