Shantit Kranti: Shikha Talsania Says, 'I Think My Default Is Comedy, But I Also Enjoy Crying And Making People Cry' – EXCLUSIVE
Shantit Kranti a Marathi original show which released today, 13 August on Sony Liv stars Shikha Talsania, Abhay Mahajan, Alok Rajwade, and Lalit Prabhaka. In a conversation with Spotboye, the actress talks about being typecast, the reason for being part of the show, and the comedy genre.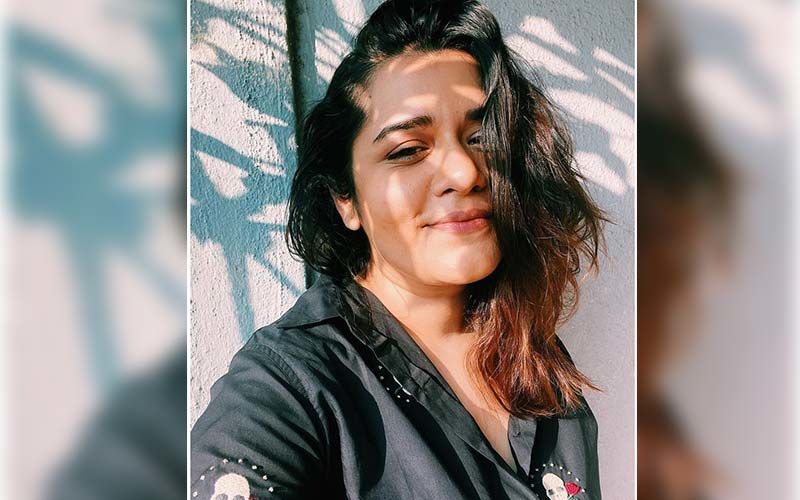 How did you get roped for the show Shantit Kranthi?
Director Sarang Sathaye and Paula McGlynn are really dear friends and I have known Sarang forever. We've done a lot of plays together and then I met Paul and then I met Anusha so I have known them before even BhaDipa (Bharatiya Digital Party) -the founders of the Marathi content page, even came to me. Also, I have been a fan of the content that BhaDipa and TVF come out with. For this show, BhaDipa and TVF were coming together, and Saran and Paula were directing it, everything fell in place for me. Even the script was beautiful and working with actors whose work I have seen on stage and otherwise, also the three boys, I was extremely excited about it and it's a perfect cocktail.
How would you describe your character in the show?
So the three boys know each other through childhood and they have been friends forever. They all are in different phases of their life, and so they want to visit Goa to solve all the problems, as we all do, we think of going on a trip to Goa for peace, to find some distraction from the hardships or problems of our life. So instead of going to Goa, they end up here at Shantitvan, where I am a program coordinator which is a retreat, it's a meditation retreat center. So I am their Shanti within their Kranthi. I am one of the people who help them through the course of the retreat. To find their peace and the rest of it there, it has an interesting angle to it which you will have to wait and watch on 13th of august. There is an interesting chat with the other boys.
Who are those 3 AM friends of yours, the three best friends who are always there by your side?
I have quite a few. I am very lucky, touchwood. I have met some fantastic people. I have few friends who are not from the industry, who are not actors or directors etc. But yes there are a lot. But from my work, Soha Ali Khan and Kunal Kapoor are definitely those friends for me.
You know there is a lot of Dil Chahta Hai references in the trailer....

You know it was the film that was a complete breath of fresh air, for all of us and I just really love it. I loved all of them but Saif really stole my heart. He was so good in the film. I enjoyed his character soo much that I was like I want to play such a character.
Shantit Kranti is a story of three friends traveling and when you travel, you always learn something or there is an experience of a lifetime that you go through, do you remember any of your travel memories that changed your life in a way?
I am sure there are a lot. As you said every journey, is very special, you discover something new and there have been so many of those. I am lucky to work with my closest friends in theatre and in film and stuff like that, I get to travel with them a lot because of plays and because of film work or screenings work. So I can't tell you one thing in particular but what I can tell you is in Shanthi Kranthi, I knew Sarang, Paula, and Abhay from first. I did not know Alok and Lalit and when I met them on set I was talking about the play that they have done and I have seen. So I told them, I remember there was one guy in that play I really liked his work and I am such a huge fan, to this Alok said, "yeah that was me". That was such a fangirl moment for me. I just kept telling him I wanted to take a selfie with you and your autograph; I just wanted to embarrass him.
We always hear people say comedy is the most difficult genre to work on, what are your thoughts on this?
I think my default is a comedy. I think it's completely different and I have learned a lot along the way thanks to the theme act and the plays, watching the people and looking at my co-stars, and collaborating with them I do find it very refreshing and enjoyed it a lot. I really enjoy comedy, but I enjoy making people laugh as much as I enjoy crying and making people cry.
Have you ever been typecast for the roles that you have portrayed in the past?
Yes, of course, I don't think it's a secret but I think every actor is typecasted, if you take any actor's name, say for example Ranveer (Singh) is always typecast as a hero and then we see him do different themes and different characters, he is suddenly playing an antagonist and stuff like that. I think collectively and consciously, things have changed in terms of storytelling and even casting for that fact. I have been typecast and it is difficult but you know those parts that I have played of a person, I will never ever regret doing this because they are a part of being more inclusive and diverse in our industry. We are finally moving beyond that and seeing different kinds of characters and advanced characters, always stick to that characters which are very nuanced, which are more just a line of description. so I am very thankful for that and hope I get different works like this.
Image source/Shikha Talsania/Instagram