Shashank Khaitan On Ajeeb Daastaans; ' This Time For The First Time I Felt The Pressure Of Working With Three Directors - EXCLUSIVE
In a tete-a-tete with SpotboyE, directors Shashank Khaitan, Neeraj Ghywan, Kyazoe Irani and Raj Mehta open up about the success of their anthology Ajeeb Daastaans, working under pressure and their future projects.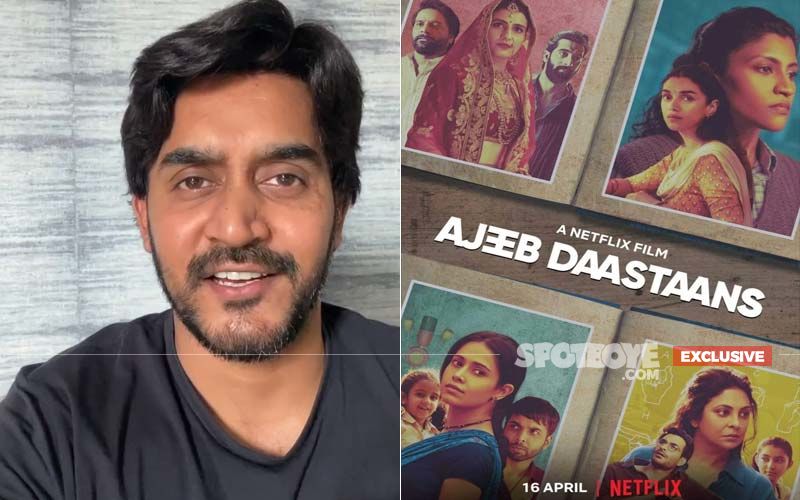 How are you feeling about all the love coming your way for Ajeeb Daastaans?
Kayzoe Irani: I am like the only first-time director here, so this is a little overwhelming for me. The love that all the films have got,

including mine, first two or three days I never left my phone, messages were coming in from all over. I was like on high and it got weird like "oh God, my head is in the clouds or what? This all has been so overwhelming and it's been one amazing feeling. Certain people liked a different kind of film and that's the lovely part of an anthology series that it appeals to different parts of the viewers. Sometimes I don't know what to reply to people when they send you something so sweet but I am really honest I don't know what to say but thank you so much.
Neeraj Ghywan: So I'm saying it as a legit problem because I get extremely awkward when someone is praising me, I always look away or say hey look there is a bird so yeah it doesn't work (laughs). But yeah in this field I tried to like keep my head down and take the praise in and also taking the criticism into stride because there is legit criticism around the film, saying how they feel that this character could have been this and this. In the end, audiences make the film what they want to see, what's in their head but we made the film with a lot of honesty and sincerity and it's on them how they want to see perceive. It is good to see multiple perspectives, so I am taking all of it in.
Shashank Khaitan: I think I am just happy that we four managed to create stories which we are having such conversation around and I think that is also what we set out to do because all our ends are non-conventional ends, they leave you with certain emotions and feelings and because of that there is a lot of chat. Now whether there is praise, whether there is criticism all are welcome and I think the most important thing is that there is a lot of conversation and a lot of topics have been highlighted, they have been spoken about I think this allows us to make more films like this and we can only express immense gratitude to everyone in these really, really tough times and who is you know switching on watching our movies and appreciating. I think immense gratitude and great responsibility for the future as well.
Raj Mehta: Exactly, I mean Shashank said the fact that there is so much conversation happening about it, people are discussing it. I mean you take the good reviews and the bad reviews in your stride but I think the fact that so many people are watching it during tough times I think that is one of the best part and I feel really- really happy that so many people are watching.
Neeraj you spoke about criticism for your story 'Geeli Pucchi', but at the same time it has been immensely loved, were you expecting this kind of response to your story?
Kayoze ( Interrupts): Even I am trying to know what negative reviews he got?
Raj: Even I want to know I have not read one !!!
Shashank: I think the only negative review he must have is that he made a very good film that was the most negative review (laughs).
Kayoze: He (Neeraj) was just being a little grounded right now.
Shashank: I think he must have read my negative reviews thinking that was his film (everyone laughs)
Neeraj: Actually, there have been a lot of praise but yes like many people have pointed out rightly, like, in starting there was a lot of talking about her (Konkana Sen Sharma)saying that she is a Dalit and this happens with her I mean it's done on purpose let's be honest with you, people don't know caste, people don't understand what it even means. Especially to 200 countries where Netflix is taking to, people don't know the context. I mean I was fully aware that people are not going to like the very exposition take on it. Secondly, I think there is talk about who's side to take or to share sympathy with, which is a larger conversation. But I wanted to show both women who are trying to find a place in this world. I mean for that they do something incorrect in our perspective. Honestly speaking I was quite scared because I thought that you know going behind one thing you may end up doing a disservice to other communities and that was my biggest fear. Thank God there has been a lot of people praising the film and I really really appreciate it I knew this was going to come through and so I have taken that into a good measure.
When you make an anthology is there an added pressure to be better or at least be equal to the other directors?
Kayoze: Honestly we didn't know what stories other people were making like especially, Neeraj made his film after we all had finished making it, we made it at the hike of the pandemic. When it comes to how the film should be equal or above, I don't think we ever think that way. The truth is that as filmmakers we try to do best, you put your best foot forward, you say the story you want to say. The nice thing about Ajeeb Daastaans is that no one is really saying that people will say Oh I like this film or I like that film, but that's not that not universal. The nice thing about an anthology is that many people like different kinds of films. In all honesty, I really don't think we had any thought in our head to be better or equal to anyone. We only bothered to make the best and to put our best foot forward.
Shashank: No but actually this time for the first time I felt the pressure of working with four people. I was like due to someone else's criticism, some other directors' work should not get less importance. Like I remember I messaged Neeraj that I hope that the film (Gilli Puchi) gets its due because some of the negative reviews does not impact the great work you have done. And also this is the first time I have done an anthology. Otherwise normally we make a film the positive and negative of the films is on you and you have that support of the box office and you escape through it. This is the first time where all four of us are not so-called, we are just sharing the responsibility but maybe one story's feedback can impact the other so I think my only prayer and desire was that I hope everyone kind of take each story at a time. We never had a feeling like that and we still don't have a feeling like that and I'm very sure that at least I can speak for all four of us that if tomorrow we are offered Ajeeb Daastaans 2 we will still repeat the same process and we are not going to get into what story the other person is doing. Because it doesn't matter and even after I get to know what Neeraj and Kayo are making I'll still make mine because I am a storyteller who knows my strength. I think the only one responsibility I felt was shit now as we all four are in this together and I hope it does not hamper anyone else's film.
Neeraj: So the short format is such that we are doing it for freedom, we are doing it for a personal expression. So we all came from a very competitive space, we all went like yes this is the story we have to tell like this regardless of what anyone else is doing. That is how I think all we all went about.
Raj: I think purely the fact that we are getting four different films, four different stories, four different directors making films, people are bound to make choices and I think it's just inevitable. People choose the best and then they order it and they term it, that happens with all the anthologies. I am sure with Netflix's other anthologies like Lust Stories and Ghost stories made by such established makers like Karan Johar, Zoya Akhtar, and Anurag Kashyap, people choose their best depending on their like and taste. But being filmmakers never once the thought arrived in our head we need to worry about what other person is making or how it is competitive and all of that, we just go and make our own story and try to give a best.
Kayosze: In all honesty when we read a review or let's say one of our films has been praised and other films have not, we are actually not happy about it, because we genuinely want the whole film to be appreciated as a film we are going in as one entity, all different four stories are not same but at the end of the day we are all are one entity so we are not happy at any point that the other film is being criticized and ours is being praised.
Shashank: I think a lot of credit should also be given to the Dharmatics team and the Netflix team for being able to visualize these four stories together in one anthology and put it out to the world to see. Let these characters and all speak for themselves, and actually we were already celebrating before the thing and were just happy for each other that we could tell stories like this. So I remember when we had our first trailer launched we were all very excited for each other. Because we were very happy to be a part of an anthology and I think that is a unique opportunity we all got.
Are there positive and negative of working with four different film directors?
Shasank: Personally from my perspective there are no negatives I will happily do it again in a heartbeat if I am offered especially with all of them definitely. I won't even think twice I had the best time and I got many things to learn from each other.
Neeraj: It's the same thing I think I don't feel any competitive, we would want to make more films always together.
Kayoze what's next for you have you planned something?
Kayoze: Honestly I am in process of writing something but there is nothing concrete yet, it's not that I've knocked it in, its not finish writing, it's not, of course, being cast like that but hopefully I hope that in the next few months something comes of it.
Shashank: Mam, actually my shooting is on hold right now because of the pandemic so we are just waiting once everything opens up, but I think right now we all need to be far more careful just hope that everyone is safe, so I think whenever we return to shoot I will be able to speak more about the project. But my film is already started shooting we are just waiting for the lockdown restrictions to ease out and hopefully, I will be able to return on set.
Neeraj: I'm also in the middle of shooting for Made In Heaven, so I'm just waiting for things to open up and get back to normalcy so I will resume shooting.
Raj: Same here we were supposed to start shooting for the second schedule right now but unfortunately because of the situation we can't but let's see when we can do it but more important right now is to get over with it and then collectively think about the shoot
Image source: IMDb/Instagram/shashankkhaitan
They say the best things in life are free! India's favourite music channels 9XM, 9X Jalwa, 9X Jhakaas & 9X Tashan are available Free-To-Air. Make a request for these channels from your Cable, DTH or HITS operator.