Shruti Sharma On Her Bollywood Debut With Sanya Malhotra In Pagglait: 'If You Are Talented You Will Get Work'- EXCLUSIVE
Shruti Sharma speaks about bagging Pagglait, starring Sanya Malhotra and how talent gets you to places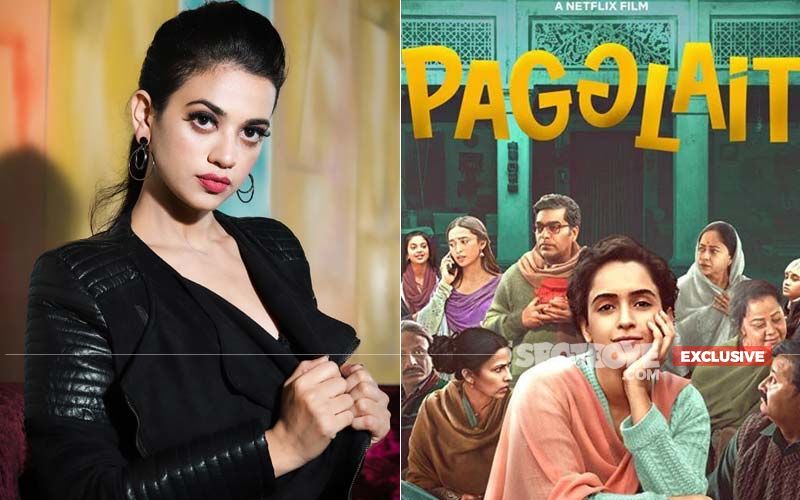 TV actress Shruti Sharma, who is currently playing the role of ChamCham, an item girl in show Namak Issk Ka, is all set to make her Bollywood debut with Ekta Kapoor's Pagglait starring Sanya Malhotra, Sayani Gupta, Raghbir Yadav and Ashutosh Rana in pivotal roles.
Shruti spoke to SpotboyE.com exclusive on her big move, differentiation between film and TV actors and of course her friendly bond with Sanya Malhotra on the sets. Read On;
How excited are you for the release of Pagglait?
I am really very excited for it. After a wait of one year, it's finally releasing.
This is your Bollywood debut, you wanted it to be a theatrical release?
I feel the platform really doesn't matter in today's time. Our project is coming and going to reach the people, that matters. In fact, I feel it's good that it is releasing on Netflix as people may go or not to theaters but they will definitely watch it on their phone. It will be a benefit for us.
What are you playing in the film?
I am playing Nazia Zaidi, who is a childhood friend of Sandhya. Because the story is based in Lucknow, somewhere we are showing that how there is discrimination between daughter, daughter in law, son or a muslim girl who enters into a muslim family during tervi rituals. They are basically hitting at the conservative thinking which still exists.
When did you shoot for the film?
It was before Namak Issk Ka. Somewhere in December 2019. But then pandemic hit us all and the release got delayed.
When actors move to Bollywood, they become reluctant to take a TV project. Was it the same for you?
Seriously, I really don't know why people categorise work. In Hollywood, there is no categorisation. As an actor, I would love to be a part of television, films, regional cinema. Like I have done a Telugu movie and then done my TV show Gath Bandhan, Nazar 2 then Pagglait and then again Namak Issk Ka on TV. I just want to do good work and want to be among people. Platform doesn't matter, work and content matters.
TV actors often complain that Bollywood doesn't give them an easy acceptance if they come from a TV background. Do you also agree with this?
See for me, it totally depends on how you are acting. People usually say ki TV mein bhaut OTT (Over The Top) hota hai, dramatic hota hai. But that I have never done in any of my TV shows. Haan hame rona thoda zyada padta hai real life mein shayad log na itna rote ho but I have never categorised my acting ki agar TV ke liye main aise karungi, film ke liye hai to aise karungi. The way I am acting here, I did the similar there also. So, I don't see a difference. It is people who create the difference. If you are doing a good job and you are talented, you will get work.
Namak Issk Ka is being loved by the audience. Did you expect this much love while signing the show?
I expect nothing. I am not expecting anything from Pagglait also. I like the feeling of surprise when we hear the good news.
What do you keep in mind while choosing a character?
Acting is an art and I want to keep practicing that. Whenever I choose a character, I look for performance oriented roles and different from my previous one.
How was your equation with Sanya on the sets?
We had a lot of fun. If I talk about my character Nazia, the bond she has with Sandhya (Sanya Malhotra) it was exact in real life also. She is not just a nice human being but crazy and fun loving also. She is vocal and really talented. When I was shooting with her, I was nervous because it was my first Bollywood project and you know how people make you feel pressurised that Oh My God, you are doing a Hindi film, it is a big thing. Which I also agree to an extent. But everybody on my set including Sanya made me feel at home.



Image Source: Instagram/shrutiisharmaa