Stranger Things 4 Volume 2 Trailer Goes LIVE! Fans Cannot Contain Their Excitement as They Say, 'Screaming, Crying, Throwing Up'-WATCH!
Stranger Things 4 Volume 2 of the upcoming premiere was finally released by the makers and the fans believe the trailer is "Epic", "Unreal"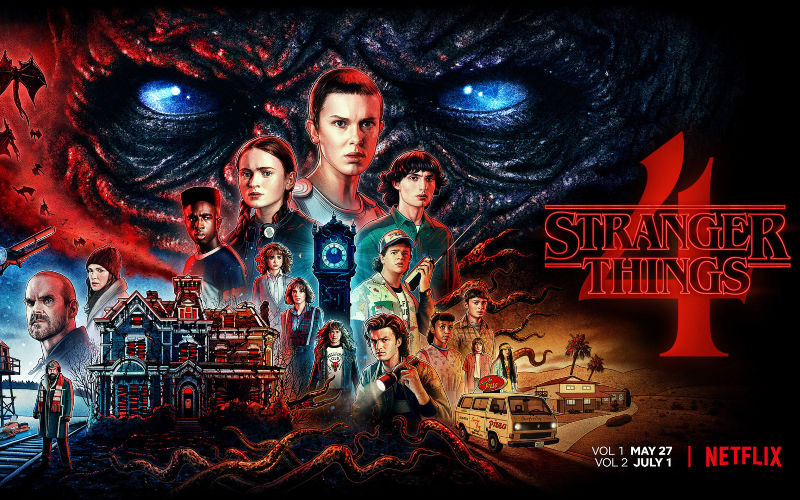 Netflix's popular series Stranger Things is currently one of the highly anticipated shows. Days after the release of Season 4, the excitement around the show doesn't seem to die down, cheers to its thrilling and dark theme that has kept the fans hooked. While the first volume of Stranger Things 4 debuted on Netflix in May, the second volume - comprising two film-sized episodes - will premiere on July 1.

Now, the trailer of the upcoming premiere was finally released by the makers and the fans believe the trailer is "Epic", "Unreal".
The trailer opens up with glimpses of the kids as they reel from the events of volume one, where they went into the Upside Down and tried to kill Vecna. Dr Brenner is heard telling Eleven, "Hawkins will fall," as she replies, "My friends need me."
Later, we see Vecna stalking Nancy as Will says in the voice-over, "He is not going to stop until he has taken everyone." We see Hopper in Russia looking at a vortex before we see Robin say, "I have a strange feeling it might not work out for us this time."
Vecna continues to wreak havoc on Hawkins and the kids decide to take him on. We hear the monster tell a cornered Eleven, "It's over. Now I just want you to watch. Your friends have lost!"
The season's second volume's official synopsis reads, "It's been six months since the Battle of Starcourt, which brought terror and destruction to Hawkins. Struggling with the aftermath, our group of friends are separated for the first time – and navigating the complexities of high school hasn't made things any easier. In this most vulnerable time, a new and horrifying supernatural threat surfaces, presenting a gruesome mystery that, if solved, might finally put an end to the horrors of the Upside Down."
Well, fans seem to be excited for volume 2. Reacting to the trailer, a user wrote, "OMG OMG OMG". Another wrote, "IM SO READY". The fans couldn't contain their excitement and horror after watching the trailer as some of them wrote, "IM LIKE READY AND NOT READY", "SCREAMINF CRYING THROWING UP", "IM SO SCARED BRO"
Set in the 1980s, in the small American town of Hawkins, a group of kids find themselves facing dark forces and monsters from a hidden dimension they call the Upside Down.
Image Source: Instagram