Tandav Controversy: Amazon Prime Video's Commercial Head Aparnan Purohit Granted Interim Relief By Supreme Court - REPORTS
As per the latest reports, Aparna Purohit, Amazon Prime Video's Commercial Head has been granted interim relief in the case filed by UP Police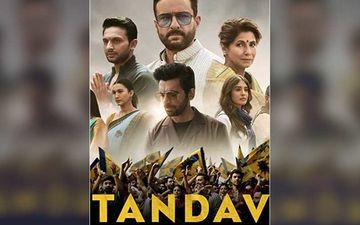 As soon as Amazon Prime's web-show Tandav starring Saif Ali Khan, Dimple Kapadia, Gauahar Khan, Sunil Grover and others got released, it got embroiled in a major controversy. The political drama helmed by Ali Abbas Zafar received immense backlash for allegedly portraying Hindu Gods in bad light. An FIR also got lodged against the makers for hurting the religious sentiments of the people. The case was filed by the UP Police. A latest update on the same states that the Supreme Court has granted interim relief to Aparna Purohit who is the Commercial Head of Amazon Prime Video.
The Supreme Court has put a stay on Aparna Purohit's arrest in this case as ordered by the Allahabad High Court, however, she has been asked to co-operate in the ongoing investigation. As reported by Bar and Bench, while giving out interim relief to Aparna Purohit, the judge said, "Petitioner is cooperating in Lucknow FIR and HC has granted protection. She is ready to cooperate in the investigation. It is submitted that petitioner is Amazon India head and concerned with writing and production of web series." The court also pointed out that OTT platforms have "no teeth" as there is no provision to prosecution.
It was recently that the Amazon Prime Video had put out a statement apologising for hurting religious sentiments of the viewers. It was for the second time that the OTT platform apologised for Tandav. The statement read, "Amazon Prime Video again deeply regrets that viewers considered certain scenes to be objectionable in the recently launched fictional series Tandav. This was never our intention, and the scenes that were objected to were removed or edited when they were brought to our attention. We respect our viewers' diverse beliefs and apologize unconditionally to anyone who felt hurt by these scenes. Our teams follow company content evaluation processes, which we acknowledge need to be constantly updated to better serve our audiences. We will continue to develop entertaining content with partners, while complying with the laws of India and respecting the diversity of culture and beliefs of our audiences."
Image Source: Instagram/aliabbaszafar