The Family Man 2 And Tandav: Amazon's 2 Controversial Serials Far Better Than Perceived
Amazon Prime churned out two extremely meaty, high on performances and engaging series in the past which deserved more than it received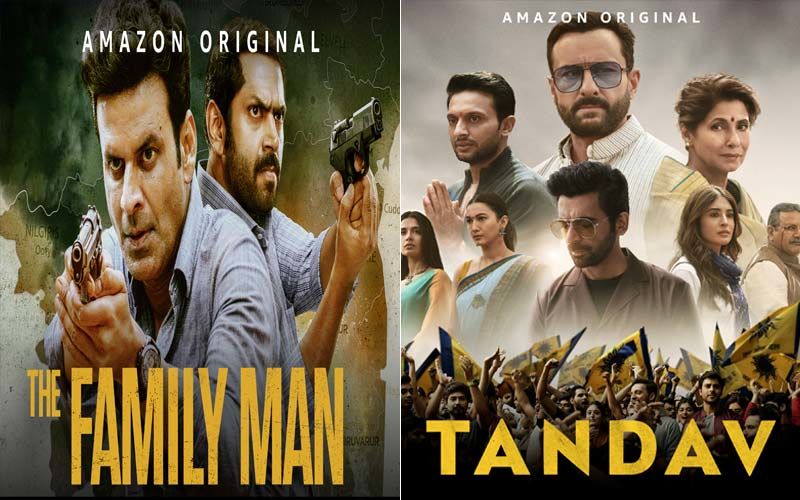 Tandav: Initially Tandav seemed to have bitten more than it can chew. Then it all starts to make sense. Watching the series again I wonder what the brouhaha was all about. Tandav didn't insult any of our gods. Rest assured, our religious tenets are strong enough to survive any kind of attack.
There is so much activity, such frenzied happenings as politicians, policemen, students and power brokers go on a rampage. The screenplay seems to be a jumble of recent political headlines. Evidently the writer's heart bleeds for the politicization of Jawaharlal Nehru University politics, here faux-acronymed into VHU. Their sympathies are with the students, and that's fine. Even Deepika Padukon will agree with that.
And yes, Mohammed Zeeshan Ayyub as a faux-Kanhaiya is brilliant in a cast that overall proves seems capable of shouldering the political chaos .In Tandav campus politics is fused into parliamentary politics. The two worlds remain stubbornly separated inspite of determined efforts to bring them together . At one point a student leader is kidnapped by a politician's goon-in-chief(Sunil Grover, good to see you get out of the saree) and brutally strangulated. His body shows up on the university campus when a watchman pees on a hand protruding from the soil.A touch of Ramsay in Prakash Jha's universe, what say?
Tandav means business, and some of the crowd scenes showing disrupted kissan rallies and police attacks on hapless students are impressively staged. Till the end I had no clue about the kind of humanbeing or politician Samar Pratap Singh(Saif Ali Khan) is meant to be. In the first episode he poisons his own father (Tigmanshu Dhulia) to usurp the prime ministerial throne and then spends the rest of the playing time being insulted by his dead father mistress (Anuradha Kishore). And I thought patricide was dead with the Moghul empire.
Clearly the Saif-Dimple face-offs are meant to be the show-stoppers. At one point Anuradha,in Dimple's husky voice, tells Samar, "The pest control guys have come. It's best that you stay seated."Saif , with his expressive face, is allowed to show only two expressions: sulk and seethe. He does both well but gives nothing away about his character that we want to know. Dimple Kapadia holds the key to the Machiavellian plot. Dimple's scenes with her secretary/protégée/confidante Maithili(Gauhar Khan) are written in so that Dimple can "think aloud". In the later episodes Maithili is given some conspiratorial moments with Sunil Grover where they behave like co-passengers on a turbulent flight to a destination neither is sure of.Plenty happens in Tandav. If only these characters would slow down.
Family Man Season 2: What was so provocative about Samantha Akkineni as a troubled Sri Lankan rebel pining to get justice in a world that sees underprivileged women as playthings? The series has made a superstar out of Samantha and Manoj Bajpai. The new season of The Family Man escaped The Curse Of The Second Season. I mean, gawd, look at what happened to Mirzapur 2. The Family Man 2 is a lean, mean, sinewy, sexy, dramatic, and topical piece of work that shows a natural organic growth, from season 1. Although it runs into 10 episodes there is not an ounce of flab, as the sprawling yet taut narrative moves across a luscious labyrinth of global terrorism(helmed by the chilling presence of Samantha Akkineni) and domestic warfare.
Ah, domestic strife! Our unlikely hero Srikant Tiwari is still at it. His wife(played by the underused Priyamani) is still sulking and his children Vedant(Atharv Tiwari) and Dhriti(Ashlesha Thakur) still think their father is a bit of a fool. Little do they know.
I would love to see a feature film based on Samantha's Raji's character.Manoj Bajpayee's Srikant is a character of immeasurable possibilities. He is hopelessly naïve with his family and devilishly sharp at work. And his partnership with J K Talpade(Sharib Hashmi, brilliant back-up) accommodates some of the series' most entertaining episodes. Apart from a miscarried joke when both of them inadvertently end up in lock-up with a female cop(Devdarshini) mistaking Srikant's desperation for abuse, this partnership sparkles with wit and street wisdom.
Super-skilled writing and an alert narration that catches the drama even as it falls, make this a constantly watchable sequel with actors from every generation pitching in with performances that sweep the storytelling forward into a sinfully engaging swoop of adventure and drama. Indeed the only good that comes out of crime against mankind such as terrorism is that it yields some terrific art, instant or otherwise.
Image source: IMDb