Vijay Varma: 'I Want To Do A Role That Demands A Physical Transformation'- EXCLUSIVE VIDEO
Vijay Varma came with a bang with his role in Gully Boy and then Mirzapur 2, and now his latest web show OK Computer has helped him grab even more eyeballs. We spoke to the actor exclusively about the show and also his journey in the industry so far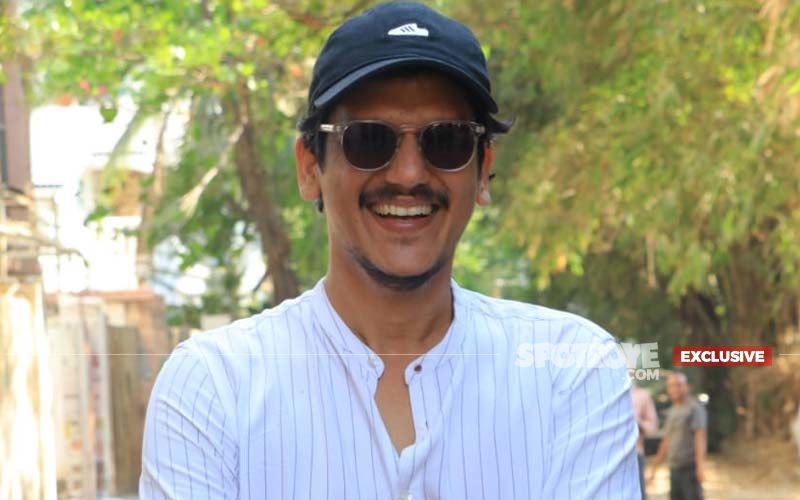 Actor Vijay Varma, who have entertained us with his spectacular performances in films like Rangrezz, Pink and Gully Boy is also making it big in the digital space. After surprising us in web series like Suitable Boy, She and Mirzapur 2, Vijay is setting a new mark for himself with his latest release Ok Computer.
The actor spoke to SpotboyE.com exclusively where he not only discussed his latest series but also shared tidbits about his journey so far.
What sort of compliments have you been receiving for OK Computer?
People are praising me a lot and saying that you have done something new and different. They are getting to see a new side of me as an actor also. People are enjoying my performance and laughing on the satires.. A lot of memes have already been made. So, I am feeling very good with the response.
So now people are addressing you as Vijay or Saajan Kundu (Character name)?
A lot of people are actually calling me Saajan Kundu including brands who are getting in touch with me over social media.
You feel this series will bring a new turn in your career?
I felt like this can be a completely new perspective to my capabilities as an actor or it could be a new form of storytelling. Ok Computer had become my passion project. I spent a lot of time in this series because I myself wanted to understand this world and performance meter. Where the humour will work or not work. How the drama will be maintained in the scenes and will take the story forward. But I like this process a lot to interact and explore. So I work with heart on projects where my inputs are also demanded. Even if the audience likes it or not, the process of experiencing and self discovery is very fulfilling. Maybe you will not understand the impact right now but you may with time.
What you have to say about the concept?
Initially, I was not even convinced that something of this kind can be made. Because we have not touched sci-fi much. Either we have films like Koi Mil Gaya and Krrish or we don't have anything. And combination if Sci-Fi and Comedy is not even attempted especially in India. There are films where they are talking about innovations and such. So, I didn't have any reference points and that's why I was a little skeptical about how this will be made and look. It was like a new recipe, so at the time of making we didn't know how it would taste but we definitely want to experience the process of making this recipe which was completely new. And I enjoyed that so much that I want to work with the makers again.
Just like your series if you get to go and bring about some changes in future, what would that be?
In this series also we say that the biggest enemy of our nation right now is fake news. So, I would like to eliminate, discard and delete fake news.
Any fake news you got to read about yourself?
One of the news portals had misquoted me. So, there I had to intervene and get it removed as I had not said that.
Were you fascinated about technology, robots and computers in your childhood?
I was totally a comic lover. I used to read this comics by the name of Raj Comic in Rajasthan. I also took a few along with me when I shifted to Hyderabad and there I had to go to book shops which had second hand copies as they didn't have a distribution there I guess. Through those comics, I started generating interest in technology, history and other subjects which used to be covered in that comic book. I got exposed to ideas far more interesting than school books. Although I have not been very interested in science but I like fantasy and Sci fiction.
You have also managed to break the image of playing dark shade characters on screen. So, what are your expectations from the industry now?
The kind of offers I have received till now, I feel all types of roles are being offered to me. Now, I have to decide which direction I have to move in and work. I don't keep expectations but I am always hopeful that I get to collaborate in projects and do characters where I also have to challenge myself and work harder.
Which character of yours has surprised you the most?
I think for me Mirzapur 2 was the one because when I was shooting for it I was alone and it was a double role, so I used to change the clothes and play both the characters. So, when I saw the series, I was surprised to see the effect. That's how well it turned out and looked so good.
Any of your character, you feel has not got the kind of attention and appreciation it deserved?
I think my first film Monsoon Shootout didn't meet the desired audience. I don't know about my work but the attention that film needed, it didn't get at that point of time. And now it is on OTT, so people are watching it and sending me messages. It was my early work and I want more people to watch it.
Can you share something about the moment when you got to hear 'Tu bahut accha actor hai'?
I think it was in Rangrez in 2013. While I used to do theater and then in FTI also people used to tell me that I am a good actor. But it was Priydarshan Sir who gave me this compliment.
Celebrity feeling?
I didn't get that feeling but I guess people got that feeling for me that I am a celebrity now after I did Gully Boy.
Do you feel that recognition came a little late in your life?
Yes, I do feel so but when you finally get the recognition you don't entertain this kind of thoughts. I feel good to be recognised because in my early years of acting when I used to say I wanted to do this or that so people used to tell me who is Vijay Varma? We don't know. But ab logon ko mera naam to pata hai.
When was the first time you googled yourself?
It was right after Cannes Film Festival in 2013 as my film Monsoon Shootout was shown there and that time, I was not there on social media. I opened my Instagram account after that. So, at that time I was featured in a french magazine and I wanted to show it to my family, so I googled myself and luckily got it.
Your family was not very supportive towards your decision of becoming an actor. How do they react to your work now?
Now things have changed. But still my mother and father don't give much attention to my work- its my niece and nephews who keep following my work.
We hardly get to read about your personal life. What is the reason behind?
I just want to stick to my work and don't like to speak much about my personal life. Because I feel that my personal life is my world and not everybody needs to know about it.
You already have three films in pipeline with Alia Bhatt, Sonakshi Sinha and Nushrratt Bharuccha....
I have just finished Fallen with Reema Kagti which has Sonakshi and Gulshan in it. And now I am getting into Darling with Shefali Ji and Alia Bhatt. I am looking forward to all of these because I managed to get the stories and the parts which are very challenging. Jahan tak leading ladies ka sawal hai vo mujhe saari hi acchi lagti hai and sabke saath kaam karke mujhe accha lagta hai.
Any role which Vijay is still craving for?
I want to do a character which will ask me to go through a physical transformation (like do a six-month boxing training) as I am very lazy in real life.



Image Source: Instagram/itsvijayvarma, spotboyearchiveimages