14 Phere Review: Vikrant Massey Makes This Rather Weak Comedy Just About Watchable, IF You Are Thoroughly Bored!
Here is our review for 14 Phere, starring Vikrant Massey, Kriti Kharbana, Gauahar Khan and Jameel Khan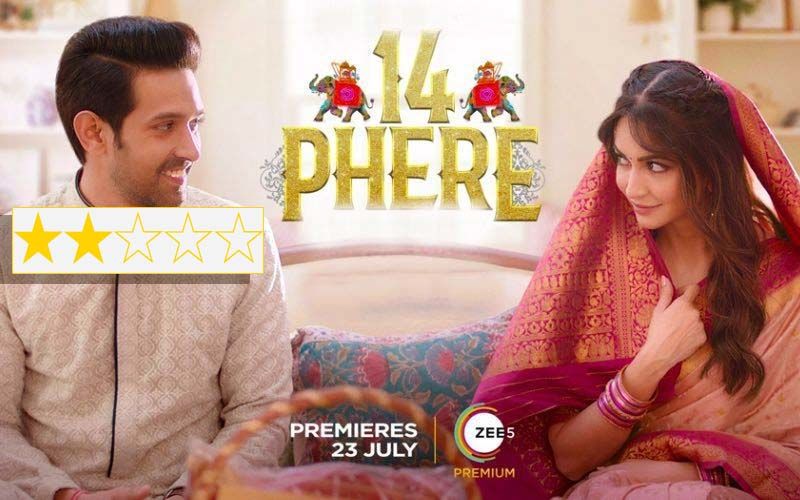 Vikrant Massey is surely giving us a lot of flavours to choose from as the actor is back with a romantic-comedy in 14 Phere, after displaying his whacky side in Haseen Dilruba, last month. The film, based on inter-caste marriage, also stars Kriti Kharbanda, Gauahar Khan, Jameel Khan in pivotal roles.
Vikrant essays the role of Sanjay, a Bihari Rajput while Kriti as Aditi is a Jath from Jaipur. Both their families are strictly against inter-caste marriages but as fate has it Sanjay and Aditi fall in love while studying in a college in Delhi.
Worried that their parents will never allow this union, the couple is confused whether to take a promotion at their work and run away to the US or stage a drama of belonging to the same caste and marry each other with their families consent. Of course, they choose the second option to force some complications and take the story, alreadly losing its plot, ahead.
Boom enters Gauahar Khan as Zubina, the self-proclaimed Meryl Streep of Delhi, as the fake mother and Jameel Khan as the fake father. Looks like the director, Devanshu Singh knew somewhere that Zubina's portrayl as the mother will not look convincing, so he serves this fact on the face for the audience with her bad wigs and dentures while Jameel Khan too spells it out his dismay via a few dailogues.
The writing of the film falls flat as it is unable to extract humour from the situation. Dailogues don't entertain you after a point of time and unfortunately Gauahar, in an attempt to play an old lady, ends up with too much hamming. Vikrant is the only saviour in this half-sunk ship as Kriti too fails in offering anything new.
Overall, I feel 14 Phere chose a wrong subject for comedy. Agreed there may be honour killings and inter-caste marriage issues in the rural parts of our country still, but in a metro, between a couple so well-settled, this seemed rather too forced. Watch it if you are extremely bored and if you're a Massey fan, else give it a skip. I will rate it 2 stars.
Image source: youtube/SpotboyE/ZEE5/instagram/kriti.kharbanda/IMDb