Feels Like Ishq Review: Feels Right, Light And Bright
Feels Like Ishq has a whole lot of loopholes and flaws. But it gets by. The series is smart-looking and reasonably intelligent when it isn't busy being trendy and cool.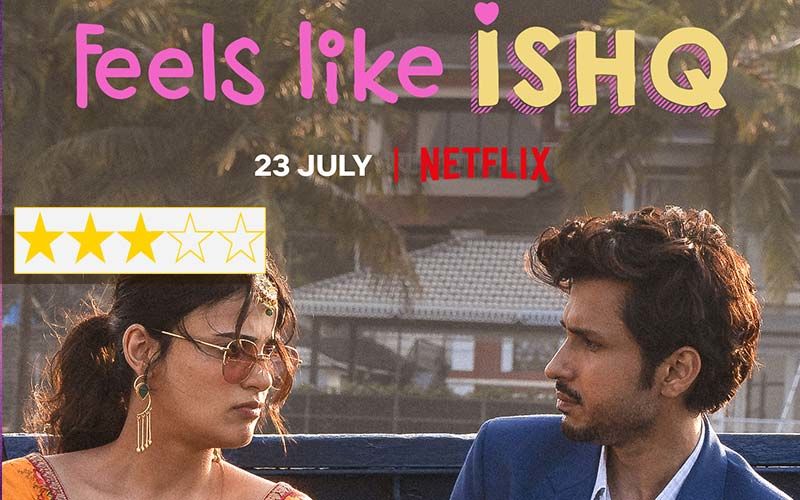 The element of surprise in this ambrosial anthology is that there is no surprise. It follows the course of six love relationships with an indulgent smile and a genuine love for that bewildering emotion called love. Feels Like Ishq feels right, light, and bright. It is not an anthology consumed by passion or eagerness to juice serious attempts out of the fruits of virgin passion. A strand of innocence runs through the stories. In one of the stories, the boy halts in his tracks and asks the girl, "So…do we kiss now?"
Cute. The meet-cute encounters and the strikingly svelte silhouettes of first love run through the stories. The exception is the first story Save The Dayte (sic.) about a runaway bride whose best friend Avani(Radhika Mohan) and the wedding planner Jay(Amol Parasher) get together in a convertible(with a bottle to go, of course) to get the bride back before the shubh mahurat ends. Sadly the story's shubh mahurat never arrives. This one feels strangely strained with Radhika Mohan doing a Kangna and Tapsee combined, and Amol Parashar trying to find a grip over the slippery goings-on. I wish Radhika would speak her dialogues more clearly. As for director Ruchir Arun, there is a spark here. But it's mostly lost in a babble of overacting and 'F' words.
Tahira Kashyap's Khurrana Quaranteen Crush is more confident about its intentions. Her story is about a virginal teenager Maninder(Mihir Ahuja, earnest) who hasn't even got his own phone as yet, and must woo the new girl(in braces, why?) in the house across the lane Nimmi(Kajol Chugh) on his mother(Kavita Pais, amusing) 's phone. Despite the 'Bra' jokes being too in-your-face, the two youngsters in this film with their social-distancing antics give the story a fresh fertile feel missing in some of the other stories. As a bonus, we get songs by the director's star husband Ayushmann Khurrana, though they(the songs) don't feel right. It's like having sex just because there is a box of condoms in the drawer.
The third story Star Host has a very sincere young hero Aditya(Rohit Saraf) taking on a vacationing guest Tara(Simran Jehani) while his parents are on a pilgrimage. Of course the inevitable happens. Directors Anand Tiwari makes good use of the Mahabaleshwar visuals. The conversations feel right and one sequence to do with a pair of boxer shorts is smile-worthy. But dialogues like, 'Let bygones be bygones…bye, I'm gone' don't really say anything except that the director is trying to be clever. The actors playing Saraf's best friend and the female restaurateur are impressive. (No elaborate credit details were provided by Netflix despite repeated requests).
Danish Aslam's queer film She Loves Me She Loves Me Not has an endearing female lead Sanjeeta Bhattacharya. But the material is as muddled as the protagonist and the storytelling has serious pacing problems. While Sanjeeta's Muskan will make you smile(this girl is a find) the supporting cast is quite awful. There is Muskan's boss who pronounces Cannes with an 's' and Muskan's love interest (played by Saba Azad) who is supposed to be hot and mysterious on paper but is anything but that on screen. The dialogues don't help. "Never judge a lesbian by her cover"? Huh??? I did like Muskan's mother's one-liners, though.
My favourite of the anthology is Interview, a burgeoning working-class romance between two young people waiting to be interviewed for the same job as a sales representative. This story resonates with understated tragic grandeur. The lead pair Zayn Marie Khan and Neeraj Madhav is persuasive in bringing out the inherent dignity of that under-ambitious section of the middle-class which thinks a salary of Rs 15,000 is a windfall. Director Sachin Kundelkar gives this story a feeling of distant despair and obtainable hope. I want to see this couple in a full-length feature film.
The final story Ishq Mastana left me scratching my head. The female protagonist Mehr(Taniya Maniktala from Mira Nair's A Suitable Boy) is a designer-activist. The hero Kabir(Skand Thakur) is a rich spoilt brat who agrees to a protest date ( he meets her while she is demonstrating in a protest march) as a "rebound fuck": he is just been dumped by his girlfriend. By the end of the day, Kabir is singing protest songs and accompanying the khadi gang to their next barricade-breaking mission. Reform is welcome. But not when it feels like a rabbit being pulled out of a hat. Jaydeep Sarkar's direction is not bad. But the story lacks conviction. "I don't protest to change the world. I do it so that the world doesn't change me," says Mehr to Kabir. Go figure.
Feels Like Ishq has a whole lot of loopholes and flaws. But it gets by. The series is smart-looking and reasonably intelligent when it isn't busy being trendy and cool.




Image source: IMDb, Instagram/thekajolchugh/tanyamaniktala, Youtube/NetflixIndia