Choked Review: Anurag Kashyap's 'Note'worty Drama On A Troubled Marriage In The Times Of Demonitsation; Watch It for Saiyami Kher's Sarita
Anurag Kashyap's Choked: Paisa Bolta Hai, a film on demonetisation, is out and has left us impressed to bits; read Manish Batavia's review of the Netflix original below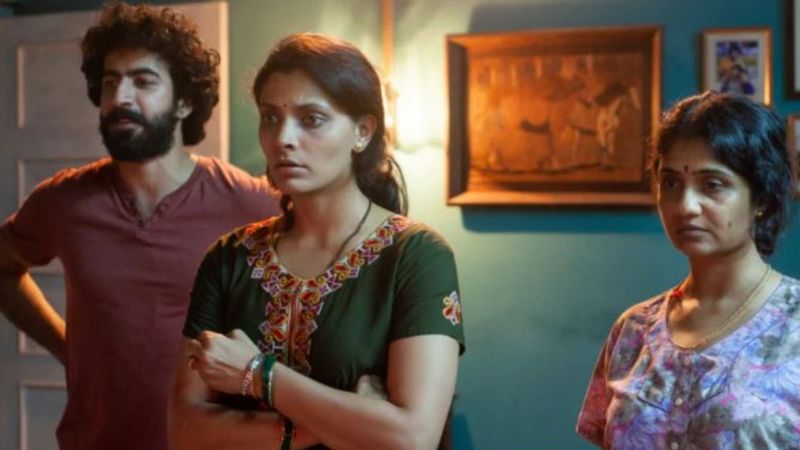 Anurag Kashyap is back with yet another straight-talking film, this time on Netflix, titled Choked: Paisa Bolta Hai. It stars Saiyami Kher, Roshan Mathew, Amruta Subhash and Rajshri Deshpande and chronicles demonetisation, a rule that had brewed a storm across our lives back in 2016. The film, which premiered recently, has been watched and reviewed by Manish Batavia. Here it goes.

If you are an avid fan of Anurag Kashyap's cinema, you must be aware of his love for censored words and actions in his previous works. Choked: Paisa Bolta Hai, however, will take you on an otherwise journey. As I finished watching this one, the first thought that crossed my mind was, is this really an Anurag Kashyap film? It certainly doesn't seem to belong to his 'universe'. Choked is rather subtle, largely relatable; no grunge, no gaali galoch. Surprisingly, it doesn't trouble the beep meter at all!
The film successfully blends in the days of demonetisation through the eyes of an honest, middle-class woman, a banker - 'Sarita's tryst with money – she discovers wads of currency notes from the pipe of her kitchen sink. Paise ped pe nahin ugte lekin haan Choked ki duniya mein kitchen sink ke neeche pipe mein se zaroor nikal sakte hain! 'Pipe dream', eh?!
Sarita is married to Sushant - a jobless, lazy man played by Roshan Mathew - underplays his character without being melodramatic about it. He manages to evoke just the right amount of irritation for the character. Karsh Kale's background music heightens the experience of this film by a few notches. Very unusual, quite new given the milieu of the film!
Talking about the performances, this, undoubtedly, is Saiyami Kher's finest one so far. Both she and Roshan Mathew show their ability in really long one-shot sequences. Sarita (Saiyami) exudes such honesty and comes across as very likeable. One ends up rooting for her even when she's indulging in things that are immoral.
The undertones of bitterness and frustration in their marriage with shattered dreams seem fairly real. What's the best part here? Well, nothing filmy or melodramatic about them. Not for a moment does one disconnect from the story. The climax may seem a bit bizarre but the world of Sushant and Sarita carry the film despite the lack of any real crescendo. In a parallel universe, she could well be a cousin of 'Sulu' from Tumhari Sulu.
The highlight of the film for me is that Aloo-Paneer dialogue! A lot of wives frustrated with their husbands now have a new line to use! Has a few flaws... doesn't end on a memorable high! But the lead pair's refreshing performances make it reasonably watchable.
In a nutshell, Netflix's Choked: Paisa Bolta Hai is a gripping watch with a story, a reality check and lots of nostalgia. So, go ahead and dedicate a part of your weekend to this one because, a thumbs up from our side!
Our verdict – Binge-worthy.
image source: netflix