Hello Charlie Review: Jackie Shroff, Aadar Jain, Elnaaz Norouzi Starrer May Entertain Kids
Here is our review for Amazon Prime Video's Hello Charlie, starring Aadar Jain, Jackie Shroff, Rajpal Yadav, Elnaaz Norouzi and Shlokka Pandit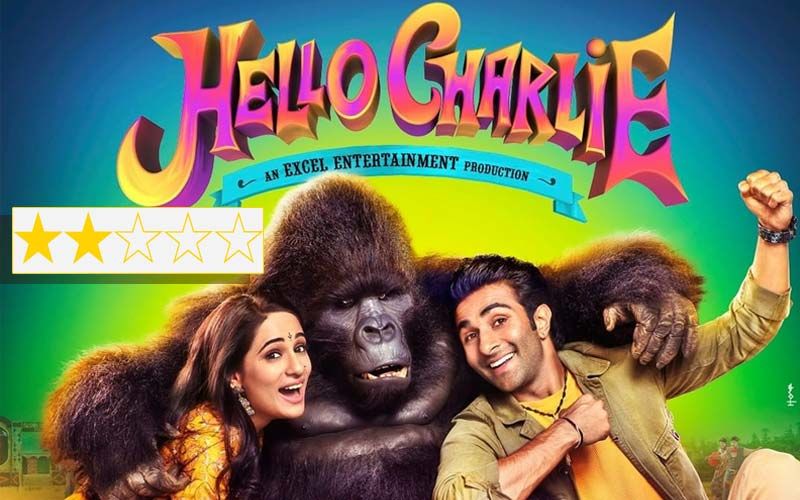 It's all 'monkey business' in Amazon Prime Video's latest film, Hello Charlie, starring Aadar Jain, Jackie Shroff, Elnaaz Norouzi and Shlokka Pandit. If you want to keep your children engaged over the weekend lockdown, then this one may help BUT I would advice, leave them alone with it and do not sit along.
The story of Hello Charlie revolves around a business tycoon, MD Makwana and a common man, Charlie, played by Jackie Shroff and Aadar respectively. Makwana is absconding and he is on a run to escape from India after being involved in a scam. Charlie, on the other hand, is a total goofball- he invites trouble wherever he goes.
The story moves forward when Elnaaz, who plays Mona Darling, suggests an idea to Makwana to escape the country. She tells him to disguise in a Gorilla suit, get transported to DIU, and from there leave for Dubai. Now, this transportation job is undertaken by Charlie and obviously it's all circus after that. Makwana in the Gorilla attire becomes Toto and gets mixed with an actual Gorilla, who also accidentally lands in the same village of Gujrat.
Film's humour level is absolutely basic and as I mentioned earlier, the kids may get amused by the Gorilla tricks but it did not crack me up even once. Rajpal Yadav, who plays a forest ranger, may give you a breather at times but his role is as good as a cameo.
Pankaj Saraswat, also a great actor (his performance in Criminal Justice was impeccable) has directed Hello charlie and I want to know why? The film's plot, screenplay is so sub-standard that the director hardly has anything to do. It's an easy-going film without any head or tail. Comedy is indeed the toughest genre to experiment with!
Talking about the performances, well they too were lukewarm with Aadar's voice constantly making me feel that it's his face and cousin, Ranbir Kapoor has dubbed for the role. Jackie shroff has once again (after his recent web show OK Computer) been wasted as most of the time he is shown to be inside the Gorilla suit with only his face being used.
Overall, Hello Charlie is an out and out timepass film and since its duration was merely 1 hour 40 mins, I sailed through. If you have nothing to do over the weekend and are okay investing your time in something brainless, then give this one a try else say bye-bye. I would say it's blah-worthy and rate it 2 stars.
Image source:IMDb