Hitman's Wife's Bodyguard Review: This One Is A Lot Of Silly Fun
Here is our review for Hitman's Wife's Bodyguard starring Ryan Reynolds, Samuel L. Jackson, Salma Hayek and directed by Patrick Hughes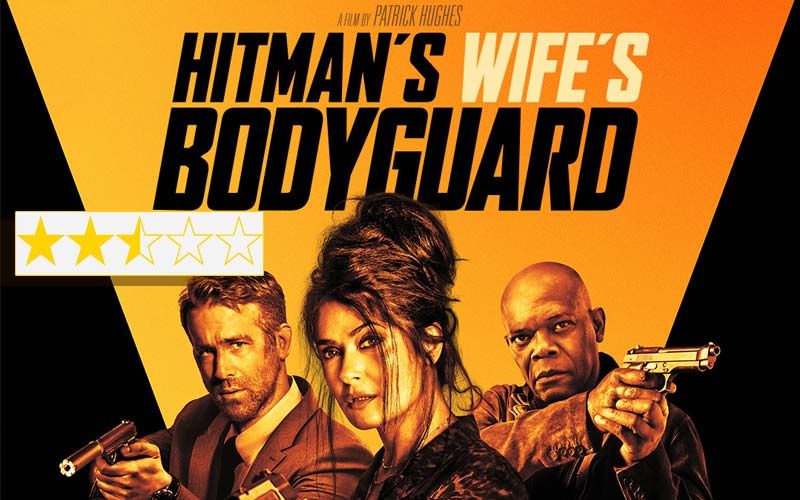 Promise me you won't look for anything more than goofy fun,and I promise you two hours of laughter and escapist fun. Hitman's Wife's Bodyguard brings back the 2017 trio of actors. Samuel L Jackson and Salma Hayek are an assassin and his deadly wife. Reynolds, an actor I find always enjoyable (beyond Deadpool) is their reluctant bodyguard.
I say reluctant, because Michael Bryce wants to get as far away from this lethal couple as possible. But somehow he can't shrug them off. Not as long as they continue to be so much fun together.My favourite of the trio is the stunningly sexy Salma Hayek who is to Mexico what the Eiffel Tower is to France. This Mexican beauty defies age and defines onscreen chutzpah so vividly , I am sold even before she starts her hijinks.
I am happy to tell you that this time Salma's Sonia Kincaid has more footage, more action, more oomph, more everything than the 2017 film. This time Sonia is the woman in-charge, blazing guns and all. Many a times she becomes a bodyguard to her hitman husband's bodyguards.
As they negotiate their way through numerous chases and bomb blasts Reynolds and Hayek have themselves a blast .The enjoyment they derive from the slim material(the plot is skimpier than Ms Hayek's clothes and far less voluptuous) is throbbing with a contagious quirkiness. In some action scenes Ms Hayek takes centrestage while Mr Reynolds literally hides behind her (teensieweensie) skirt.
I would have just been happy watching the two of them whoop it up across the most exotic locations, cars crashing with a frequency that would alarm Rohit Shetty. But the darned plot kicks in ,with a groan-inducing gravity. The archvillain turns out to be some guy who wants to destroy Europe's power grid and take over the world, blah blah.The megalomaniacal villain is played by Antonio Banderas .And surprise, he too has the hots for Ms Hayek.
The more the merrier, I say. Hitman's Wife's Bodyguard is more goofy and enjoyable than the first film where the lack of plot-meat was conspicuous. This time, the crisp editing ,the rapidfire action and most of all the Hayek-Reynolds combo keeps pulling and yanking us along into their world of gunfire and martial arts, and deadends that suddenly open up into new avenues for the narrative to take us for a ride.
While the film is flimsily fulfilling all the way , two interludes had me gagging with laughter. One is in a boat where Salma explains to a redfaced Reynolds why her husband and she have not been able to make a baby as yet, as a bunch of nuns listen in . The other is a scene where Salma insists Reynolds is obsessed with her breasts.
Somewhere towards the end Morgan Freeman shows up as Ryan Reynolds' estranged father. In case you haven't noticed, Reynolds is white , Freeman is black. Looking for logic in this film is like looking for a swimming pool in Deadpool.
Image source: IMDb, Instagram/
hitmansbodyguard, Youtube/Lionsgatemovies