Jagame Thandhiram Review: Dhanush's Crime Drama Is A Tedious Story Served With Lot Of Style
Here is our review of Dhanush's starrer Jagame Thandhiram a crime drama action thriller that features Aishwarya Lekshmi and James Cosmo, Joju George, and Kalaiyarasan.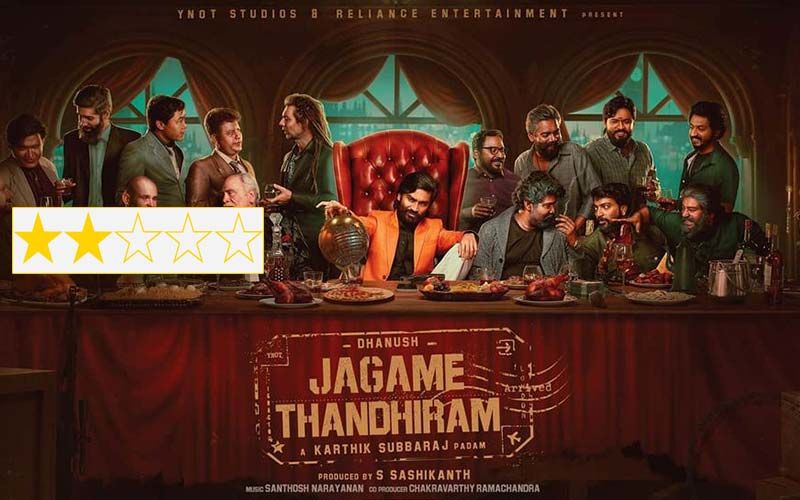 The story of Jagame Thandhiram revolves around Peter (James Cosmo) a racist mobster who is involved in a variety of illicit enterprises in London; Sivadoss (Joju George), a Tamil smuggler who leads the UK underground; and Suruli (Dhanush), a Tamil troublemaker from Madurai.
Suruli is a criminal from Madurai (a small town in Tamil Nadu). He is one of those who is more concerned about the blood spots on his shirt than killing a human being. Besides killing people to get work done, he owns a small business (parotta restaurant). One of his friends, Vicky (Sharath Ravi) is accompanied by his super boss from London who witnesses one of the coolest restaurant fights and hires Suruli to work for his boss, who stays in London.
The next day Suruli travels to London to commit a murder in exchange for a large sum of money and the prospect of owning a restaurant. Upon reaching he kills Sivadoss, a gold smuggler with a backstory. Suruli learns that murdering him, who was fighting for a cause, was a mistake. He then confronts Peter and stands up for Sivadoss' cause for the rest of the film. Though the story unfolds with some twists and turns it fails to excite you.
The first half of the film is slightly intriguing, probably because of the interesting beginning of the plot or because the film generated a lot of hype before its release. However, the film slows down in the second half, and the narrative takes a long time to unfold, making it difficult to keep your focus on the screen. In the midst of the movie, I had two tea breaks. Yes, it is that simple to get distracted and bored with the narrative.
Director Karthik Subbaraj has a unique style of filmmaking, which you can see in the pattern of this film. Having said that he didn't present anything new. It's the same cheesy film that we've been seeing for a long time. The film is nearly three hours long which could have been easily trimmed, to keep it interesting, however, the director failed to do so, making it a tedious watch. Whereas Shreyaas Krishna's cinematography and Santhosh Narayanan's goosebumps-inducing background adds to Jagame Thandhiram's magnificence.
When it comes to acting, a character like Suruli is a piece of cake for Dhanush. We've seen him in similar roles before, so don't expect anything spectacular here. But Despite the poor storyline, the actor does manage to deliver engaging action sequences, as we have come to expect from him. Honestly, the only sections of the movie that will keep you hooked are the action scenes.
Joju George's portrayal of Sivadoss holds the plot together. In the entire film, he was my particular favorite. Even after a lot of nonsense writing, he basically made this a good watch, his get-up to his method of walking and talking that is something to look forward to in the film.
James Cosmos as Peter is good. Aishwarya Lekshmi's performance as Atilla had very little to offer, yet she made sure that anytime she was on screen, our gaze was drawn to her. The rest of the cast was decent.
All in all, Jagame Thandhiram is a film with a lot of action and style. Though the movie includes certain social issues, the plot is construction makes it a tedious watch.
Image source: Instagram/dhanushkraja/ksubbaraj, Youtube/NetflixIndia