Modern Love Season 2 Review: This Anthology Of Eight Films Is An Ambrosial Yummy Yatra Into Loveland
Modern Love Season 2 has its slippery moments. But it overrides the iffy interludes. Because you see, at the end, love conquers all.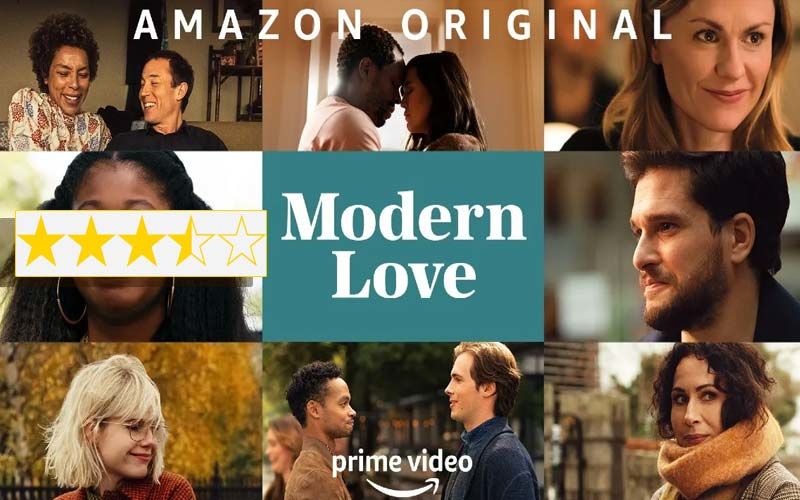 The second-most stupid comment, which I've read on this modern day bouquet of takes on that thing called love, is the 8 stories are uneven in quality. The most stupid comment: Season 1 is better than Season 2. Firstly, of course the stories are uneven in quality. These are not rotis being rolled out in a kitchen, they are different stories about different facets of love. Hence, you may like one better than the other depending on which way your cookie crumbled when your heart rumbled and fumbled. And of course, the first season is always better. It's known as nostalgia.
Modern Love Season 2 is every bit as kaleidoscopic and stirring as Season 1 with some great acting in all the stories, barring one. It is a mere coincidence that the first story On a Serpentine Road, With the Top Down (yes, every story has a quirky title) about a middle aged woman's grieving abiding attachment to her 35-year old convertible car is helmed by Minnie Driver. She drives not only the precious convertible but also the story forward with a performance so naked in its emotional truthfulness that I could feel her hurt all through. This is a film about letting go… or rather, not letting go of your memories and how wrong people are in saying that time heals the pain of bereavement. Minnie Driver shows us a path of hesitant salvation in the dark tunnel of bereavement. Don Wycherley and Tom Burke as her present and past husband are also very convincing.
The only other story of this ambrosial anthology about mortality is the last film A Second Embrace, with Hearts and Eyes Open in which the brilliant Sophie Okonedo plays a single mother of two lovely little daughters who finds herself drawn close to her estranged husband (Tobias Menzies) after she is diagnosed to be terminally ill. The story of a broken body and a broken marriage healing simultaneously is well worth telling.And Okonedo is incredibly believable in her role.
The breathlessness of first love, albeit between two young girls Katie and Alexa,is amply captured in the story Am I...? Maybe This Quiz Will Tell Me. The first flush of love, the verbal exchanges overrunning one another, the sheer madness of rampageous hormones are all there.Above all there is the captivating Lulu Wilson as Katie. She is a prized find.I couldn't take my eyes off her.
While the lesbian story worked for me, the gay story How Do You Remember Me left me cold. It's all about a painful reunion on a busy New York sidewalk on a sunny afternoon between two men who had a one-night stand. The characters are phony, the two main actors Marquiz Rodrigues and Zane Pais behave like models in a condom commercial, and the style of storytelling is unnecessarily complicated. When you have only half an hour to have your say, you don't fool around with the form and content. You tell it….errr…straight , even if it a gay love story.
Only one story, Strangers On A (Dublin) Train, refers to the pandemic. Two charismatic stars Kit Harington and Lucy Boynton play Michael and Paula who meet-cute on a train . While they get to know each other during the journey, a co-passenger sings a cute meet-cute song on the guitar just to pre-empt our cynicism. By the end of the journey, you expect phone numbers to be exchanged. Instead Michael does a When Harry Met Sally and the two decide to meet at the station two weeks later. But God, the pandemic and the scriptwriter (in that order) have other plans. The story never had me as invested as Minnie Driver and Sophia Okenodo's stories. Harington and Boynton look like strangers on a train rather than potential lovers right till the end. Watch out for Miranda Richardson as Paula's mother in this Irish gaffe.
I preferred The Night Girl Finds A Day Boy about a mismatched couple - she sleeps during the daytime, he sleeps like most people during the night - who try to find a common ground to keep their mutual feelings afloat. The fact that Gbenga Akinnagbe and Zoe Chao actually look like an incompatible couple helps furnish a hefty hormonal value to a story that is otherwise lighthearted. An Indian actress Aparna Nancherla plays the heroine's best friend. That also helped keep my interest alive in this story.
The outright no-nos for me were A Life Plan for Two, Followed By One and the dumbest of the engaging octaves In the Waiting Room of Estranged Spouses. A Life Plan for Two, Followed By One is about two annoying kids who grow up into two super-annoying young adults played by Dominique Flashback and Isaac Powell who can't make up their minds whether they want to be friends or lovers. How about a coin-toss?
As for In the Waiting Room of Estranged Spouses a war veteran falls in love with the wife of the man the war veteran's wife is seeing. This is Yash Chopra's Silsila made sillier by Garret Hedlund's eye-rolling performance. Modern Love Season 2 has its slippery moments. But it overrides the iffy interludes. Because you see, at the end, love conquers all.
Image Source: Instagram/joyfulmarsh, youtube/amazonprimevideo