Netrikann Review: The Gorgeous Nayanthara's Thriller Is Nail-Biting
Read our review of the film Netrikann. It stars Nayanthara, Ajmal Ameer, Manikandan and Sharan Shakti. The thriller is available on Disney+ Hotstar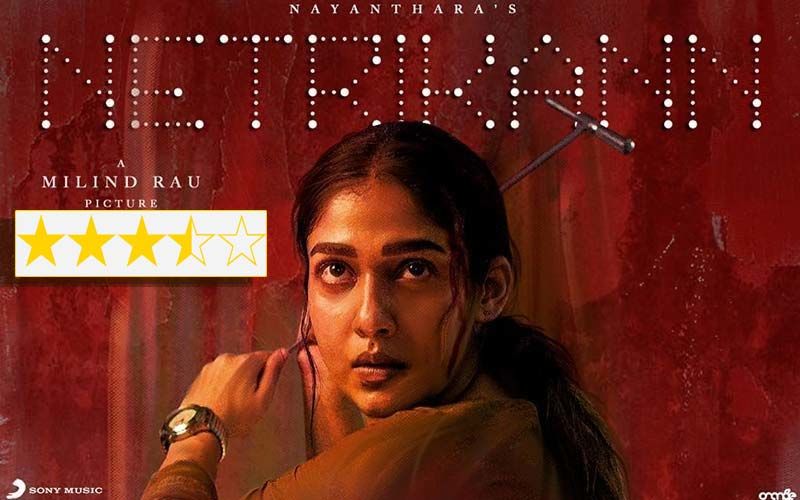 No wonder they call her the 'Lady Superstar'. Let's just say Nayanthara is to Tamil cinema what Mrs Indira Gandhi was to her cabinet. She lords over the proceedings like a true shero, imbuing an enchanting naturalness to almost every frame with her indelible presence. Yes, Nayanthara is one of the most beautiful and gifted Indian contemporary actresses.
Netrikann would not have been possible without Nayanthara. Playing the blind Durga, she is every bit a woman in control of her destiny. She is sharp and extra-alert because of the disability that strikes her life right at the start of the film. No pushover, this victim of fate. Durga is not going to allow her blindness to darken her destiny.
Striking a lovely figure with her stick and her faithful dog, Nayanthara is shot with fanboy lovingness by director Milind Rau and his excellent cinematographer R D Rajasekhar, who shot Sonakshi Sinha with equal affection in Akira. But then there are films and films, and there are ladies and ladies.
Nayanthara takes to Rajasekhar's lenses with a lingering luminosity. I have seldom seen a cat-and-mouse chase between a serial killer and his nemesis which is so tellingly lensed. Some of the case sequences specially a lengthy case in a metro train, are so heart-in-the-mouth viewers will literally forget to breathe.
While Nayanthara echoes Audrey Hepburn's blind act in Alfred Hithcock's Wait Until dark I wish I could be equally effusive about the antagonist. Alas, Durga's adversary played by Ajmal Ameer comes across more as wimpish than vicious. His nastiness towards the female sex is explained in a laughably unconvincing flashback where we are supposed to believe –and I quote the villain's thoughts—being a gynaecologist by profession he is unexcited about women's private parts, hence he kills them?
Sorry, I am not buying that. This weirdo needs a shrink and a spank. More convincing than Ajmal Ameer's psycho-act are the two other men who join hands with Durga to crack the nut case. Manikandan as a rookie cop who needs to prove himself and Sharan Shakhti as a delivery boy who becomes Durga's surrogate brother, give the central performance the fillip that it needs.
Most of the time, Netrikann keeps us immovably invested in the goings-on. At one point, I thought the chase would finally end. But the script is in no hurry to go anywhere. We don't want it to. The longer it takes to wrap up the serial killings, the longer we have Nayanthara with us. It's hard to take our eyes off her. Even if she is not supposed to see.
Image source: IMDb, Youtube/SonyMusicSouth, Instagram/sonymusic_south/milind_rau