Radhe, Your Most Wanted Bhai Movie Review: This Salman Khan- Disha Patani- Randeep Hooda starrer Is Strictly For The Salmaniacs
Here's our review for Radhe Your Most wanted Bhai starring Salman Khan, Jackie Shroff, Randeep Hooda,Disha Patani, Plus Assorted Villains From Bigg Boss & Other Outlets and directed by Prabhudeva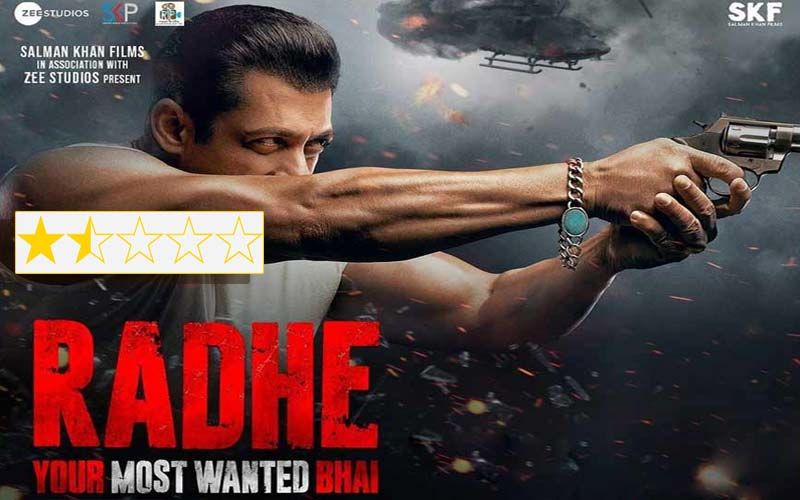 "Cute boy," Disha Patani exclaims. I thought she was referring to Mitansh Lulla, the young teenager who plays a student fighting the drug mafia in Mumbai.
But no. Patani who play a really dumb character named Diya (so named to facilitate Salman's joke about 'Nadiya') is referring to our super-hero crimebuster Radhe who has fooled Diya into believing that he is a struggling model whom she takes a shine to.
In one of the film's light-hearted sequences (when the supercop takes time off from bludgeoning drug-dealers) 'Bhole' (that's what Ms Patani calls Bhai) poses in front of a redscreen and rips off his shirt to reveal a photo-shopped six-pack torso.I could just imagine the collective roar of the Salmaniacs in the movie theatre .
Those were the days! So much has changed. But not Salman Khan. He continues to be a one-man vendetta army, this time out to clean Mumbai of drugs and drug peddlers. And there are so many of them! The villains just keep pouring in like unwanted monsoon showers. I tried to keep a count. But after the 17th baddie I simply gave up. I hoped Radhe's crime-fighting skills are better than my counting. And I was right! At the end of the 1 hour 49 film Salman's cop act had eliminated all the villains,two of them, Gautam Gulati(playing a henchman named Girgit) and Pravesh Rana from Bigg Boss.
Speaking of which, the film has couple of inhouse Salman jokes that I found more interesting than the police procedural (which reeks of asininity). At one point, Disha advises 'Bhole' (Salman aspiring model) to try for Bigg Boss.Elsewhere she drops Salman near 'Galaxy'(his real-life address) and two of Radhe's police team walk out of a brawl mumbling, "From today we are Karan and Arjun."
These are the more vibrant moments in a film that gives us no hope for the future. If post-Covid this is what big-screen entertainment is meant to be, then we are better of watching OTT serials at home. Radhe India's Most Wanted Bhai is strictly for the Salmaniacs. It transports Bhai , the plot and the audience into a never-never land of freewheeling combats where we get an extremely hazy, lazy , crazy view of who's beating whom to a pulp.
All that is for sure in the action scenes is that our hero emerges from each physical conflict looking like he has just finished a bath and a meal with a little bit of the ketchup from the French fries stuck on his cheek and sleeves.
In one of the early action sequences Salman stands with a villain in his clasp, pointing at Salman fighting the villain's henchmen. Narcissism thereby gets a new impetus.I did enjoy Salman's conflicts with Randeep Hooda who as the archvillain Rana deserves an award for bravery for trying to make some sense out of his character's bizarre behavior. Bhai and Rana have an interesting fight in a rest-room where they are joined by a young female rookie cop Nikisha(Megha Akash) whom we saw Radhe giving gyan in an earlier sequence:
"Apni zindagi jeeyo fearless hokar"
Copy that. Wish Salman would get more fearless about the choice of his roles. Radhe offers no surprises, unless you think Salman killing the archvillain with a traditional dhobhi pachad is a surprise. Or Jackie Shroff playing Salman's senior officer and Disha Patani's brother,getting into Disha's short skimpy red dress in a party sequence, is a surprise.To me it was more a nightmare.
Never thought a day would come when we would see Jackie as a cross dresser. With Salman Khan anything is possible. Cute boy that he is.

Image Source: Instagram/radhe_the_movie/radhe_yourmostwanted_bhai