Ramyug Review: Ramayan Reverently Reloaded; Kunal Kohli's Adaptation Seems Ill-Prepared For Comparisons With That Of Ramanand Sagar
Kunal Kohli's Ramyug on MX Player has a pleasant vibe to it. Read the full review here.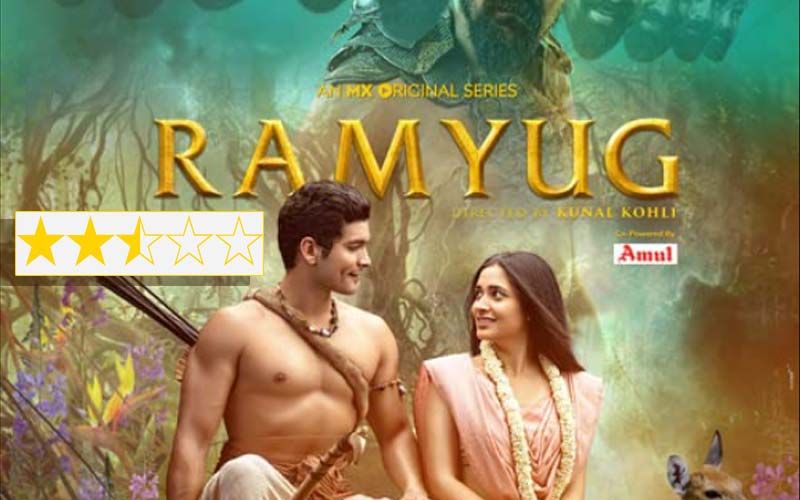 First the good news. Kunal Kohli's re-telling of the Ramayan doesn't compare too unfavourably with Ramanand Sagar's Ramayan which has, for all practical purposes, become the sacrosanct over the decades. It has its chronological advantage, yes. Also, audiences completely surrendered to Sagar's cast and vision. I don't see a similar volume of involvement with the Kunal Kohli adaptation, more so because the "original" was re-telecast again last year. Too fresh in audiences' minds to be ignored, Ramanand Sagar's Ramayan casts a shadow over Kohli's faithful and reverent adaptation of the mythology(which I watched faithfully and reverently right till the embattled end).
To its credit, Ramyug has a pleasant feel and vibe to it. As long as you are not seeking an artistic or spiritual salvation in the presentation, this adaptation floats along innocuously, though admittedly some portions get more clunky than bearable. But more of that later. The series opens pleasantly enough in the Mauritian jungles (which adequately stand in for the Ram's banwas and for Ravan's Lanka) with Vishwamitra(Dalip Tahil,subdued) telling Ram(Diganth Manchale, impressive enough) that it's time he got married.
Laxman who hovers around Ram in every frame even when Sita is around, smirks knowingly. In the very next episode Ram with the omnipresent Laxman, is in Parashuram's kingdoms asking for Sita's hand. Both Ram and Laxman who sported stylish beards earlier are presented clean-shaven in Sita's kingdom. I guess parents haven't changed over the centuries. They still prefer clean-shaven husbands for their daughters.
The Ram-Laxman equation comes across more effectively(though Akshay Dogra's Laxman with long unkempt curly tresses is a bit too Soho to pass off as Ayodhya) than the Ram-Sita relationship,mainly because Aishwarya Ojha as Sita is lamentably lackluster. There is more crackling chemistry between Dashrath(Shishir Mishra) and Kaikeyi(Tisca Chopra). There is an undercurrent of longing and passion in the way Kaikeyi commands her besotted husband to pack off his favourite son to the forest for fourteen years.Shishir Mishra's Dashrath sobs convincingly for his dear son's banishment, drawing up a convincing case against husbands who adore their wives.
The banwas features the series' most unintentionally hilarious episode when Surpnakha , wearing what looks like Asha Sachdev's costume in Bindiya Aur Bandook lusts after Ram right in front of Sita(who looks amused) and Laxman(who looks livid). The actress playing Surpnakha(Teena Singh) seems to have taken her come-hither cues from all the screen vamps from Hindi potboilers.She is unbelievably clumsy in her seductive design.
Luckily the series on the whole , escapes the pitfalls of uncontrollable puerility. Kamlesh Pandey's dialogues are at times better than the material on-hand. Pandey infuses a sense of contemporaneity in the epic tale without tampering with its rudimentary plot points. Art director Kunal Pawar and cinematographer Maneesh Chandra Bhatt avoid garishness in the frames, making them as aesthetic as possible given the basically elementary aspirations of the presentation.
It's the end-game with Ravan(Kabir Singh Dohan) that undoes the moderately noble intentions. The battle scenes with Ravan lacking both valour and vigour. Bad special effects are not a problem. Tacky vision is. Also, Vivaan Bhatena's Hanuman lacks virility, warmth and tenderness, qualities that Dara Singh so ably imbued in his personality in Ramand Sagar's Ramayan.
Comparisons may be unfair. But if you are gutsy enough to go where Sagar has gone before then be ready to face the comparisons. Ramyug seems ill-prepared for this.
Image source: MX Player