Ray REVIEW: Baap 'Ray' Baap This Manoj Bajpayee, Gajraj Rao, Ali Fazal Starrer Is Interesting, But Is This Satyajit Ray?
Ray Review: "We are told these are not faithful adaptations from the original stories. I wouldn't even call them hybridized versions of the original," writes Subhash K Jha. Read the full review here.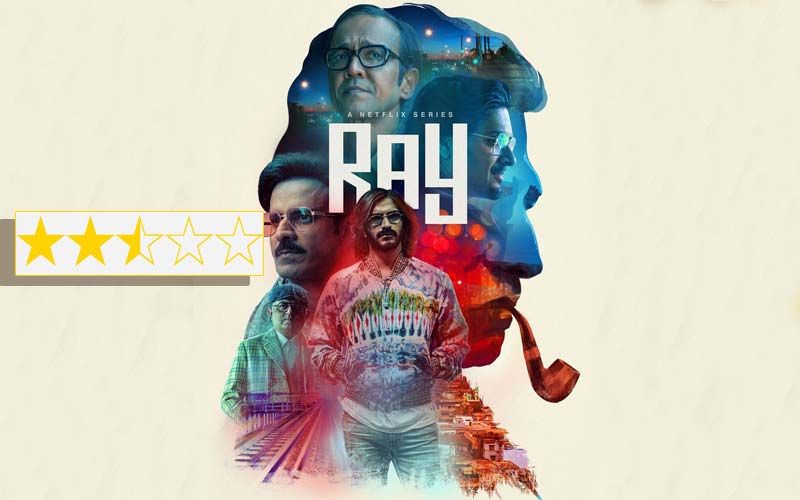 These are a quartet of interesting stories about four crazily out of control protagonists. But is this Satyajit Ray? In the first story Forget Me Not, Ali Fazal playing an arrogant self-serving entrepreneur Ipsit Nair accosts a girl at a poolside and asks her, "So we spent four nights naked together. Do you remember my cock in your vagina?"
Satyajit Ray, God bless his intellectually refined soul, would probably die once again if he heard these words being associated with his story ('Bipin Chowdhury'r Smritibhrom'). We are told these are not faithful adaptations from the original stories. I wouldn't even call them hybridized versions of the original.
This is Ray on speed. In fact this is not Ray . It is Baap Ray Baap. Audacious, unvarnished, smoky and psychedelic with characters talking dirty just for effect.Bidita Bag playing an eminently promiscuous actress in the second story Bahrupya(originally Bahurupi) puts her hand in K K Menon's pants and comments on the hormonal reaction.
Both the above stories are directed by one of Bengal's hotshots Srijit Mukherjee who brings to the table a Ray that Ray would find hard to recognize. Only the core of Ray's story remains. The rest is all window dressing: fancy flouncy provocative , but nonetheless missing the essence as the sound of the protagonist's pain is drowned in the din of dismal embellishments.
In Forget Me Not Ali Fazal(trying hard to look like an entrepreneur who is rapidly losing the plot) is placed in the vortex of a conspiracy against him that exposes him to be a ruthless inconsiderate megalomaniac.
"Which man takes the woman whose child he has forced her to abort to buy children's wear for his wife's child?" Shweta Prasad playing the entrepreneur's abused secretary Maggie wants to know.
A man who started his journey with Ray and culminated it with Srijit Mukherjee?
In another moment revealing his approaching insanity, Ipsit leaves his baby on the popcorn counter when he goes to watch Drishyam with his wife. Why would an affluent couple take their newly-born baby to a movie? Unless it's all in a dream…Which it is. But who can tell?
The second story Bahrupya has K K Menon in splendid form as a lonely conflicted makeup artiste swimming and stewing in his own solitude, until the preposterous last act of the plot where …well, things fall apart and the centre cannot hold.
Raunchy humour raises its ogling head when our bahrupya hero pretending to a be a producer is having sex with the aforementioned actress when she rasps from her him, "Floor pe kab jaa rahe hain."
The Bahrupya stops and looks at the floor. Laughter?A serious problem with taking this story seriously is that each time K K Menon assumes a new prosthetic avatar an actor other than he plays the role.Credibility of the multi-personality imposter is thereby not only compromised it is decimated.
The fourth story Spotlight directed by Vasan(Mard Ko Dard Nahin Hota) Bala with Harshvardhan Kapoor playing , ahem, a Bollywood superstar tries hard to hold up a story of an insecure bratty apparently untalented star Vikram Arora who feels threatened by a powerful godwoman's presence in his midst. It is filled with Bollywood references like the star's girlfriend(Akansha Ranjan Kapoor, well played) accusing him of 'Hai Huku vibes' and Harshvardhan quoting his father Anil Kapoor's song from Mr India(Zindagi ki yehi reet hai) ,all falls flat .
The story only comes alive when Radhika Madan appears as the Godwoman. Feisty and kinetic she fills the frames with her combustive energy . Chandan Roy Sanyal as the superstar's secretary is also a maneating scenestealing beast every time he's on screen.
By far the best story of the quartet is Abhishek Choubey's Hungama Hai Kyun Barpa(original story Barin Bhowmik-er Byaram) about a kleptomaniac Ghazal singer Safar Ali(Manoj Bajpai) and his encounter during a train journey with an officious wrestler (Gajraj Rao). Both Bajpai and Rao are in excellent form playing against one another with sparring jabs, and so are Raghuvir Yadav and Manoj Pawa in cameo appearances that adorn the cheeky plot with thorny humour and a sense of insouciant irreverence.
There is wit wramth and iconoclasm in this story, and yes music. Lots of Ghazals by Ghulam Ali. Abhishek Chubey had earlier invoked the world of Lucknowi splendor with endearing results in Dedh Ishqiya. Here with actors who know how to fill a screen without crowding it, Choubey transforms a Ray story into a work of subliminal art.
Towards the end of Choubey's story someone compares kleptomania to stealing Satyajit Ray's stories.This is the only story that gets the point. You can't play around with Ray without being accused of desecrating the original.
Image source: IMDb