Tooth Pari: When Love Bites REVIEW: This Netflix Vampire-Human Love Story Drama Is A Toothache Best Avoided-Deets Inside
Scroll down to read the review of Tanya Maniktala and Shantanu Maheshwari starrer Netflix drama Tooth Pari: When Love Bites!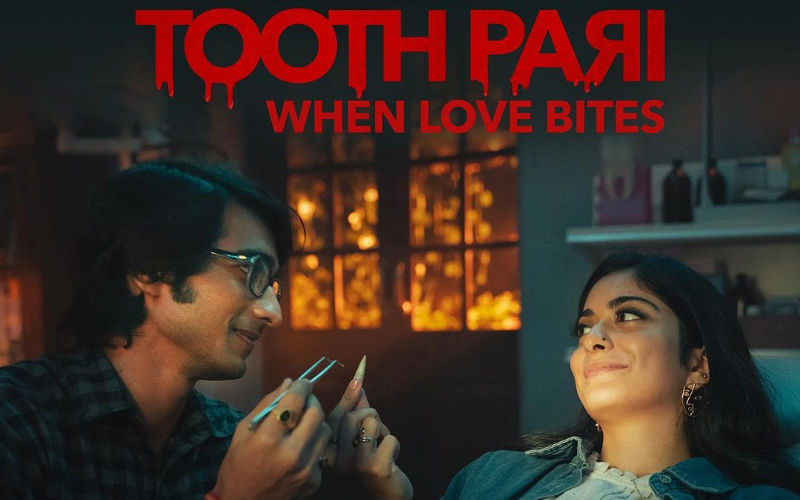 Tooth Pari: When Love Bites(Netflix,8 Episodes)
Rating: * ½
There is nothing truthful about Tooth Pari . It is a series founded on fabrications and laden with lies. It is like a plastic tree pretending to be an ancient branch of wisdom with creepy reptiles and snakes crawling all over the branches. After trying to make head or tail out of this frail tale I was left feeling exhausted and pale as if I had been bitten by one of those vampires in this creepy but unintentionally comic rampage into the world of sanguinary desires rendered so abstruse it feels more like a riddle with no solution than a series meant to entertain/enthrall/intrigue.
Tooth Pari ticks none of the above boxes. It is a weird indescribable corny conundrum with actors that I respect such as Adil Hussain, Tillotama Shome and Revathi acting really weird with kinky makeup and hair extensions in psychedelic colours. Shome plays some kind of a tawaif in a vampire's body. She prances around doing a Mujra of mayhem that seems choreographed by a mad yoga instructor.
The actors may have done it to let their hair down. But it's the audience they are really letting down.
Revathi…I can only sympathize with her. Lady, what had gotten into you ? What had gotten into all the actors and technicians who agreed to be part of writer-director Pratim Das Gupta's underground world of toothy vampires sucking the blood out of their victims,the biggest casualty being the storytelling that gets progressively trapped into a corner as the writer-director takes his characters on a journey into darkness Christopher Lee would have rejected on offer.
Who can fall for this utterly incoherent dance beyond death , unless fed some mind-numbing serum,which after consumption makes sense of nonsense?Or perhaps those who share the intellectual pretensions of this writer-director? For pretentious and phoney , this series certainly is.
Hats off to the actors for saying their hazy lines with a straight face. And Lifetime Achievement awards for those who can actually sit through this muddled love story about an unlikely love that grows between a bloodthirsty vampire Rumi(Tanya Maniktala, who finally seems to have found a suitable boy) and Roy(Shantanu Maheshwari who bears a canny resemblance to Bharat Bhushan in Baiju Bawra).
The two actors are interesting. Their vampirical love story, I am afraid, is not. I am surprised at how seriously the writer-director takes this weird kinky tale about underground half-humans who get squirrely after sucking on others' blood. Talk about a pain in the neck! The only actor from the gallery of competent players who survives the fanged fatuousness is Sikandar Kher. This actor never fails to make an impression, even when the stakes are heavily weighed against him.It can't get any heavier than this.