Nitya Shetty Goes Semi-Nude, Poses In Towel In Bathroom Video; Actress Sips Champagne In Her Bathtub; Angry Netizens Call Her 'Cheap
South actress Nitya Shetty shares her semi-nude video where she is seen sipping champagne in her bathtub!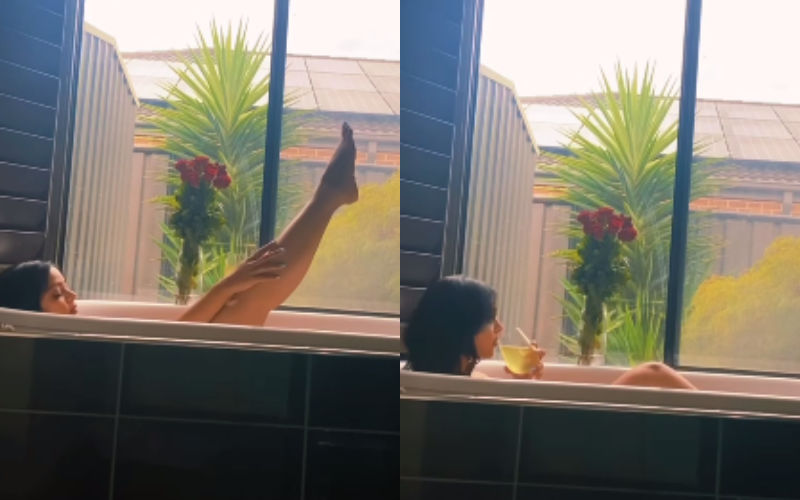 South actress Nitya Shetty, who began her acting career as a child artist, is known for her striking presence on social media. Right from dropping her sizzling photos, to seminude videos, Nitya has been burning Instagram with her hot avatar. Recently, she posted a piping hot semi-nude video of her where she was seen wearing just a towel and posing in her bathroom. Nitya also sipped champagne while sitting in her bathtub.
Soon after her video surfaced online, netizens started to troll Shetty, calling her 'cheap'. Many users even branded her as an attention-seeker. Reacting to her clip, one Instagram user asked, "Why are you downgrading yourself?." Another wrote, "cheap lag rehi hai." One of the comments can be read, "Didn't expect you will go so low." The video opened with Nitya wrapped in a towel, standing with her back toward the camera. She then made some sultry poses and sat inside the bathtub, showing off her legs. Sharing this racy video, the actress wrote in the caption, "Preparing for the weekend...Healing, unlearning and rejuvenating. The act of keeping your own promises to yourself is the point.."
Meanwhile, Nitya Shetty is widely known for her acting chops in movies like Devullu, Thalaivi, and the Zee5 web series Hello World. The two-time Nandi Award-winner began her in 1999 and did 20 films as a child artist before taking up senior roles. She won Nandi Award for Best Child Actress for her performances in 'Chinni Chinni Aasha' and 'Little Hearts.' In 2019, she appeared in the Telugu film Nuvvu Thopu Raa and the Tamil film Aghavan.