Tughlaq Durbar Review: Vijay Sethupathi's Worst In Years
Vijay Sethupathi plays a political wannabe named Singam, so crazy about getting a party the ticket that he is willing to do anything to please his political leader Rayappan, played by Partibhan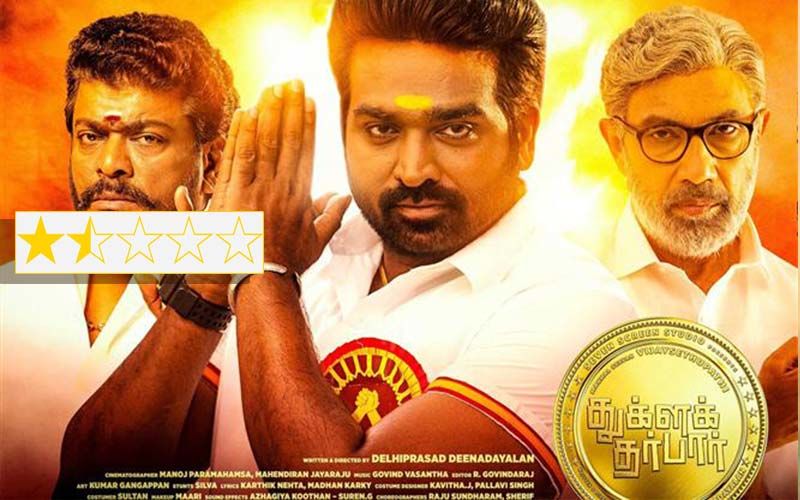 I love Vijay Sethupathi's work. He is one of India's most accomplished actors. But I am afraid this time he misses the marquee by a wide margin. Not that he is not effective. Most of the time, he is. But the film, and its shrill tone of political satire, is predominantly hysterical, so amplified and awkward, Sethupathi doesn't know where to pitch his tent.
He plays a political wannabe named Singam, so crazy about getting a party ticket that he is willing to do anything to please his political leader Rayappan, played by Partibhan. The two actors have played against one another in an earlier comedy Naanum Rowdydhaan where they had some meat in their mirth. Here it's just bones: skeletal satire blown up to ridiculous proportions to generate the kind of humour that amuses only intermittently, and that too because you want to be polite to an actor as distinguished as Vijay Sethupathi.
When we first meet him he is seen bounding up a dais holding his idol Rayappan after the political despot asks for a glass of water. Immediately we know Singam is servile, opportunistic, sneaky and cheesy. Sethupathi does all of that with a veteran's aplomb. But it's all vain, what with the plot displaying more holes than the main road after a shower of monsoon.
The drained-out humour which includes a violent tick on Sethupathi's eye which transforms him into a humanized entity, and the bouts of social conscientiousness do not go hand in hand. They leave the proceedings as limp and lifeless as a wound-up doll that has just been crushed under heavy feet. The political mentor-pupil drama in Tuglaq Durbar, done so brilliantly in Rahul Rawail's Arjun, never rises above the spasms of banality that crops up intermittently to give the film the look of a work in progress, not quite sure where it going.
The relationships remain largely unexplored, even the one between Sethupathi and Partibhan. The two actors look like a pair of lions waiting to be told their next move. Sethupathi has a sister with whom he doesn't get along with. When she gets sexually harassed at her workplace he turns a blind eye…until that moment when he reforms…Just how and when that moment of self-realization creeps up on the creepy plot is incomprehensible to those of us watching this tiresome political satire from the outside. Like some of the people in political power, you just wish for it to end.
Image Source: YouTube/NetFlix