Horoscope Today, January 21, 2021: Check Your Daily Astrology Prediction For Sagittarius, Capricorn, Aquarius and Pisces, And Other Signs
Gather the insights about your horoscope to shape your day into a highly positive, productive, and fulfilling day. Let the stars light up your paths.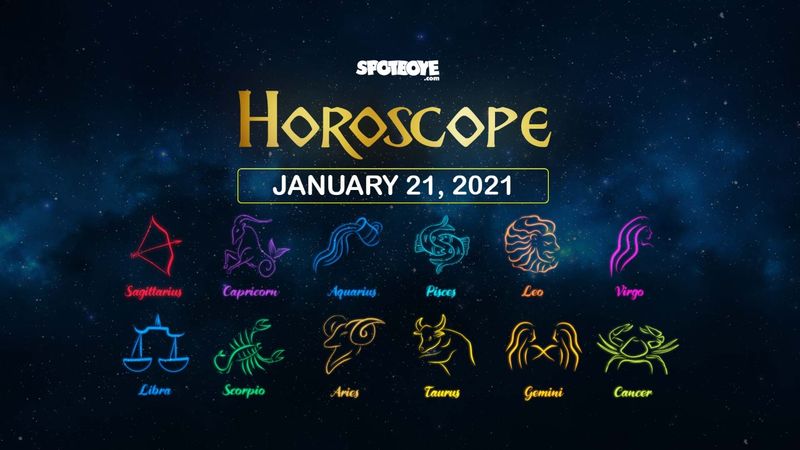 Check out today's horoscope here:
ARIES (Mar 21 – Apr 20)
Introspection gives you answers that you are looking for. You have the ability to accept today. Utilize this for closure and moving on.
TAURUS (Apr 21 – May 21)
Money matters keep you anxious throughout the day. You want to relax and get away from the competition around you but you find yourself immersed in the surroundings.
GEMINI (May 22 – June 21)
Profit and inflow of money are on the upside. You also start dealing with matters of heart cautiously. Your health becomes a priority.
CANCER (June 22 – July 23)
Your work will flourish today as it receives undivided attention from you. The motivation may not be anything related to work but you will be dedicated to your work.
LEO (July 24 – Aug 23)
It is one of the most creative days for you, utilize this creativity for work. Today's efforts will reap great benefits in the future at your workplace.
VIRGO (Aug 24 – Sept 23)
It is advisable for you to not rely on your past achievements to work in favor of you anymore. Start working hard towards achieving goals.
LIBRA (Sept 24 – Oct 23)
Today you have a marriage commitment coming your way. The wedding plans are in order. Start preparing because this might be the right choice for you.
SCORPIO (Oct 24 – Nov 22)
Any decision you make will have a long-lasting impact, so not decide based on emotion. Take your time and analyze it.
SAGITTARIUS (Nov 23 – Dec 22)
Family, spouse, and friends take up your attention today. Gather yourself as you may host a few people today.
CAPRICORN (Dec 23 – Jan 20)
Money is fluid. Your hard work reaps returns, but the profits and achievements can easily slip from your hands if you are not careful.
AQUARIUS (Jan 21 – Feb 19)
Your siblings may plan something special for you. Take this opportunity and unwind with them. A travel or recreation plan is in order.
PISCES (Feb 20 – Mar 20)
Stress chases you throughout the day. The more you organize yourself the more you realize there are things to take care of. You keep at it to overcome your anxiety but today is the day you won't be at rest.
Image source: SpotboyE Team