Horoscope Today, January 26, 2021: Check Your Daily Astrology Prediction For Sagittarius, Capricorn, Aquarius and Pisces, And Other Signs
Get an accurate prediction based on the astrological position of your stars today. Make your day a success by being prepared about the challenges in-store and the opportunities you have!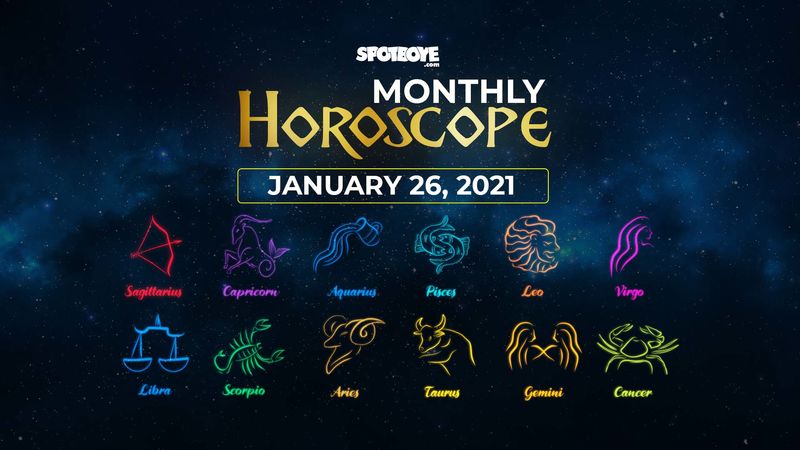 Check out today's horoscope here:
ARIES (Mar 21 – Apr 20)
Today is a busy day at work and at home. You are in for words of wisdom from elderly people.
TAURUS (Apr 21 – May 21)
You get a breakthrough at the business or at work. Your social life is peppy and cheerful today.
GEMINI (May 22 – June 21)
You are working on your goals to achieve your ultimate goals. An unpleasant occurrence is likely to throw you off guard. There is hope when there is life.
CANCER (June 22 – July 23)
You immerse yourself so much in work that you forget all about your personal commitments.
In the evening, show your loved ones that you can be there for them.
LEO (July 24 – Aug 23)
Appreciation will cheer you up and some family members will go out of their way to cheer you up.
VIRGO (Aug 24 – Sept 23)
To resolve your problems you find various resources that might help you. Blowing your problems off may be difficult, push them away and they will be back in no time.
LIBRA (Sept 24 – Oct 23)
You will make your home a warm hosting place using your aesthetic senses and put your creative best foot forward today.
SCORPIO (Oct 24 – Nov 22)
Take cues from your surroundings today as these will help you in times of decision making today. Believe only what you see or hear as there are possibilities of getting manipulated by a third person's opinion.
SAGITTARIUS (Nov 23 – Dec 22)
Loans, proposals, findings, or profits are on an incoming mode. Keep the momentum up with your hard work. Give time to your partner as today is a day you will receive a lot of insights into personal relations.
CAPRICORN (Dec 23 – Jan 20)
You may feel that the pressures of keeping up with work are too much but remember it gets worse before it gets better. So keep at it!
AQUARIUS (Jan 21 – Feb 19)
You enjoy being the center of attention and bring a dash of liveliness to every social get together.
PISCES (Feb 20 – Mar 20)
Don't let the appreciations and rewards make you complacent. Keep working hard your journey is still not very far along.

Image source: SpotboyE Team