Horoscope Today, March 25, 2021: Check Your Daily Astrology Prediction For Leo, Virgo, Libra, Scorpio, And Other Signs
It is the first day of the week and you may want to head into a busy week. Find what the day has in store for you so that you set the right tone for the rest of your week.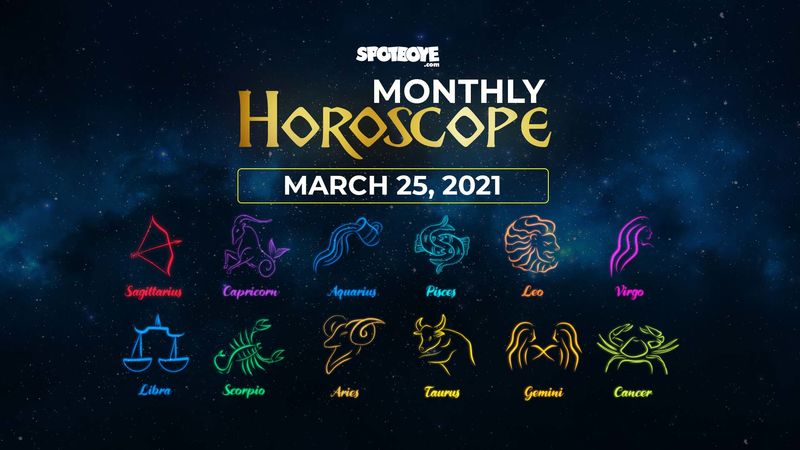 Check out today's horoscope here:
ARIES (Mar 21 – Apr 20)
Today your spiritual side will come to the forefront. You will engage in a spiritual group, or follow some spiritual ideals today. You may learn a lot from them.
TAURUS (Apr 21 – May 21)
Fight the urge to express your emotions and be a practical person. Put on a smile and push through the day.
GEMINI (May 22 – June 21)
Things start to fall in place, good news comes along and changes the course of your life. Finances are on an upswing with a sudden inflow of money.
CANCER (June 22 – July 23)
You need all the good luck today. Betrayal or mistreatment is coming your way. Delay the launch of new beginnings on the work front.
LEO (July 24 – Aug 23)
Take people along with you on the path to success, because collective success is better than the success of you and you alone!
VIRGO (Aug 24 – Sept 23)
Keep calm and avoid confrontation. Focus on the work at hand and keep dedicating your efforts towards personal success. Meet friends to enjoy a relaxing time away from work.
LIBRA (Sept 24 – Oct 23)
You will come across something positive today that will shape the next plan of action. Arts and crafts take a front seat. You may want to add some value to making your home a warm hosting place. You are at your creative best today.
SCORPIO‌ ‌(Oct‌ ‌24‌ ‌–‌ ‌Nov‌ ‌22)‌ ‌
Flattering,‌ ‌romance‌ , ‌and‌ ‌excitement‌ ‌from‌ ‌your‌ ‌partner‌ ‌can‌ ‌be‌ ‌expected.‌ ‌You‌ ‌will‌ ‌look‌ ‌and‌ ‌be‌ ‌elegant‌ ‌for‌ ‌most‌ ‌of‌ ‌the‌ ‌day.‌ ‌ ‌‌Romance‌ ‌changes‌ ‌your‌ ‌mood‌ ‌from‌ ‌work‌ ‌to‌ ‌love.‌ ‌Little‌ ‌victories‌ ‌make‌ ‌your‌ ‌day.‌ ‌Your‌ ‌teamwork‌ ‌can‌ ‌get‌ ‌you‌ ‌place.‌ ‌Increase‌ ‌your‌ ‌productivity‌
SAGITTARIUS‌ ‌(Nov‌ ‌23‌ ‌–‌ ‌Dec‌ ‌22)‌ ‌
Caught‌ ‌up‌ ‌in‌ ‌a‌ ‌competing‌ ‌environment‌ ‌you‌ ‌are‌ ‌not‌ ‌able‌ ‌to‌ ‌relax.‌ ‌You‌ ‌get‌ ‌daunted‌ ‌by‌ ‌more‌ and‌ ‌more‌ ‌responsibilities.‌ ‌Bullies‌ ‌and‌ ‌haters‌ ‌can‌ ‌try‌ ‌all‌ ‌they‌ ‌want‌ ‌but‌ ‌your‌ ‌luck‌ ‌will‌ ‌pull‌ ‌you‌ ‌out‌ ‌of‌ ‌any‌ ‌pitfalls.‌ ‌
CAPRICORN‌ ‌(Dec‌ ‌23‌ ‌–‌ ‌Jan‌ ‌20)‌ ‌
Finally,‌ ‌your‌ ‌finances‌ ‌have‌ ‌found‌ ‌a‌ ‌stronger‌ ‌foothold.‌ ‌Enjoy‌ ‌your‌ ‌success‌ ‌but‌ ‌be‌ ‌vigilant‌ ‌of‌ ‌people‌ ‌who‌ ‌are‌ ‌waiting‌ ‌for‌ ‌you‌ ‌to‌ ‌fail.‌ ‌Get‌ ‌rid‌ ‌of‌ ‌dependencies.‌ Today you will be ‌active‌ in ‌mental tasks.‌
AQUARIUS (Jan 21 – Feb 19)
A day with positivity and a lot of hard work is here. Keep your level of energy and concentration intact to face this day in all your strength.
PISCES (Feb 20 – Mar 20)
Love life takes a front seat today as you pour your efforts into making things right. Routine daily life makes things predictable today.

Image source: SpotboyE Team