Horoscope Today, October 27, 2021: Check Your Daily Astrology Prediction For Sagittarius, Capricorn, Aquarius and Pisces, And Other Signs
In times of great health concerns lingering, you shouldn't worry about what the day has in store for you so that you set the right tone for the weekend.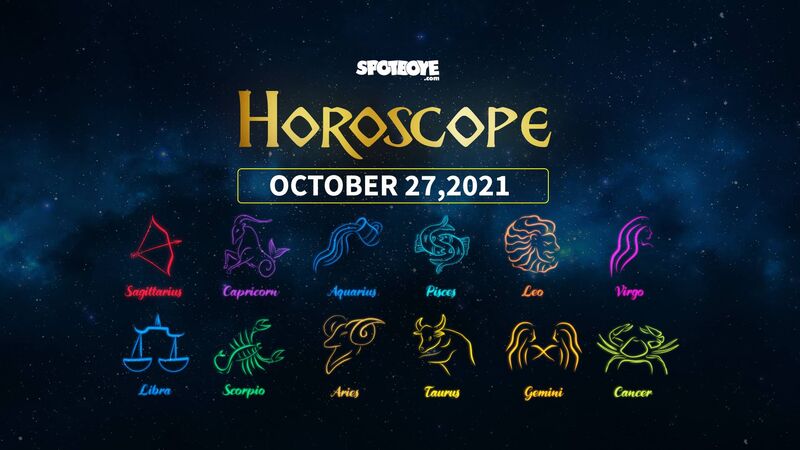 Check out today's horoscope here:
ARIES (Mar 21 – Apr 20)
Today your creative side will bring you a lot of success. Do not compromise on your word as it may hamper trust. Complete what you commit. Focus is your keyword!
TAURUS (Apr 21 – May 21)
Money bothers you today but you can give the worry a rest, there is an income card on your list today. Keep a close watch on the decisions you make today.
GEMINI (May 22 – June 21)
You will be emotional today. Your work is appreciated but avoid an emotional outburst as it may turn the tide.
CANCER (June 22 – July 23)
A life lesson finds its way into your life. Take care of your health and your mental well-being through this. Reach out to loved ones whenever in need.
LEO (July 24 – Aug 23)
Don't let deep-rooted emotions or anger carry you on a path that is dreadful. Be mindful of your words and keep calm at work, and at home.
VIRGO (Aug 24 – Sept 23)
Balance work or study and personal life. Keep yourself on your toes with time as it is your friend only if you respect it!
LIBRA (Sept 24 – Oct 23)
While your work and your skills both are abundantly appreciated, keep your feet to the ground as too much praise too, can deflect vision from the goals.
SCORPIO (Oct 24 – Nov 22)
Finding solutions to all your problems bring out a tactful, creative, and optimistic side of yourself today.
SAGITTARIUS (Nov 23 – Dec 22)
You may want to add some value to making your home a warm hosting place. You are at your creative best today.
CAPRICORN (Dec 23 – Jan 20)
Don't let the appreciations and rewards make you complacent. Keep working hard your journey is still not very far along.
AQUARIUS (Jan 21 – Feb 19)
A day with positivity and a lot of hard work is here. Keep your level of energy and concentration intact to face this day in all your strength.
PISCES (Feb 20 – Mar 20)
Beating deadlines is your focus today. Spending quality time with your sweetheart is on the cards. Make the most of this we-time.
--



Image Source: spotboye