Anushka Sharma, Kim Kardashian, Katrina Kaif, Britney Spears, Shruti Haasan: From Butt, Lip Fillers To Breast Implants- Did These Celebrities Get Nips And Tucks?
It's all about loving your mirror-self, says a popular Beverly Hills doctor. Believed to have sought cosmetic intervention to enhance their looks are damsels Priyanka Chopra, Kim Kardashian, Britney Spears, Anushka Sharma, Shruti Haasan, Kangana Ranaut, Cindy Crawford, Khloe Kardashian and more.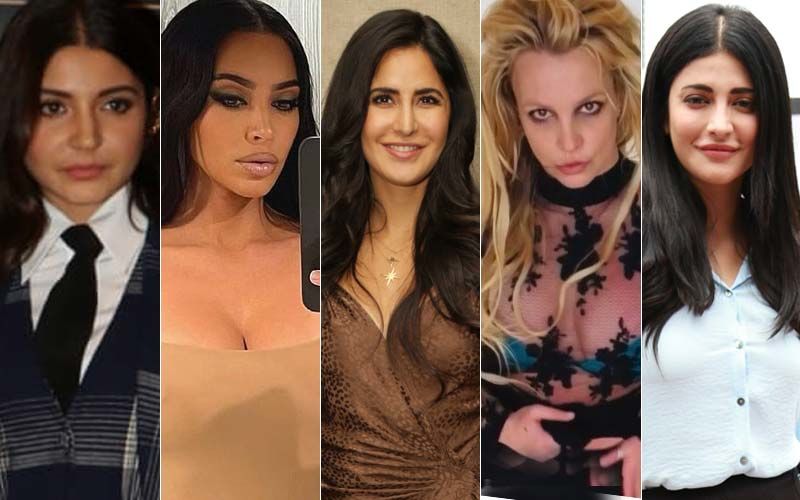 If you don't like what you see in the mirror, you don't have to make peace with it – your cosmetic surgeon will help you get that look and sustain it too. Celebrities are no strangers to the world of permanent cosmetic hacks. On the shelf are services like lip fillers, butt fillers, botox shots for cheeks, breast implants, nose correction, tummy trimming, tuck-ins, smoothening gigs and the works. Then there are skin elasticity treatments, supermodel Cindy Crawford swears by them. Chances are you have heard of these hacks but what are your thoughts on armpit sweat correction surgery, for instance?
Talking of the most popular treatment - Liposuction - well, most of it is clean, however, sometimes how you procure the fillers, might not be the definition of good. Singer Cardi B has been very vocal about the augmentation procedures she has got done, and how, at one point, she was desperate to get a butt enhancement.
"In order to get lipo (liposuction), where they put the fat transfer in your ass and it gets bigger, you need to have fat. I did not have no type of fat but I was desperate to have a bigger ass." To come around this problem, Cardi confessed to getting illegal shots injected in her butt.

Closer home, Anushka Sharma made national headlines for her temporary lip-fillers. Memes on her 'duck pout' flooded the internet; her lip job was even held responsible for boyfriend Virat Kohli's dismal/'duck out' cricket performance. Her appearance on Koffee With Karan, didn't help matters. 2 years later, in an interview with Vogue, Anushka finally broke her silence, "I have nothing to hide. So when I spoke about my lip job, a lot of people called me brave for coming out. But I did what I had to for my role in Bombay Velvet. I'm not going to lie and say I didn't; I had to take ownership. I wanted fans to know that I'm human and not perfect."
In 2015, Katrina's perky cheeks and a swollen lip drew a lot of attention, read flak. The lady remained tight 'lipped' about the reports however, a few months after the din died out, DNA carried a report quoting a source, attributing the 'swollen face and lips' to a tooth-ache. We reproduce it for you: "her wisdom tooth has been acting up. She neglected it and attended two events — a party thrown in honour of photographer Mario Testino in Delhi and Anurag Basu's Saraswati puja after her return."
The Kardashian sisters who make a living off their social media game and blessed-looks, have openly endorsed the wonders of botox. The most famous of the sisters, Kim Kardashian who makes her billions being a billionaire – has never confessed to a major plastic-job. She credits herself on being a natural in the looks department and swears by make-up (her own range) and the power of contouring and spray-tans.
She was overheard telling the Nightline in 2010: "What's funny about my nose? It's my biggest insecurity. I always want to get my nose done... I went to the doctor, I had them take the pictures, he showed me what it would look like and it just didn't - I wouldn't look the same." Then-and-now pictures of Kim continue to flood the internet.
Shruti Haasan who repeatedly professes that she does not endorse Plastic Surgery, has been one of the few celebrities who has been open about going under the knife.
"As far as my nose surgery goes, it's a choice I made, even after my first film was done because my nose was broken. I didn't like the way it felt. I didn't like the way it looked. It was a personal choice. Nobody asked me to fix it," the actress had revealed in an interview.
Last but not the least Britney Spears, the lady does love herself a visit to Beverly Hills' doctor dude, Dr Raj Kanodia. Opening up about getting fuller lips, the lady had said, ""A doctor I see, Dr. Kanodia, does fun stuff to me sometimes -I've had lip injections before."
Image source: SpotboyE archive/ Instagram/kimkardashian/britneyspears