Bhai Dooj 2020: Wishes, Whatsapp Messages, Quotes, Status, SMS, Gifs To Share With Family And Friends
Here are some wishes, messages, quotes, gifs, etc. to make the auspicious day of Bhai Dooj 2020, special for your brother.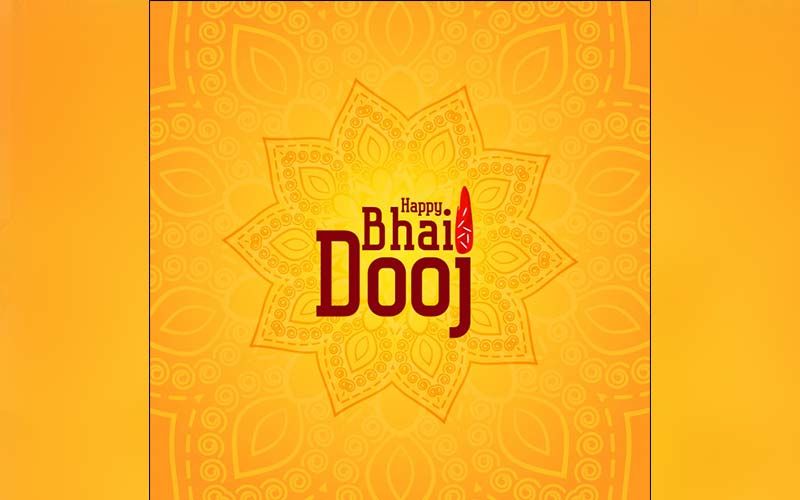 The bright light of Diwali brings the most lovely and beautiful festival that cherishes the brother-sister bond. The festival of Bhaiya Dooj has great importance in our lives. As the sister prays for the long life of her brother, the brother swears to protect her from every bad thing in life. The bond between a brother and a sister only grows stronger with time and festivals like this gives them an excuse to celebrate their unbreakable bond. Thus, to make the special day of your brother more special. We have gathered some awesome wishes, quotes, statuses, and gifs that you can share with your brother to express your feelings for him, on this prosperous occasion.
Wishes:
-Happy Bhai Dooj to the wisest and the best brother in the world. May God bless you with all the happiness.
-On this auspicious day, may your every wish come true, and may you be showered with success in your life. Happy Bhai Dooj!
-Thank you for always standing up for me and supporting me. You are the best brother and friend that I could ever have. Happy Bhai Dooj!
Whatsapp Messages:
-Bhaiyaa, you are someone that I admire and look up to, with lots and lots of love and respect. And, on this auspicious day, I wish you a Happy Bhai Dooj!
-May the joy and light of this auspicious and beautiful day brighten our lives and strengthen our bond forever. Wishing you a Happy Bhai Dooj!
-My Dear Brother… Thanks for always being my friend, mentor, and my support system. And, thanks for spreading happiness everywhere and making life so beautiful, meaningful, and happy. Happy Bhai Dooj!
Quotes:
-Brothers are like streetlights along the road, they don't reduce the distance but light up the path you are walking. Happy Bhai Dooj!
-Another fresh Bhai Dooj is here. Let's cherish this beautiful bond of brother and sister on this beautiful day. Happy Bhai Dooj!
-The memories will fade away with time. But our bond will only grow stronger with time. Happy Bhai Dooj!
Status:
-It is that time of the year to celebrate the bond of love and trust between two souls united by the purest form of friendship. Happy Bhai Dooj to all brothers and sisters!
-May the bond between every brother and sister grow stronger with time and without any limit. Wishing you a Happy Bhai Dooj.
-We might be miles apart, but we are together by heart. Praying for your long life and good health. Happy Bhai Dooj.
Gifs: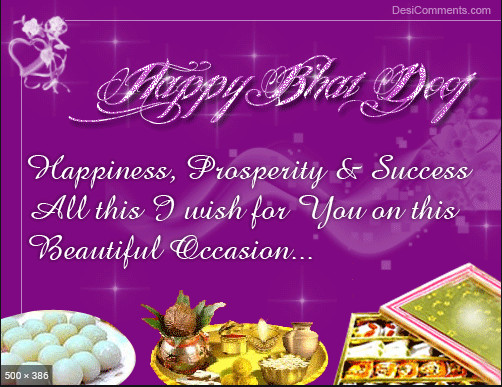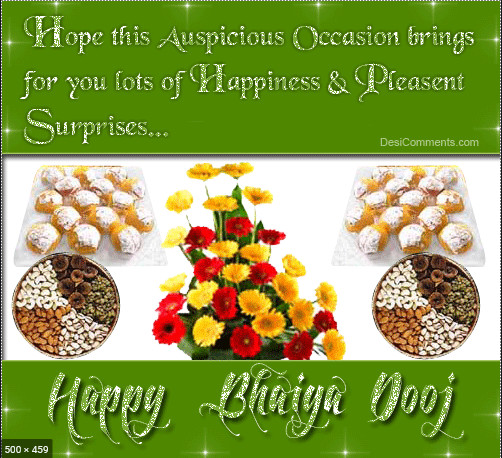 Image source :Greetingseveryday Gadget freak Pintrest