Dhanteras 2020: Date, Puja Vidhi, Mantra And Dhantrayodashi Muhurat Time In Different Cities Of India
From the date to the muhurat, here is all the information you need to know about Dhanteras or Dhantrayodashi, the first day of Diwali 2020.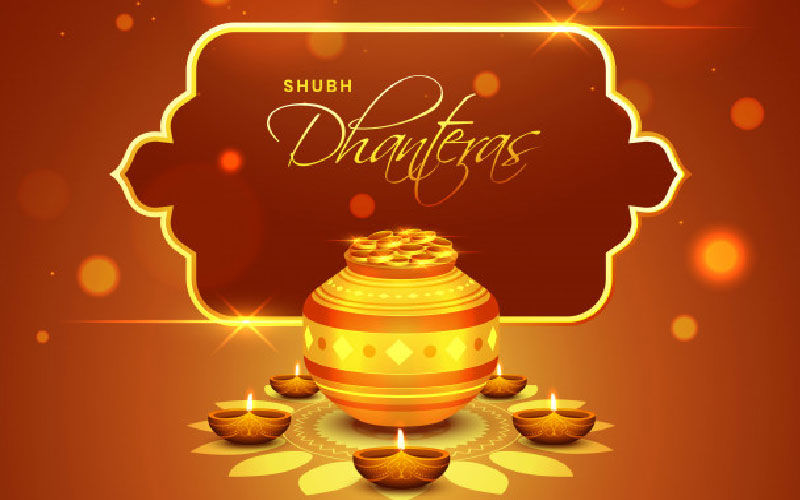 According to the legends Dhanteras is considered as the day when Goddess Laxmi was born from the Samudra Manthan when Gods and Demons were churning the pot of gold and wealth. As the word Dhan suggests wealth, therefore on this day the God of wealth Lord Kubera, Goddess of wealth Goddess Laxmi, and the God of Ayurveda Lord Dhanvantari are worshiped by people. It is believed that worshipping these gods on the day of Dhanteras blesses the worshiper with good wealth, prosperity, and success.
According to the calendar, this year Dhanteras will be celebrated on the 13th of November.
Puja Vidhi:
For the Puja, clean the house before Diwali and many people renovate it as well. After that people at the time of Pradosh kaal devotees prepare a platform where they keep the idols or photo frames of Goddess Laxmi, Lord Kubera, and Dhanvantari. The Pradosh kaal starts after the sunset when devotees should worship these deities according to the preferred Muhurat. Devotees should light diyas, scent sticks, offer flowers, fruits, and sweets as well. After which they should start the Puja by chanting the Mantras.
Mantra:
-Devotees should start by chanting Lord Kubera's Mantra,
Om Shree Kuberaya Namah
Anen Pujanen Shri, Dhanadhyaksha-Shri Kuber Preeyatam
Namo Namah
-After which they should chant Lord Dhanvantari's Mantra,
Om Namo Bhagavate Vasudevaaya
Dhanvantaraye Amrita-kalasha HastaayaSarva-amaya
Vinashaaya Trailokya Naathaya
Dhanvantri Maha-Vaishnavi Namaha
-Then comes Goddess Laxmi's mantra,
Om Hreem Shreem Lakshmibhayo Namah
Muhurat:
According to the calendar, the Muhurat of Dhanteras Puja varies a bit from city to city in India. Following are some of the best Muhurats Dhanteras according to the city-
Mumbai = 06:01 PM to 08:34 PM
Pune = 05:57 PM to 05:59 PM
Ahmedabad = 05:56 PM to 05:59 PM
Bengaluru = 05:50 PM to 05:59 PM
Chennai = 05:40 PM to 05:59PM
Hyderabad = 05:41 PM to 05:59 PM
New Delhi = 05:28 PM to 05:59 PM
Jaipur = 05:37 PM to 05:59 PM
Chandigarh = 05:30 PM to 05:59 PM
Gurgaon = 05:29 PM to 05:59 PM
Noida = 05:32 PM to 05:59 PM
Kolkata = 04:58 PM to 05:59 PM
Image Source:Freepik