Easy Rangoli Designs For Ganesh Chaturthi 2021: Simple Flower Rangoli Design Ideas That Will Adorn Your Home With Beauty And Fragrance As You Welcome Bappa!
7 Easy Ganpati Rangoli Designs you would like the designs for this Ganesh Chaturthi to Welcome Bappa, Watch Out!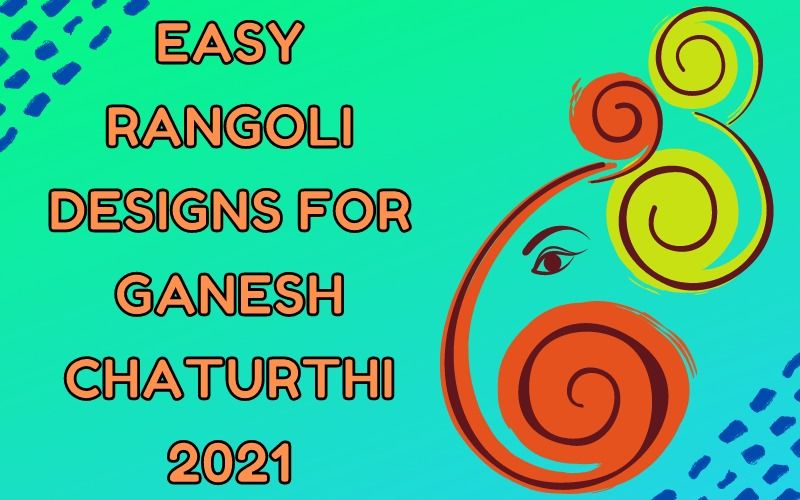 In India, Ganesh Chaturthi is one of the most celebrated festivals, especially in Maharashtra. While welcoming the season of Ganpati at home, all would like to decorate their home, colonies, and doorsteps with the Rangoli, flowers, and petals.
However, every year one has to think about what type of Rangoli design should get decorated at home. Well, this time, you will get all the latest and different Ganpati rangoli designs and patterns and designs to celebrate Ganpati festivals.
Let's have a look at 7 easy and quick Rangoli designs for the Ganpati festival.
1. Ganpati Rangoli
The very first and foremost design that comes to our mind is the Ganpati rangoli design. The beautiful and full of devotion picture of Lord Ganesha is made with various colour blends. This will give an animated feel and vibe to this Ganpati rangoli design will make the home look beautiful.
2. Rangoli Design Surrounded with Diyas
This will indeed complete the festival look. Yes, to increase the beauty of the Rangoli design, it can be adorned with diyas or candles to brighten up the Rangoli and home this Ganpati festival. This is really simple and easy Rangoli pattern to decorate your home.
3. Simple Free Hand Rangoli
The easiest to draw is the freehand Rangoli which is undoubtedly quite easy too to design. You may choose to go with some of the bright Rangoli colours like yellow, orange, and red along with the dark brown shades to design its boundaries.
4. Flower petals Rangoli

This is the most adored and quite easy among the Rangoli and petals are trendy these days. The reason for trending is- firstly, it is easy to made and design, and secondly, one can choose the different varieties of colours in petals to decorate the Ganesh Rangoli. For an impressive look, this Ganpati Chaturthi picks some of these styles of Ganpati Rangoli design to celebrate the Ganpati festival.
5. Simple Round Rangoli
The one of the simplest rangoli design at the doorstep which will never make you fail to catch the attention of the guest. One can easily use the different charming colours to design this style of Rangoli along with the Swastik design on the sides. The Ganpati Rangoli of this pattern is very less time-consuming and your Ganpati rangoli design will be ready within a limited time period.
6. Vertical Rangoli Design

You can also design a fancy vertical Rangoli at your home or lawn to welcome Ganpati. Meanwhile, decorating the Rangoli, you may need different kinds of flower petals, stalks and even some cardboard decorations. Bright and vibrant colours, betel leaves, and some diyas can complete the beautification of it.
7. Pattern of Kolam Rangoli Ganpati Design

To make some attractive designs, at this Ganpati Chaturthi festival, you may also ditch those boring decorating ideas for Ganpati Rangoli. This time, you may decorate your home with modern Rangoli patterns, which is not only easy to make but also looks wonderful just like Kolam Rangoli Ganpati Design. This type of Rangoli design is created with flower petals which will look beautiful when designed carefully at the corners of your home.
We hope, these all designs will quadruple the festive vibes at your home for welcoming Shree Ganesha.

Happy Ganesh Chaturthi. #Stay Home #Stay Safe.
Image source: SpotboyE Team